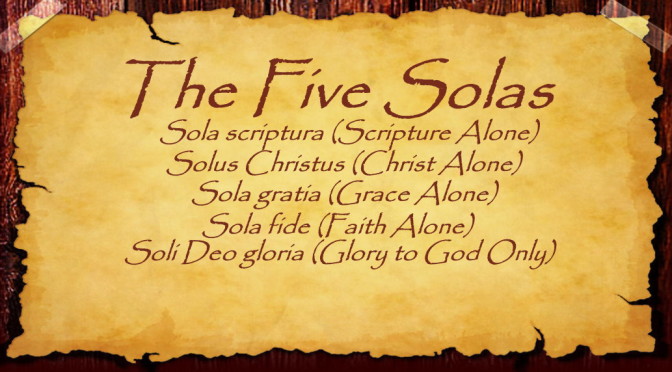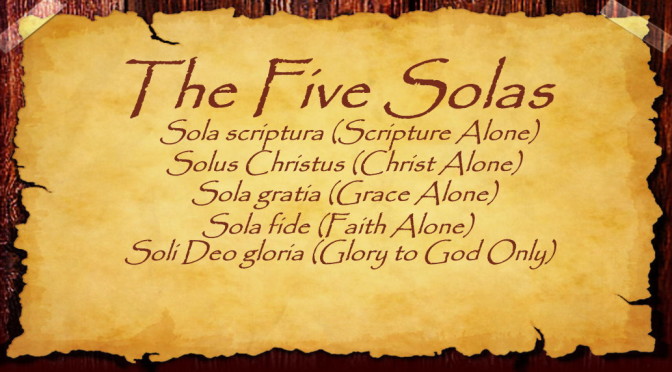 Let us examine, in thoughtful and respectful detail, the Five Solas of Protestantism, and examine them logically, against the facts.  The Catholic practices they object towards are derived from two thousand years of Catholic practice, and, granted, would too make an excellent series of posts, albeit a long one.   Coming, eventually.
But, rather than have an answer to which no questions have been posed, "the most boring answer in the world" a person I am aware of is wont to say, let us examine first the objections, and then to wit what is being objected towards.  Deal?  Deal.  🙂
Of the Five Solas, the last three, sola Christus, sola gratia, sola Dei gloria, relate to the first one, Sola Fide.  Defeat the sola fide, and one has defeated four of the five, in fact.  So, there are REALLY only two solas.  Let us first attend to the second sola, Sola Scriptura, in effort to reap the most gain from the most modest effort.
What are the Catholic objections to Sola Scriptura?  There are several, in summary:
1. The Doctrine of Sola Scriptura is not taught anywhere in the Bible.
2. The Bible Indicates that In Addition to the Written Word, we are to accept Oral Tradition.
3. The Bible Calls the Church and not the Bible the "Pillar and Ground of the Truth."
4. Christ tells us to submit to the Authority of the Church.
5. Scripture itself states that it is insufficient of itself as a teacher, but rather needs an interpreter.
6. The first Christians did not have a Bible.
7. The Church produced the Bible not vice-versa.
8. The idea of the Scriptures' Authority existing apart from the authority of the Teaching Church is utterly foreign to the Early Church.
9. Heresiarchs and heretical movements based their doctrines on Scripture interpreted apart from Tradition and the Magisterium.
10. The Canon of the Bible was not settled until the 4th Century.
11. An "Extra-Biblical" Authority Identified the Canon of the Bible.
12. The Belief that Scripture is "Self-Authenticating" Does Not Hold Up under Examination.
13. None of the Original Biblical Manuscripts is Extant.
14. The Biblical Manuscripts Contain Thousands of Variations.
15. There Are Hundreds of Bible Versions.
16. The Bible Was Not Available to Individual Believers until the 15th Century.
17. The Doctrine of Sola Scriptura Did Not Exist Prior to the 14th Century.
18. The Doctrine of Sola Scriptura Produces Bad Fruit, Namely, Division and Disunity.
19. The Doctrine of Sola Scriptura Does Not Allow for a Final, Definitive Interpretation of any given Passage of Scripture.
20. The Protestant Bible Is Missing 7 Entire Books.
21. The Doctrine of Sola Scriptura Had its Source in Luther's Own Emotional Problems.
Let us examine each of these in just a little detail, and the logical structure crumbles, rather quickly, respectfully.
Love,
Matthew