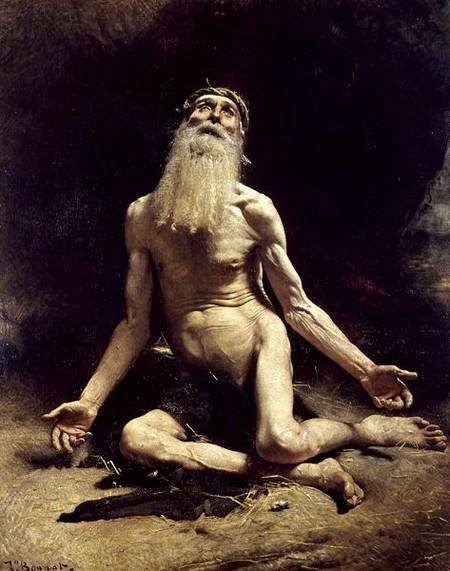 "When Job cries out against God in his suffering, God questions Job, "Can you draw out Leviathan with a hook, or snare his tongue with a line which you lower?" Job answers, "I have heard of You by the hearing of the ear, but now my eye sees You, therefore I abhor myself, and repent in dust and ashes." His arrogance brings him shame, and he places his hope in mercy.
Orual realizes at the end of Till We Have Faces, "The complaint was the answer." She finds only silence after all her raging. Job and Orual feel small in the presence of the Almighty. Will the potter say to the clay, "Why have you made me?" Will the man who is dust question, "Why did you breathe life into me?" Will the woman formed from the rib say to the creator, "Why did you knit me?"
Job and Orual realize a truth they have always known when they recant their defiance. They come to themselves. T. S. Eliot prophesies that "the end of all our exploring / Will be to arrive where we started / And know the place for the first time" (Little Gidding). In God we discover our true selves, the end Who is our beginning. "Our hearts are restless until they rest in Him," Saint Augustine cries from experience. Blaise Pascal echoes, "What else does this craving, and this helplessness, proclaim but that there was once in man a true happiness, of which all that now remains is the empty print and trace?" We long for a homecoming to heaven, a return to the place we have never seen.
The longing for heaven cannot be spoken just as the reproaches on Job's and Orual's tongues fail. Wonder leads to silence. All beauty mixes itself with sadness: death and birth, funeral and marriage, loss and gain. Francois Mauriac muses, "All I know is that beauty troubles the senses, for all that it concerns the spirit, that it breeds in one a sort of despairing happiness, leads to a contemplation that never wholly finds its object but is worth a world of kisses" (The Woman of the Pharisees). Beauty deserves more than we can give it, and our helplessness finds voice only in love.
As beauty presents a mystery to be sought but not grasped, so suffering presents a mystery to be endured but not understood. Lear gives Cordelia this vision: "So we'll live, / And pray, and sing, and tell old tales, and laugh / At gilded butterflies . . . And take upon 's the mystery of things, / As if we were God's spies" (King Lear). We know that God works although we do not see how. And so we pray for patience. While we are thirsting for heaven, we are also resigning ourselves to God's timing.
When we see that beauty must perish, we revolt against the injustice of it. Shakespeare connects the fading of spring to the fading of features: "When I behold the violet past prime / And sable curls all silvered o'er with white . . . Then of thy beauty do I question make / That thou among the wastes of time must go" (Sonnet 12). Beauty seems to deserve to last throughout time. How can something so lovely decay? Hopkins provides the answer: "Come then, your ways and airs and looks, locks, maidengear, gallantry and gaiety and grace . . . deliver it, early now, long before death / Give beauty back, beauty, beauty, beauty, back to God beauty's self and beauty's giver" (The Leaden Echo and the Golden Echo). This investment reaps eternal rewards where thieves do not break in and steal. Whoever loses his life will save it."
Love,
Matthew