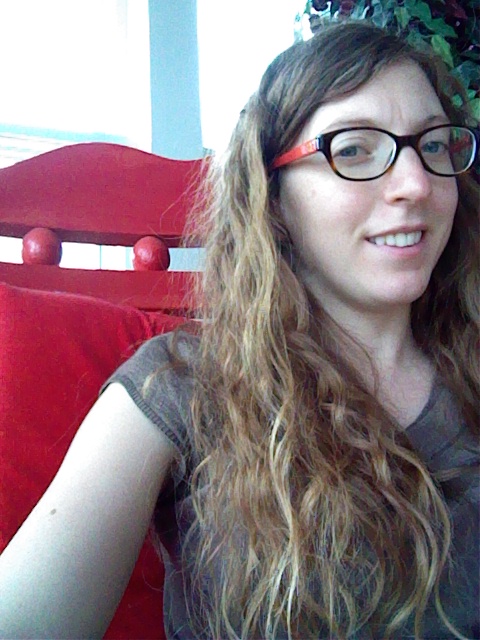 -by Megan Twomey
"I am not a natural deep cleaner. Extensive projects that involve organizing minutiae, inordinate scrubbing, and rubber gloves are just not my thing. Now I'm the first person to be stressed when my house looks a mess. In fits of cleaning, I tear through the house like a hurricane tidying stray toys, wiping down counters, and shepherding dirty laundry into the hamper. I will pull out the vacuum minutes before guests arrive or re-arrange the shoes by the back door for the hundredth time. Yet, when it comes to making sure things are really and truly spotless, inside and out, I often shirk. I can honestly count the number of times I've cleaned the outside of my windows on one hand. I recently cleaned the inside of my fridge in a moment of Lenten intensity, and, let me tell you, it had gotten pretty bad. It's easy to ignore the dirt and mess that few see and focus on creating a tidy appearance to passersby.
Often I find myself falling into the same trap spiritually: ignoring the real deep problems in my soul and concentrating on keeping myself looking spiritually clean. Jesus pointed out this problem in the Pharisees; in fact, He called them "whited spelchures" for following the exterior law while neglecting to have charity in their hearts (cf. Matthew 23:27). That is a very serious accusation: to be rotten at the core while appearing morally upright. I don't want to minimize the seriousness of spiritual sloth (acedia, a deadly sin), but all of us can suffer from it, even those who are honestly seeking holiness.
It took me almost all forty days to realize that I had taken the easy spiritual road this Lent. Instead of really examining what in my life was keeping me from getting closer to Christ, I made a few resolutions and sacrifices that would be easy to identify. I did not earnestly search my soul for the areas of selfishness and sin that were hindering my spiritual life. Then, I wondered why I didn't seem to be making any spiritual progress.
The thing about Lent is that when we remove things from our life, we are meant to replace them with Christ. We sacrifice things that in our suffering we are brought closer to the suffering Christ, but also that we may find that the things of this world for which we hold affection are poor substitutes for spiritual things.
I forgot that this Lent. I gave up sweets and mostly replaced it with…whining about needing more sweets. I found several weeks in that, had I really done some serious examination, there was something else with a hold on me. I had been using social media as more than an occasional outlet for connecting with world.
Whenever I found myself with a free or quiet minute, I was checking, scrolling, and reading every post I came across. With access to a smart phone, I was trying to escape the things I didn't want to face in my life. When I found myself impatient with my kids for interrupting an article I was reading or wasting valuable time with my husband on the computer, I knew that a fun tool had become a problem.
Thankfully, Lent is not the only time we can make changes in our spiritual life and it is never too late to turn to Christ. I took a long look at my behavior and headed to confession as soon as I could. The sacrament of confession is the perfect opportunity to start on that spiritual deep cleaning we often ignore.  (Ed. Drag yourself there, kicking & screaming, if only inside, if you must, but go!!!!!  All you have to do is get yourself in front of the priest.  He will, or should be, a MAJOR help from that point forward.  Hey, he does this for a living!!!  You are not the first, very likely, you won't be the last, very likely, and you are not the worst, almost certainly.  I would also bet whatever major hangup you have to lay on him, it's probably not the first time he's heard that one, just my strong suspicion.  Just.  He's a professional.  He can handle it.  Let him take over.  It's his thing.  Let go!!!  Give it to JESUS!!!)
There's a reason the Church requires yearly confession and encourages it much more often: it forces us to examine our consciences thoroughly, to admit out loud the things that keep us from God, and to turn toward Christ for spiritual rebuilding. A good confession can put us back on track and remind us not to settle for the appearance of holiness. When we peer deep into our souls and search out the things that are keeping us from pursuing Christ, we can begin the difficult but worthwhile task of working with the Holy Spirit to put our souls in order.  (No substitutes!!!  Do it!!!)
The condition of your soul is a project that will take more than a weekend and more than a liturgical season, it is a lifetime pursuit.  AMEN.  AMEN.  AMEN.  The Saints have told us that the road to perfection isn't easy and that it looks different for every soul. (Which is EXACTLY WHY THEY are such excellent guides and companions!!!)  Some are purified by great trials and others, like St. Therese, take a little way of daily sacrifice. Whatever our spiritual journey, we are all called to examine our souls, to root out sin, and seek after Christ with all we have. When we pursue true holiness, it will require everything of us, but our Savior deserves nothing less."  AMEN.
Love,
Matthew