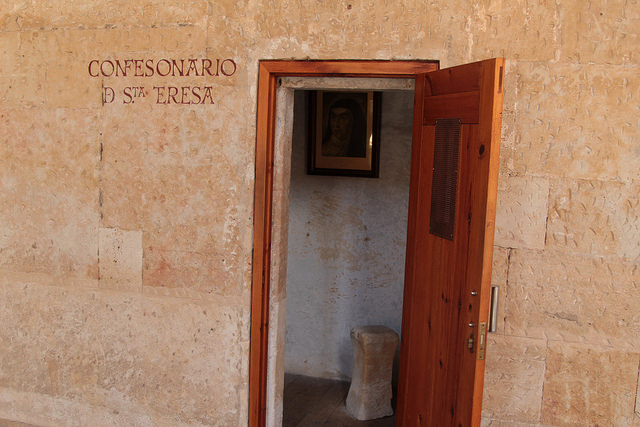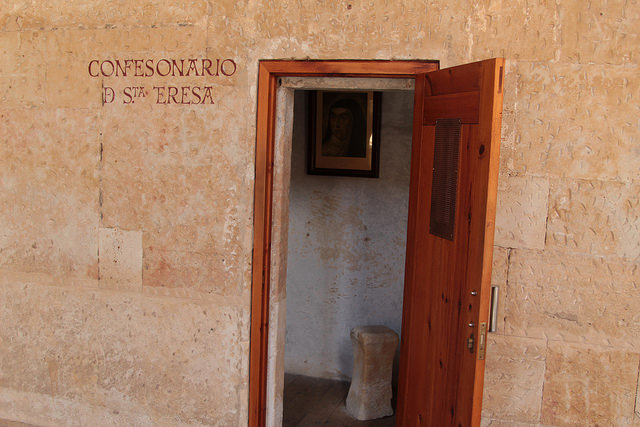 -confessional regularly used by St Teresa of Avila at the Dominican priory in Salamanca.


-by Br Toby Lees, OP, English Province
"St Teresa was born in Avila, in 1515. The 16th century was a time of turmoil in many areas of life, not least in the Church, but also, thanks to women like Teresa, a time of reform and renewal. Her mother died when she was 13, and despite her father's protestations, she entered the Carmelites, aged 20. However, she soon became very ill and had to be sent home to recover at home for a number of years. Undeterred, when well enough, she returned to the Carmel and through a life of continual striving to love God more and more, she received extraordinary spiritual experiences and wonderful insights into the life of prayer. These insights are still a great gift to the Church thanks to her engaging writings.
She was granted the realization that God alone is changeless and permanent, and that when we seek solace in anything other than God, we are really placing our hopes in the ephemeral where we will never find peace. What helped make Teresa a saint though was that this insight did not remain at the level of mere insight. Instead it became recognition of a reality which she allowed to transform her life. One way in which she aided herself in this task of continual dedication to love God above all things is beautifully reflected in some of her words which she recorded on a bookmark, which she then used to keep her focussed on what truly matters:
Let nothing disturb you,
Let nothing frighten you,
All things are passing away:
God never changes.
Patience obtains all things
Whoever has God lacks nothing;
God alone suffices.
You may enjoy listening to this beautiful setting of these words sung by a virtual choir of 93 Carmelite nuns from 24 countries to celebrate the 500th anniversary of her birth.
Another of Teresa's great lessons to us – at time when we hear many arguments about power within the Church – is that holiness has its own authority. Always born out of humility, holiness is more powerful that any title, status or position. Who would have believed that this frail lady, who suffered with poor health, would reform her Order; found many new houses of Carmel throughout Spain; and be at the forefront of a great renewal of spirituality within the Church? Despite little formal education, her receptivity to God means that 500 years on she still has much to teach us, and she is rightly recognized as one of the Doctors of the Church. It is one of the beautiful paradoxes often found in the lives of the saints, that one who spent so much of her life in the cloister has so much to teach those who live outside of it. Her reflection on the Church as the body of Christ is as challenging and as relevant to us as the day she wrote it:
Christ has no body now on earth but yours,
no hands but yours,
no feet but yours,
yours are the eyes through which Christ's compassion
is to look out to the earth,
yours are the feet by which He is to go about doing good
and yours are the hands by which He is to bless us now."
Love,
Matthew