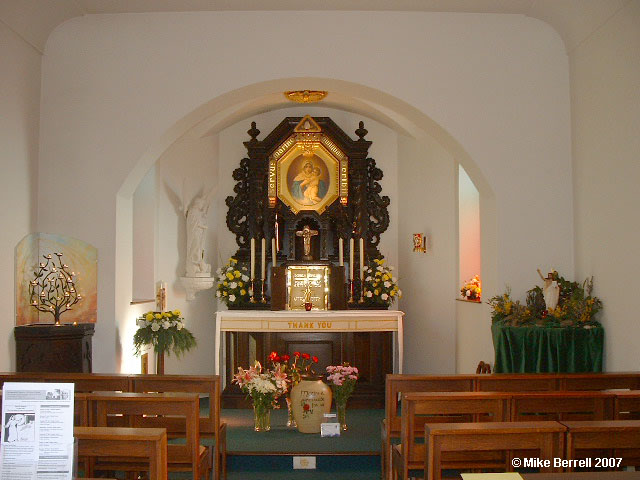 Very near to where Kelly and I live is the Schoenstatt Shrine of Madison.
http://schoenstattwisconsin.org/
http://schoenstattmadison.com/
-by Rev. Mark Steffl, April 2006, while studying for his STL in Rome.  He is a priest of the diocese of New Ulm, MN.
"My time as a student in Rome has afforded me many opportunities to experience the great wealth and tradition of the Universal Catholic Church. This past February was one of the highlights of that experience when I was able to celebrate a Mass at the altar that was in the Dachau Concentration Camp during World War II.
Before and during the Second World War, the Nazis in Germany forced many priests into concentration camps and the majority were sent to the Dachau Concentration Camp near Munich.  The priests were segregated together in a single area, the "Priesterblock" and through the diplomacy of the Holy See at the time, they were permitted to have a chapel and a single altar in which to celebrate Mass. The altar, made of wood by the prisoners was the site where these priests were allowed a single Mass each day.
Many of these priests, who were called to join in a special way to the sufferings and Passion of Our Lord, died because of illness and as a result of harsh punishment. I have a particular devotion to one of them who is especially connected to the Dachau altar, Blessed Karl Leisner.  He has a fascinating story of being arrested as a deacon because of his efforts with Catholic youth contrary to the Nazi regime.
Blessed Karl Leisner's vocation is a particular one in several details. He was the only man who was ordained a priest in Dachau. On December 17, 1944, under great secrecy and against the orders of the Nazis, he was ordained a priest by a French Bishop after five years of life in concentration camps as a deacon. He was in such poor health at that time, that he was able to celebrate only a single Mass as a priest before he died. He lived to see liberation of the Dachau Concentration Camp, and of Germany from the Nazi regime, but died soon after.
Blessed Karl Leisner's life stands out in an important way for us today on many levels.The first is that Blessed Karl, a German, was ordained by a French bishop during a war in which the two nationalities were in bloody conflict with each other.  It shows in a beautiful way how "Catholic" (which means "universal")  faith truly lives up to its etymological roots surpassing borders and boundaries. Jesus' message of hope and love goes beyond national identities and embraces all of humanity.
Secondly, for a world that measures worth by productivity, Karl Leisner's life would seem "unproductive." He celebrated only one single Mass as a priest. But his life shows and challenges us to see life as God would, with its dignity and special plan for each of us, rather than to follow the world in judging worth by ability to produce.  His whole life had been planned by God for that single Mass he offered at the altar in the Dachau Concentration Camp, and his suffering was not in vain, but went on to inspire many with him after him to persevere in their own suffering, seeing it in the "plan of God" and knowing that God does great things with the struggles we bear for Him.
Pope John Paul II beatified Karl Leisner, along with a second German priest who died in custody of the Nazis, on a trip to Germany that he made in 1996. The beatification Mass was held in the same Olympic Stadium that Adolf Hitler had constructed for the 1936 Berlin Olympic Games and used often for Nazi parades and spectacles. Here again we see the great paradox of the same stadium, constructed for the worst of reasons, becoming a place of great graces, with the Holy Father celebrating a Mass there for a great crowd and beatifying two priests who stood firmly against the Nazis and gave their lives for their faith in the Lord and His Gospel that comes to us in the Church.
Pope John Paul II, in his homily at this beatification Mass highlighted how Blessed Karl Leisner witnessed to his faith and how he is an example of how we today are to take that witness and apply it to our own lives. John Paul pointed out that often we are called against the "popular world view" illustrating that we are called to bear witness to a culture of life that finds its reward in eternal life. That we are called to "resist the culture of hatred and death, regardless of the guise which it may assume.
The Dachau altar, the altar that was the place of this Blessed Karl Leisner's ordination Mass and the single Mass after his ordination that he said as a priest, is today in a house for diocesan priests affiliated with the Schoenstatt Movement (of which Karl Leisner was a part as a boy and seminarian) not far from Frankfurt. It was "rescued" after the war and is kept as a witness to great hope and joy in the midst of the worst of conditions, the great dignity to which we are all called in the Mass, where we find a foretaste of the eternal banquet that we hope and strive to attain, eternal life with Jesus in heaven."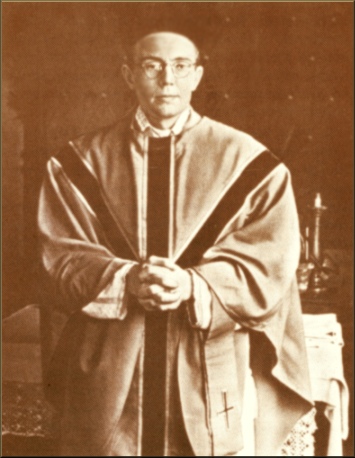 "But we maintain our Christian, courageous calm. Nobody will take away our will to struggle and fight back as long as He is with us. God is the ruler of the fates of men and peoples. This is our victory, which overcomes the world." – Bl Karl, remarking after the Nazis closed the Catholic youth center in Dusseldorf, where he ministered.
He wrote a poem that expressed his feelings at this time:
Though the road wind through the blackest night,
Victory will be ours in the dawn's crimson light.
We are ready to proclaim, in all lands and climes,
That God is the Lord even of these our times.
Karl continued to work with youth, and the Gestapo noted it. They opened a secret file on his activities in 1936. They watched his movements and read his mail.
One day after hearing about an attempt to assassinate Hitler with a bomb, he remarked that it was a pity that Hitler wasn't there when the attack occurred. This was reported to the authorities, and within hours, then Deacon Karl was arrested.
"Karl Leisner encourages us to remain on the way that is Christ. We must not grow weary, even if sometimes this way seems dark and demands sacrifice. Let us beware of false prophets who want to show us other ways. Christ is the way that leads to life. All other ways are detours or wrong paths." – Pope John Paul II, during the beatification Mass.
Blessed Karl Leisner, priest & martyr, pray for us when we are called to witness to the Truth of Jesus Christ and His Eternal, Glorious Reign!!!
Love,
Matthew