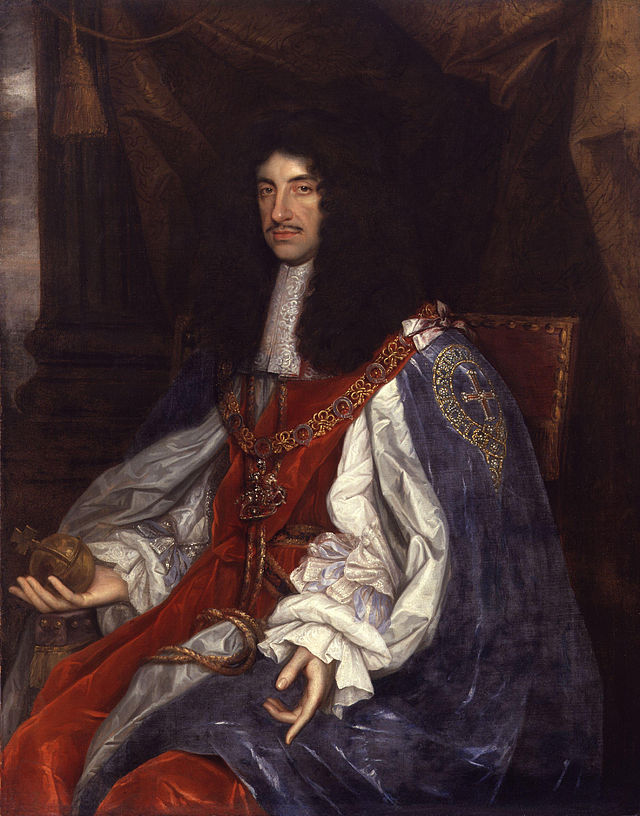 -King Charles II, by John Michael Wright, 1600-1665
As the son of Queen Henrietta Maria, King Charles II was naturally imbued with Catholic sympathies; and the story of his deathbed, when Fr Huddleston brought the Blessed Sacrament to him from Queen Catherine of Braganza's chapel, is well known.
Yet during the collective mania whipped up by Titus Oates under the pretense of a "Popish Plot" (1678-79), King Charles did little or nothing to save Catholics who found themselves in mortal peril. The only potential victims on whose behalf he intervened were the Queen and Louis XIV's emissary Claude de la Colombière, SJ, of prior note.
Some 35 Catholics were executed, nearly all of them entirely innocent of treason. Of course, Charles was under intense pressure from skilful and unscrupulous politicians such as Lord Shaftesbury, who knew how to manipulate the mob.
The essential point, though, was that the Merry Monarch had no intention of going on his travels again. It is not easy to warm to the complacency with which he appeared to regard the deaths of so many falsely accused men.
One of these was John Plessington. The youngest of three children, he was born in 1636 into a Catholic family at Dimples Hall, Garstang, near Preston in Lancashire. His father fought for the King in the Civil War and was taken prisoner.
John's vocation may have been inspired by a family chaplain called Thomas Whitaker, who was captured and executed in 1646. At all events, Plessington, having attended the Jesuit school at Scarisbrick Hall, near Ormskirk, followed Whitaker in being educated at Saint-Omer and Valladolid. While abroad, he went under the name of William Scarisbrick. In 1662 he was ordained in Segovia. The next year, however, ill health brought him back to England.
For a while he served at the shrine of St Winifred in Holywell, North Wales. Then in 1670 he moved to Puddington Hall in the Wirral, as tutor to the Massey family.
For a while Plessington was able to minister openly to the local Catholic population. But when the scare of the Popish Plot extended to the north, a timeserver called Thomas Dutton collected a reward for arresting him.
There was no charge against Plessington, beyond his occupation as a Catholic priest, which sufficed for a death sentence. When the executioner came to measure him, Plessington joked that he was ordering his last suit.
According to a local tradition, St John was implicated at the insistence of a Protestant landowner simply because he had forbidden a match between his son and a Catholic heiress. Three witnesses gave false evidence of seeing St John serving as a priest: he forgave each of them by name from the scaffold.
He was hanged, drawn and quartered in Chester on July 19 1679. His speech from the scaffold at Gallow's Hill in Boughton, Cheshire was printed and distributed: He said: "Bear witness, good hearers, that I profess that I undoubtedly and firmly believe all the articles of the Roman Catholic faith, and for the truth of any of them, by the assistance of God, I am willing to die; and I had rather die than doubt of any point of faith taught by our holy mother the Roman Catholic Church…
I know it will be said that a priest ordayned by authority derived from the See of Rome is, by the Law of the Nation, to die as a Traytor, but if that be so what must become of all the Clergymen of the Church of England, for the first Church of England Bishops had their Ordination from those of the Church of Rome, or not at all, as appears by their own writers so that Ordination comes derivatively from those now living."

-displayed in St Winefride's Church in Little Neston, on the Wirral, UK
St John was buried in the churchyard of St Nicholas's, Burton, after Puddington locals would not allow his quarters to be displayed. Attempts to locate and exhume his body, as recent as 1962, have been unsuccessful but vestments associated with him are kept at St Winefride's in Neston and a small piece of blood-stained linen is treasured as a relic in St Francis's Church in Chester.
Love,
Matthew