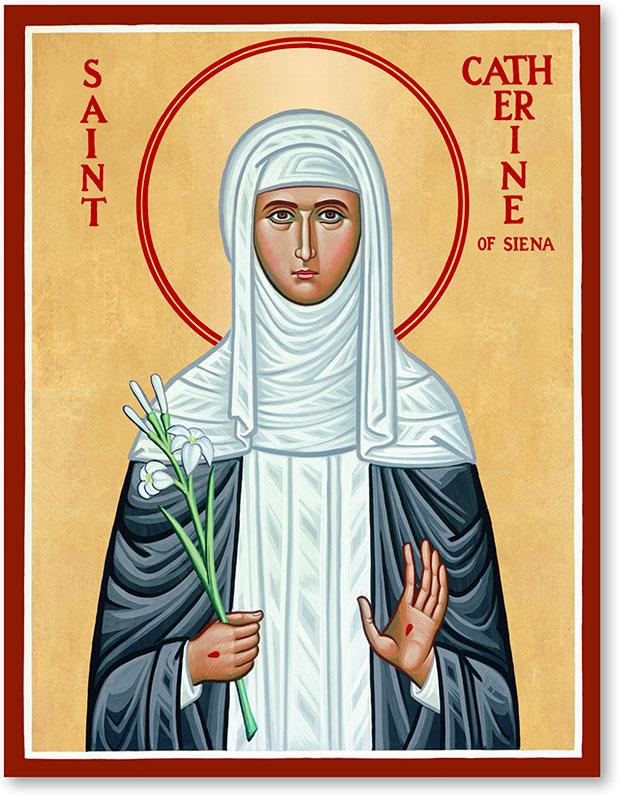 "'Love does not stay idle." – St. Catherine of Siena, Letter T82
Can we really imitate a fourteenth century saint whose life had such great austerity, who fasted with such severity? What lesson can we learn from a Church Doctor whose diet was raw vegetables, whose sleep pattern was non-existent, and whose community was called the "Sisters of Penance"?
Admittedly St. Catherine of Siena's life was one of penance. Bl. Raymund of Capua's biography of her makes this clear enough. But I think it's hard to make sense of St. Catherine's life of penance unless you've made sense of her life of love. Here are a few short teachings from St. Catherine on love:
Love impels us to desire. If love is the reason why we desire, then love is the reason why we live. We can't live without love because we always want to love something. Love moves us and unites us to the thing we love in order to rest in it. When we love something we don't just want a superficial understanding of it, but we want what it really is, and nothing keeps us away from it.
St. Catherine knew how to fast because she knew how to love. Penance was admittedly part of her life and letters, but her literature is saturated with descriptions of love. It's perhaps the single most common word in her letters. There are many goods in this life that we desire, but the supreme good – God, who gives us divine life, beatitude, ultimate happiness – this is the ultimate end that we strive to have in love. St. Catherine knew her need for love.  She often ended her letters with the salutation "Love, love, love one another, sweet Jesus, Jesus, Love."
Love makes room. In love we forget about ourselves and make room for another. When we fast from little goods we make room for perfect love that comes from Love himself. In doing this we can see where we have false loves – when we love ourselves or another in a way that doesn't reflect reality. Removing a false self-love in us, God makes room within us for Himself. But us loving God more means we become more of ourselves; there is more of us present in each act of love. God makes room in the temple of ourselves until he lead us to the Incorruptible Temple of Himself.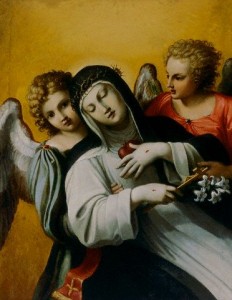 -"The Ecstasy of St Catherine", Agostino Carracci, 1590, Baroque, oil on canvas, Galleria Borghese, Rome, Italy
Only in receiving this Divine Love could St. Catherine care for the sick and the poor and nurse plague victims the way she did. Love, not penance, was the foundation of her life:
"If, then, we made ourselves build on penance as a foundation, it might come to nothing and be so imperfect that we would seem to be deprived of God, and soon [we] would fall into weariness and bitterness…we should strive to give only a finished work to God Who is Infinite Love Who demands from us only infinite desire." – Letter to Daniella of Orvieto
This divine love was the source of her own love towards those she cared for:
"God has loved us without being loved, but we love Him because we are loved…we cannot profit Him, nor love Him with this first love…In what way can we do this, then, since he demands it and we cannot give it to Him? I tell you…we can be useful, not to Him, which is impossible, but to our neighbor…love is gained in love by raising the eye of our mind to behold how much we are loved by God. Seeing ourselves loved, we cannot otherwise than love." – Letter to Brother Bartolomeo Dominici
Love transforms. St. Catherine states that "love transforms one into what one loves" (Dialogue 60). In loving God, we become like the One we love. When two things are joined together, there can't be anything between them, otherwise there wouldn't be a complete union of them together. This is how God wants us to be with Him in love. Once we are removed from selfish love we can love God with the love with which He has first loved us. St. Catherine takes this transformative love to the highest level:
"The eternal Father said [to me], 'If you should ask me what this soul is, I would say: she is another me, made so by the union of love." (Dialogue 96)
By God's love we become kneaded and knit into our Creator Who redeems us and lets us participate in His divine love.
Ultimately, St. Catherine's love led her to a life of penance and service to her neighbor. There's no saying it wasn't a harsh life – she died at age 33 – but it was certainly a life lived in love. She saw all of her actions and penances tied up in the cross of Christ: a tree not of unnecessary torture and grief but a tree of love. St. Catherine wished to graft herself into that tree and so be joined to the fiery love that comes from Christ.
St. Catherine certainly had her share of penance, but I think the primary lessons she teaches us are in love. If you want a reason for St. Catherine's penitential life, look to Christ who loved her with an infinite love. Cling to Christ as the One Who lives and Who wants to live in you."
"Let the eye of understanding rest on the Cross always. Here you'll discover true virtue and fall in love with it."
–St. Catherine of Siena
"Consider God's charity. Where else have we ever seen someone who has been offended voluntarily paying out his life for those who have offended Him?"
–St. Catherine of Siena
"Start being brave about everything. Drive out darkness and spread light. Don' look at your weaknesses. Realize instead that in Christ crucified you can do everything."
-St. Catherine of Siena
"Oh, how sweet and pleasant to that soul and to Me is holy prayer, made in the house of knowledge of self and of Me, opening the eye of the intellect to the light of faith, and the affections to the abundance of My charity, which was made visible to you, through My visible Only-begotten Son, Who showed it to you with His blood! Which blood inebriates the soul and clothes her with the fire of divine charity, giving her the food of the Sacrament . . . that is to say, the food of the Body and Blood of My Son, wholly God and wholly man, administered to you by the hand of My vicar, who holds the key of the Blood."
—St. Catherine of Siena, Dialogue
"He who knows how to forgive prepares for himself many graces from God. As often as I look upon the Cross, so often will I forgive with all my heart (Diary, 390)."
"No greater joy is to be found than that of loving God. Already here on earth we can taste the happiness of those in heaven by an intimate union with God, a union that is extraordinary and often quite incomprehensible to us. One can attain this very grace through simple faithfulness of soul (Diary, 507)."
"I am not counting on my own strength, but on His omnipotence for, as He gave me the grace of knowing His holy will, He will also grant me the grace of fulfilling it (Diary, 615)."
"An extraordinary peace entered my soul when I reflected on the fact that, despite great difficulties, I had always faithfully followed God's will as I knew it. O Jesus, grant me the grace to put Your will into practice as I have come to know it, O God (Diary, 666)."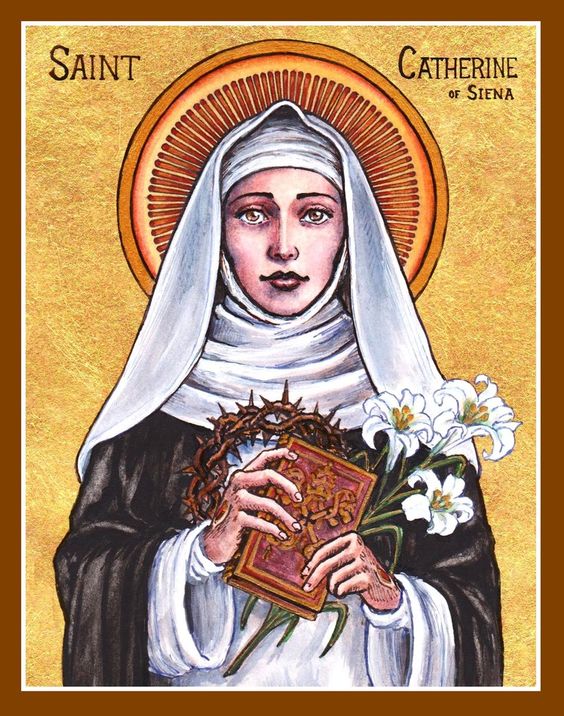 My Nature Is Fire
In your nature, eternal Godhead,
I shall come to know my nature.
And what is my nature, boundless love?
It is fire,
because you are nothing but a fire of love.
And you have given humankind
a share in this Nature,
for by the fire of love You created us.
And so with all other people
and every created thing;
you made them out of love.
O ungrateful people!
What nature has your God given you?
His very own nature!
Are you not ashamed to cut yourself off from such a noble thing
through the guilt of deadly sin?
O eternal Trinity, my sweet love!
You, Light, give us light.
You, Wisdom, give us wisdom.
You, Supreme Strength, strengthen us.
Today, eternal God,
let our cloud be dissipated
so that we may perfectly know and follow your Truth in truth,
with a free and simple heart.
God, come to our assistance!
Lord, make haste to help us!
Amen.
-St Catherine of Siena
Love,
Matthew