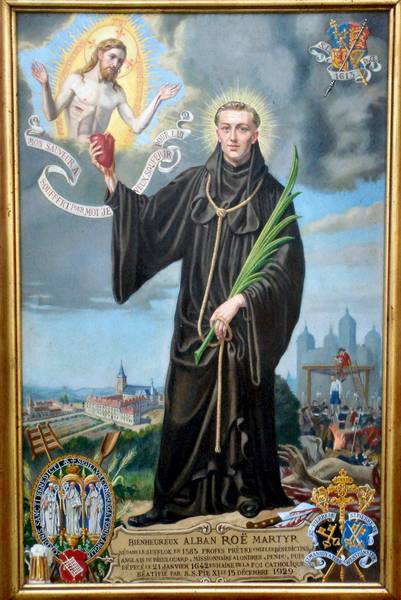 St Alban Roe was born in East Anglia of Church of England parents as Bartholomew Roe, July 20, 1583. He studied for a time at Cambridge where he first met a number of Catholics and began to have doubts about the faith in which he had been brought up. It was while he was attending the university, during a summer break, that he visited the Abbey of St. Alban just north of London, in attempt to convert imprisoned Catholics there to Anglicanism.  The Abbey was named after the first English martyr, St Alban, who died around the end of the third century.
It was at this Abbey that Bartholomew met a prisoner, whose name is unknown to this day, who, in turn, caused Bartholomew to question his own beliefs.  Returning to Cambridge, this inspiration grew into faith and he converted, along with his brother, James.  Not content with this, he decided to become a priest in Post Reformation England and he left for France to study for the priesthood.  He was accepted by the Benedictine Community in France, the same community that had fled Westminster during the reign of Henry VIII.  There he gained the reputation as a bit of a "hell-raiser". In fact, being expelled from his first school and generating a general revolt amongst students and faculty. His brother, too, became a Benedictine priest.  Taking the religious name Alban, Bartholomew returned to England and began to care for Catholic prisoners.  He was soon imprisoned but continued to minister with his cheerful disposition.
He spent three years in the Fleet prison when the Spanish ambassador, Gandomar, obtained his release, conditional on his leaving the country for good. However he soon returned, spent a further three years working in London, was again arrested and was this time first imprisoned in St Alban's (a particularly harsh prison) and then transferred to the Fleet where he stayed for many years.  Lacking a church, as a priest, he was allowed to gamble with his fellow prisoners.  The stakes were not money, but rather, short prayers.  He was a good gambler, and converted many in this fashion.
In 1641 he was transferred to Newgate to face trial, when he was found guilty of being a priest, and therefore treason, under statute 27 Eliz c.2. Initially, he refused to enter a plea. It then transpired that the chief witness against him was a fallen Catholic who he had formerly helped. Thinking he could win him round again, he pleaded not guilty, but objected to being tried by "twelve ignorant jurymen", who were unconcerned about the shedding of his innocent blood. Clearly the judge was a little bit intimidated by Roe making a mockery of the proceedings so they had a private chat. This didn't go well, Roe declaring "My Saviour has suffered far more for me than all that; and I am willing to suffer the worst of torments for His sake." The judge sent him back to prison where he was advised by "some grave and learned priests" to follow the example of those before him and consent to being tried by the court. The jury took about a minute to find him guilty. He then (with a bit of mockery) bowed low to the judge and the whole bench for granting him this great favor which he greatly desired.
The judge was so put out he suspended the sentence and sent him back to prison for a few days. This didn't work either because as a celebrity he had a constant stream of visitors, one of whom smuggled in the necessary for him to say Mass in his cell.
At Tyburn, just before his execution, he preached in a jovial fashion to the crowd about the meaning of his death. He was still playing to the crowd, holding up the proceedings by asking the Sheriff whether he could save his life by turning Protestant. The Sheriff agreed. Roe then turned to the crowd declaring "see then what the crime is for which I am to die and whether religion be not my only treason?"
He created quite an impression by his death and when his remains were quartered there was a scramble to dip handkerchiefs into his blood and pick up straws covered in his blood as relics. The speech he made is rumored to have been sent to Parliament and stored in their archives.  On 21 January 1642 he died on the scaffold, being allowed to hang until he was dead. According to a contemporary source, in his death he showed "joy, contentment, constancy, fortitude and valour".
Thomas Greene (also known as Reynolds), was over eighty when he was executed. He was ordained deacon at Reims in 1590, and priest at Seville. He came to England early in the 1600s and spent nearly fifty years working on the English mission. He was arrested in 1628 and spent the next fourteen years in prison under sentence of death for having worked as a priest. He was executed without fresh trial. He was somewhat frail and was much encouraged by his companion Alban Roe, to whom he said, "glad I am to have for my comrade in death a man of your undoubted courage." The two of them were drawn on the same hurdle, where they heard each other's confessions, and were hanged simultaneously on the same gibbet on January 21 1642, amidst great demonstrations of popular sympathy.
Love,
Matthew