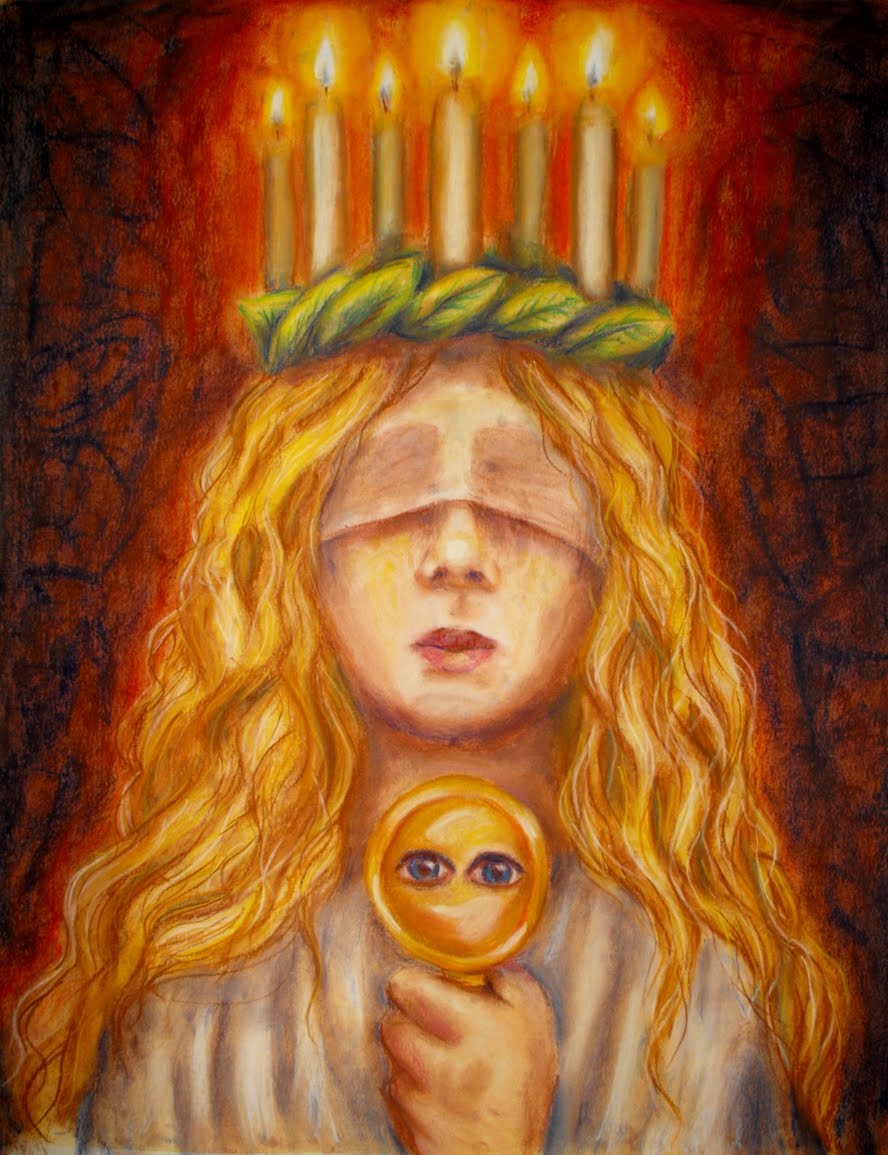 Rich, young Christian of Greek ancestry. Raised in a pious family, she vowed her life to Christ. Her Roman father died when she was young. Her mother, Eutychia, arranged a marriage for her. For three years she managed to keep the marriage on hold. To change the mother's mind about the girl's new faith, Lucy prayed at the tomb of Saint Agatha, and her mother's long haemorrhagic illness was cured. Her mother agreed with Lucy's desire to live for God, and Lucy became known as a patron of those with maladies like her mother's.
Her rejected pagan bridegroom, Paschasius, denounced Lucy as a Christian to the governor of Sicily. The governor sentenced her to forced prostitution, but when guards went to fetch her, they could not move her even when they hitched her to a team of oxen. The governor ordered her killed instead. After torture that included having her eyes torn out, she was surrounded by bundles of wood which were set afire; they went out. She prophesied against her persecutors, and was executed by being stabbed to death with a dagger in the throat. Her name is listed in the prayer "Nobis quoque peccatoribus" in the Canon of the Mass.
Legend says her eyesight was restored before her death. This and the meaning of her name led to her connection with eyes, the blind, eye trouble, etc.
(When I travel on business with colleagues and the diversions include a trip to a cultural or historical site such as a Catholic Church, or even an art museum, I find I am, at least, at their request, only, a practical and useful docent to them, with some awareness of iconography and Latin, etc.)
"In iconography, there are different tokens, called "attributes," that help to distinguish between different saints. Attributes can be common objects, or more unusual ones. For example, St. Peter has the Keys to the Kingdom Of Heaven as Christ gave him, St. Jerome is dressed as a cardinal (even though he wasn't one), and St. Catherine of Alexandria is distinguished by a wheel, her instrument of torture.
Today is the feast of St. Lucy, which brings to mind the first time I saw an image of her, along with her "attribute." She was holding two eyes, on a plate. No, that's not a typo. Two eyes. On a plate.
In a word, it was grotesque. In several more words, it was unpalatable, impolite, bizarre, and disturbing. Of course, I wasn't naïve enough to believe such things never happened—Byzantine history provides plenty of examples—but why would anyone be so crude as to commemorate it with a statue?
It's said that, after St. Lucy was blinded, God miraculously restored her sight. But it's also fairly likely that this is only a legend. After all, neither the blinding itself nor the miraculous healing is mentioned either in the thirteenth-century Golden Legend or in earlier works.
Perhaps it will be helpful to go to the Gospels:
"The eye is the lamp of the body. So, if your eye is sound, your whole body will be full of light;  but if your eye is not sound, your whole body will be full of darkness. If then the light in you is darkness, how great is the darkness!" (Mt 6:22–23)
Christ points out the limits of our vision. In one way or another, we are all blinded to our faults. Incidentally, this passage comes right after Christ's condemnation of hypocrisy. We can all look great in our own eyes, and we can all rationalize anything that gets in the way of our self-deception. But we have been warned, on good authority, not to embrace this way of seeing:
"And if your eye causes you to sin, pluck it out and throw it away; it is better for you to enter life with one eye than with two eyes to be thrown into the hell of fire." (Mt 18:9)
And so, the unsettling image of St. Lucy starts to make a bit more sense. More than just a legendary accretion, her story is a call to the profound reevaluation we must make if we are to see clearly.
St. Lucy was martyred during the persecution of Diocletian, but, before she was killed, the Roman authorities tried to humiliate and disgrace her by condemning her to a house of ill repute—to put it more plainly, a brothel. When the judge sentenced her, she replied,
"If you were to lift my hand to your idol and so make me offer against my will, I would still be guiltless in the sight of the true God, who judges according to the will and knows all things. If now, against my will, you cause me to be polluted, a twofold purity will be gloriously imputed to me. You cannot bend my will to your purpose; whatever you do to my body, that cannot happen to me."
St. Lucy could see something that the judge could not. But preaching the faith to him was like trying to sell the Brooklyn Bridge to a Manhattanite—a hard sell if there ever was one. His worldly way of thinking might be summed up in Mark Twain's charming but cynical definition of faith: "believing that which we know not to be true."
Charming, perhaps, but wrong—dead wrong. Such "faith" does not produce martyrs. St. Lucy, like other saints through the ages, saw through the outward appearance of respectability, comfort, and peace that is offered by the world. These items were off the table for her, because she caught the glimpse of something far greater.
Fulton Sheen once remarked that humor results from the ability to see through things. Slapstick, irony, even puns are only really funny when they point beyond themselves. The Church exhibits her sense of humor in this way by placing the feast day of St. Lucy, whose name means "light," at the darkest time of the year. It's not such a great one-liner, of course, and it won't get as many laughs as Mark Twain. But then it's a different kind of humor—the sort that doesn't go stale.
C.S. Lewis gives his own charming description of faith in his second Narnia novel, Prince Caspian. One day, the youngest child in the story—Lucy Pevensie—encounters the lion Aslan, whom she hasn't seen in a long time; but, much to her dismay, she soon realizes that her siblings cannot see him, even in broad daylight. Then she notices something else:
"Aslan," said Lucy, "you're bigger."
"That is because you are older, little one," answered he.
"Not because you are?"
"I am not. But every year you grow, you will find me bigger."
As we grow older, does our faith, like the faith of St. Lucy and little Lucy Pevensie, allow us to see Christ "grow bigger"? Or is there a need to rub our eyes, in the event that we are missing something important? Getting to the bottom of these questions will probably take more than one Advent, so it's a good idea to get started now."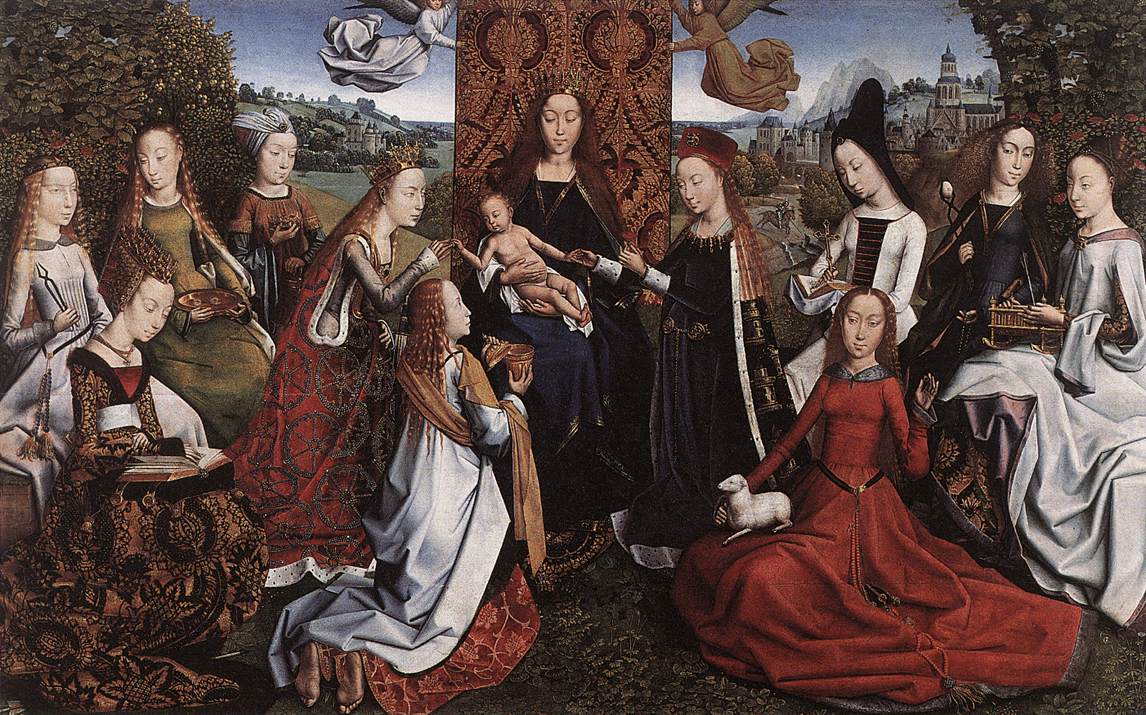 -please click on the image for greater detail
-The Blessed Virgin Surrounded by Female Saints, Artist Unknown/Anonymous, c. 1488, Oak, 108 x 171 cm, Musées Royaux des Beaux-Arts, Brussels –  Three saints are at the center of the composition.  They are Catherine, Mary Magdalen and Barbara.
The Virgin is represented as the Queen of Heaven. She wears a crown and is seated on a throne behind which two angels hold aloft a rich brocade honour cloth. The scene takes place in an enclosed garden, full of plants and flowers, evoking Paradise. A landscape extends far into the background. The eleven young women surrounding the Virgin can be identified by their various attributes accompanying them or decorating their rich garments. The Child is holding a ring to Catherine in order to seal their "mystical marriage". This saint is also accompanied by a sword and her mantle is decorated with wheels. Mary Magdalene can be recognised by her ointment pot and Barbara by the towers that decorate her brocade mantle and her necklace. To the left, Ursula is identified by the arrows of her martyrdom half hidden beneath her gown, Apollina by a tooth in a pair of pincers and Lucy by a tray with two eyes on it. An unidentified saint holds a crown and a bell. To the right, Agnes carries a lamb in her lap and presents a ring, signifying her mystical marriage with Christ. Cunera, a companion of Ursula, carries a little cradle or footstool, along with an arrow, and Agatha a pair of pincers holding a torn-off breast. Margaret holds a cross in her hand. She is also accompanied in the landscape by a representation of St George slaying the dragon, a scene with which she is frequently associated.
Saint Lucy
Whose beautiful name signifies 'LIGHT'
by the light of faith which God bestowed upon you
increase and preserve His light in my soul
so that I may avoid evil,
Be zealous in the performance of good works
and abhor nothing so much as the blindness and
the darkness of evil and sin.
Obtain for me, by your intercession with God
Perfect vision for my bodily eyes
and the grace to use them for God's greater honour and glory
and the salvation of souls.
St. Lucy, virgin and martyr
hear my prayers and obtain my petitions.
Amen.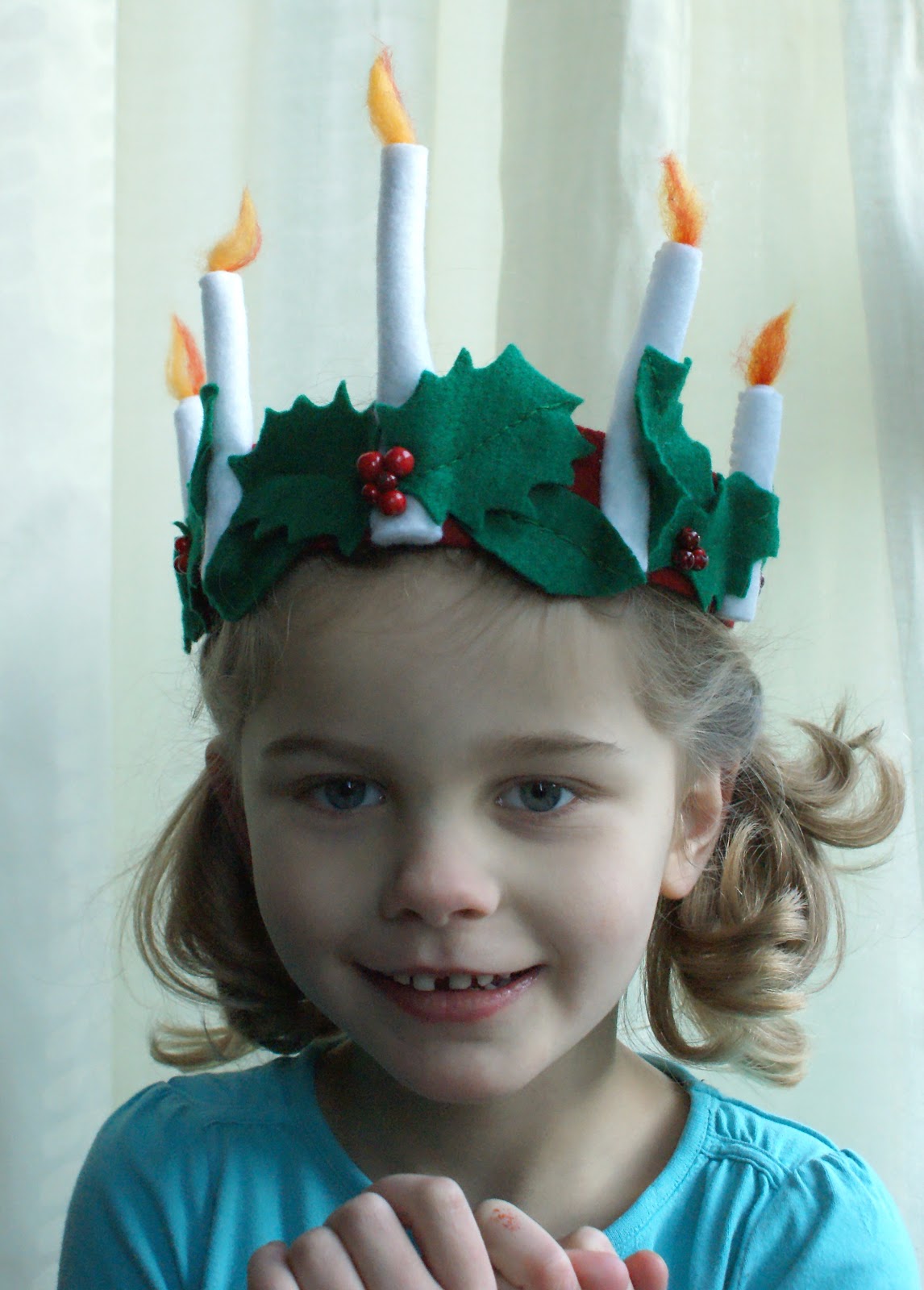 O! Glorious St Lucy, Virgin and Martyr, you greatly glorified the Lord by preferring to sacrifice your life rather than be unfaithful. Come to our aid and, through the love of this same most loveable Lord, save us from all infirmities of the eyes and the danger of losing them.
Through your powerful intercession, may we spend our life in the peace of the Lord and be able to see Him with our transfigured eyes in the eternal splendour of the Celestial Homeland. Amen.
St Lucy, pray for us and for the most needy, to Christ our Lord. Amen.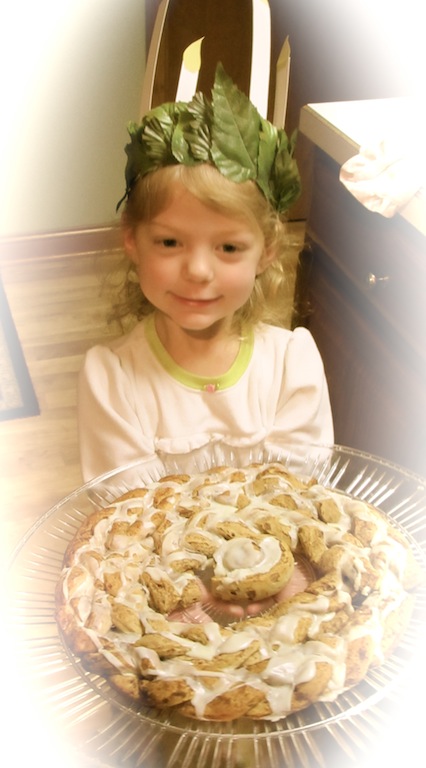 O St Lucy, you preferred to let your eyes be torn out instead of denying the faith and defiling your soul; and God, through an extraordinary miracle, replaced them with another pair of sound and perfect eyes to reward your virtue and faith, appointing you as the protector against eye diseases. I come to you for you to protect my eyesight and to heal the illness in my eyes.
O St Lucy, preserve the light of my eyes so that I may see the beauties of creation, the glow of the sun, the colour of the flowers and the smile of children.
Preserve also the eyes of my soul, the faith, through which I can know my God, understand His teachings, recognise His love for me and never miss the road that leads me to where you, St Lucy, can be found in the company of the angels and saints.
St Lucy, protect my eyes and preserve my faith. Amen.
Love,
Matthew