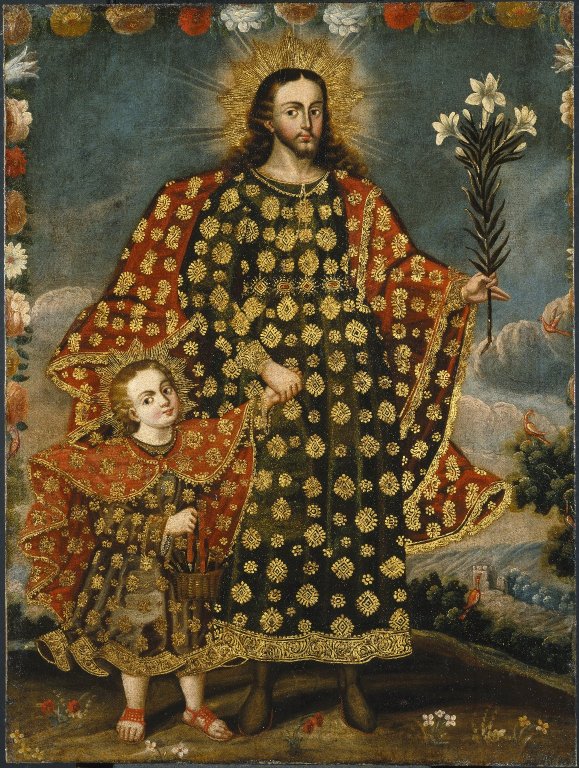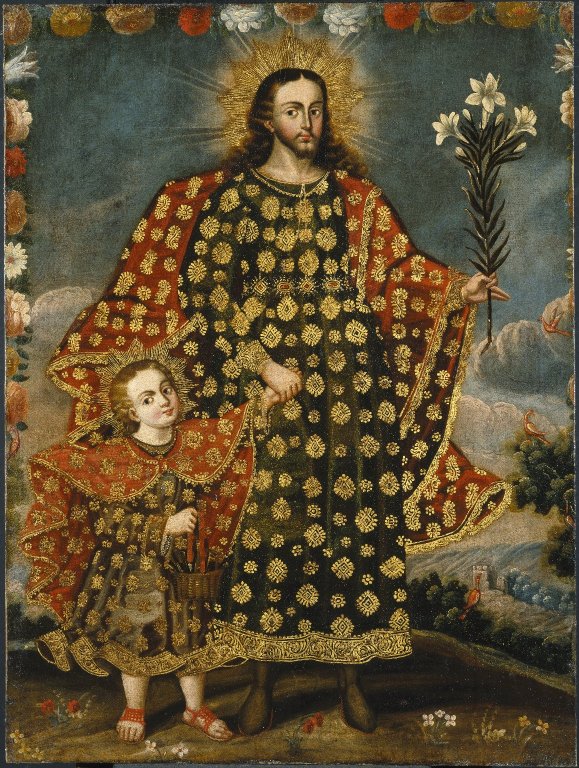 -Cuzco School, Peru, "Saint Joseph and the Christ Child", late 17th-18th century. Oil on canvas, 43 x 32 1/8in. (109.2 x 81.6cm), Brooklyn Museum
In the Litany of St Joseph, one the titles of honor given to him is Terror of Demons.  Due to his unshakeable faith, his assiduous perseverance, his admirable purity and his exceptional humility, and given the nobility and grandeur of his vocation – the protection, sustenance and care of the Blessed Mother and Our Lord Jesus Christ, as head of the Holy Family – we can expect that God also endowed him with an equally proportional grace to carry out such a lofty mission in life. And certainly we can picture him as a sublime icon of manliness and a pillar of strength that would sow terrible fear among the powers of darkness given his noble task.  Would God allow/accept anything less for the earthly foster-father of His Son?
In Catholic iconography, St Joseph is pictured holding a staff from which a white lily grows.  This is due to Catholic hagiography which states from reliable, albeit non-scriptural, sources near to the period, when the holy priest Simeon gathered all the young men of Jerusalem from the house of David at the temple to choose who would be the rightful spouse of Our Lady, he was inspired by God to give each man a dry rod. After a period of prayer asking for the manifestation of the Divine Will, pure white lilies – the symbol of purity – blossomed from St. Joseph's staff and a white dove, most pure and brilliant, hovered over his head giving Simeon the sign that he was the chosen one.
Hence, St. Joseph is the epitome of a pure man: pure in thought, pure in heart; pure in body and soul – destined to be the most chaste spouse of Mary Most Holy conceived without sin. In face of such sublime purity and holiness, it would not be farfetched to believe that the ugly, filthy infernal spirits would cower in petrified fear in his presence.
I have a special intention I am entrusting to St Joseph, in addition to so much I have already entrusted to him.  Pray for me!  St Joseph, Terror of Demons, pray for us!
Love,
Matthew