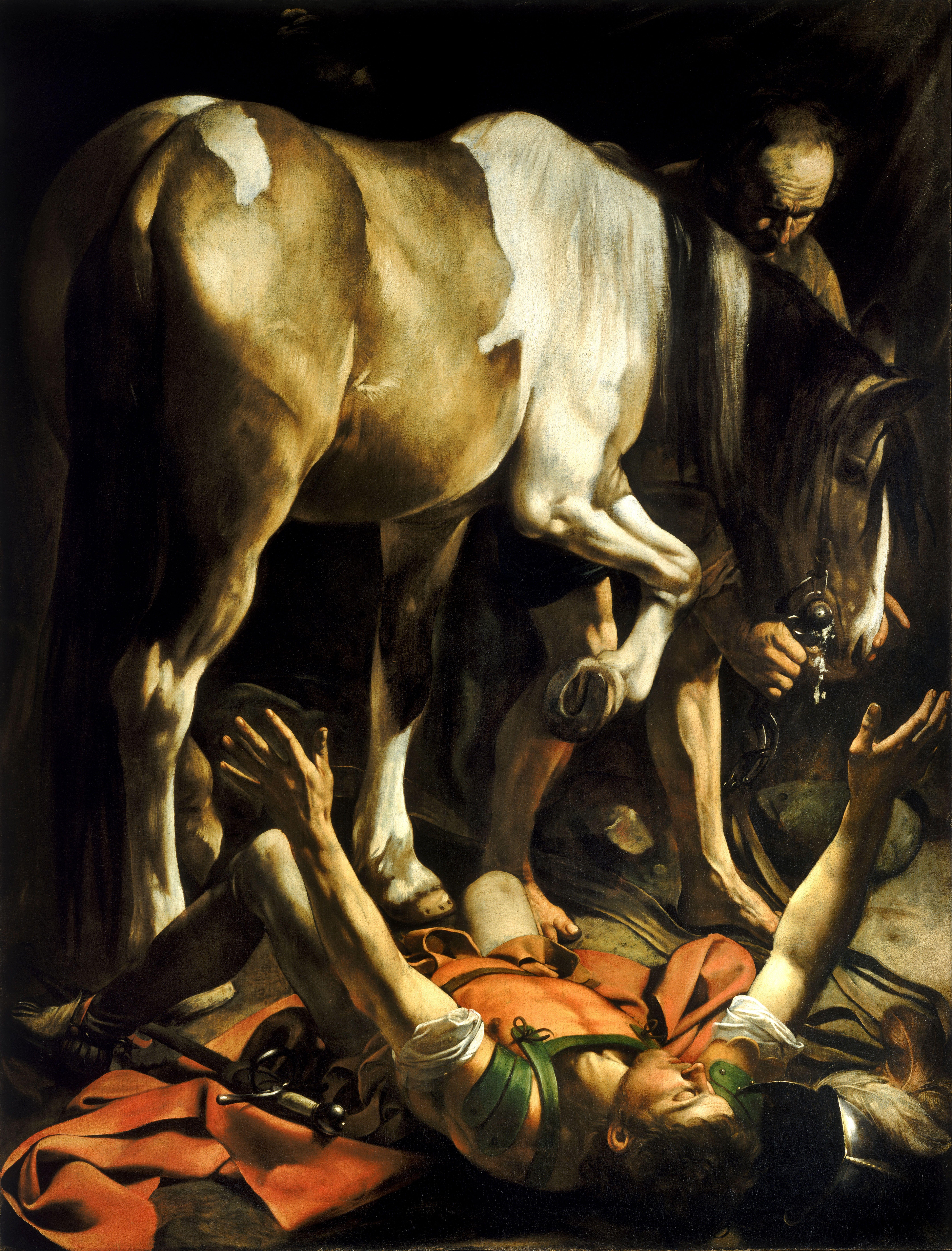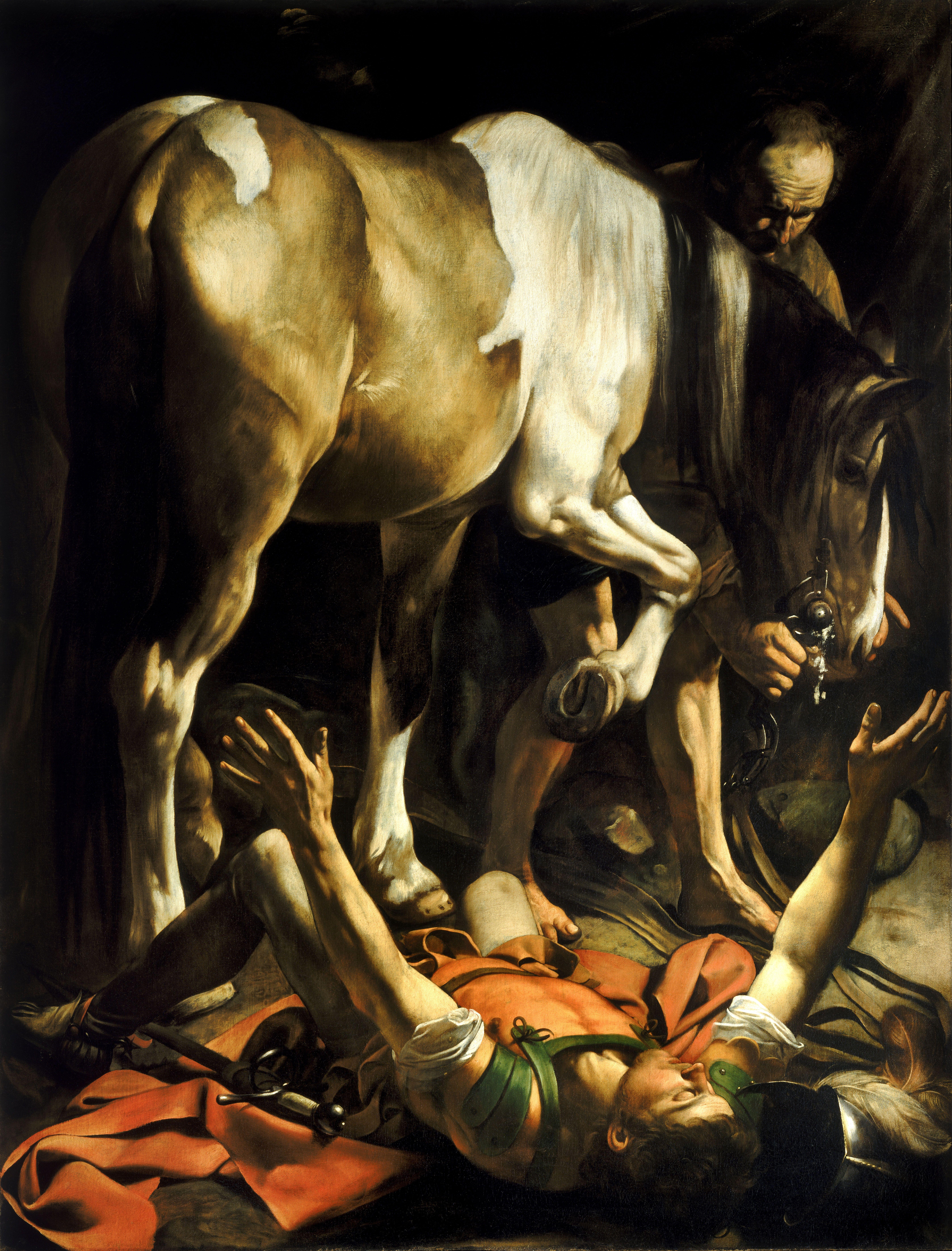 –Saul's Conversion, Caravaggio, 1601, Oil on canvas, 230 cm × 175 cm (91 in × 69 in), Santa Maria del Popolo, Rome
For freedom Christ set us free; so stand firm and do not submit again to the yoke of slavery (of sin) (Gal 5:1)
In 21st century America, we understand the freedom as an absence of coercion or restraint.  This was not always how this word has been understood.  Christians have understood freedom as freedom for the good,  the Freedom for Excellence.
As a catechist, I am strongly of the opinion, the crises of our age are directly related to a crises of catechesis. Our modern concept of "freedom to/of" suggest, wrongly, that the beauty of freedom is a vacuum of restraint.  Rather than,"You will know the truth, and the truth will make you free" (Jn 8:32), the modern concept of freedom proposes, "You will ignore the truth, and the ignorance will make you free?"
Freedom of indifference (free will) (William of Ockham) provides the ability to do anything one likes, to feel a lack of constraint. Freedom for excellence1, on the other hand, is the freedom to do good. It can develop and grow over time.
Everyone has freedom of indifference when playing the piano. Even if you've never had a single lesson, you can sit down and hit any key you wish. But only the trained musician has freedom for excellence, the freedom to play beautiful, sophisticated music. Similarly, everyone has freedom of indifference to throw a basketball toward a hoop, but only an experienced player has freedom for excellence, freedom to shoot and score consistently.
Freedom to achieve the goal of human life is aided and enhanced through revelatory instruction—what to do and what to avoid, or law/constraint. Natural law, that which is plainly evident from nature, enables all to do good and avoid evil. Revealed law is an additional grace that specifies for the individual conscience even more clearly the good to be done.
John Henry Cardinal Newman wrote in his letter to the Duke of Norfolk, our "conscience is the voice of God . . . a messenger of Him, who, both in nature and in grace, speaks to us behind a veil and teaches and rules us by his representatives. Conscience is the aboriginal vicar of Christ."
Conscience has dignity and rights because of its relationship to truth, a truth to which we owe allegiance. Conscience does not create values; it inquires zealously into what is true.  Recall my layman's fascination for Pilate's query, albeit mockingly lacking sincerity, "What is truth?" Jn 18:38.  More important than what we are free from is what we are free for:  to live the truth in love, both now and forever.
The human person, or moral agent, is a unity of body and soul, not soul alone. What a person does with his or her body partially constitutes who he/she is and whether he/she is moving toward increased virtue or vice.
As Thomas Aquinas wrote, to analyze the morality of an action, we have to look at the means, motive, and circumstances (Summa Theologiae I-II.18).  All three elements of an action must be good for the action to be good, just as to be a good airplane pilot, the pilot must see well, have flying experience, and be sober. Two out of three is not enough and is likely tragic. An otherwise good act motivated by greed, hatred, or cruelty is not a good act. Likewise, there are situations in which the motive is laudable (say, to express and reinforce love), the means is good (for example, spouses making love), but the circumstances are wrong (making love in a public park at noon).
The moral life involves the challenge to live a life of holiness to a heroic degree – such as the saints have done. Obedience to the truth about the human person —a pursuit of deep happiness and freedom—cannot be achieved through human power alone…
Freedom…even for…the Cross?  Explain the Cross and you will know, imho, all necessary to understand, at least, Christianity.  Spend a little time, slowly…this week, I humbly suggest, with the Cross.  Don't be afraid.  Don't turn away.  Don't rush to Easter.  Just be at the foot of the Cross and relish the radiance and joy of its meaning, splendor and purpose.  I think, doctor, I'll take my own advice, too.
Love,
Matthew
1  Pinckaers, Servais, O.P. The Sources of Christian Ethics, Translated by Sr. Mary Thomas Noble, O.P. Washington, D.C.: The Catholic University of America Press, 1995.