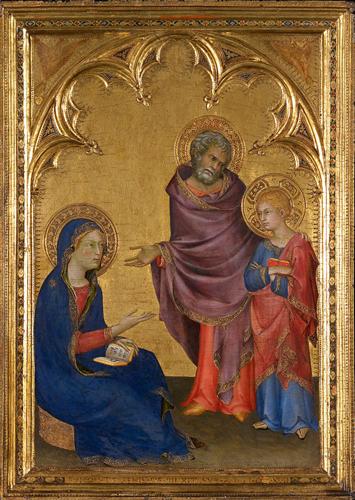 -"Christ Discovered in the Temple", 1342, Simone Martini, Walker Art Gallery, Liverpool, UK, this is my most FAV pic of the Holy Family!!!!  Ain't NOBODY happy here!!!!  🙂
With all the debate and pronouncements regarding the modern "definitions" of marriage & family, moral theology issues, etc., in my bewilderment and dismay, the only comfort I have found, the only thing that brings peace and makes sense, is to deepen my devotion to the Holy Family.  Join me, please.
(The morning offering prayer is a traditional Catholic prayer, this one adapted for fathers.)
Morning Offering Prayer of a Father:
"O My Jesus, I offer this day to You…
All my prayers, works, joys, and sufferings…
And, through You, I make this offering to our Father in heaven.
Be with me through this whole day in all its particulars,
And assist me that it may become a worthy offering in every way.
Be close to me in all I think and say and do.
Direct Your Spirit to speak to me…
And help me listen attentively when He does speak…
So that, in my response,
Your thoughts may become more surely my thoughts,
And Your ways may become my ways;
So that my judgments may accord with Your judgments,
And that the sentiments of my heart may be most like Your own Most Sacred Heart;
So that my conversation with others
May be the conversation I may ask You to share with us,
And that my works may be works I ask You to approve.
Help me to have the practical wisdom to look to Your Mother
From time to time throughout the day
And invite her to pray with me –
Realizing her concern that I be in all things faithful to You
And that Your graces be fruitful in me
To form me after the perfect fatherhood of God.
May I know the continued grace to work with You in all I do,
And not merely for You…
So that my day may become a perfect offering…
Lived with You and in You and through You,
To be presented to our Father in joy and love.
Amen."
Good St Joseph, Head of the Holy Family, Patron of Husbands and of Fathers, Faithful Servant, Entrusted Guardian & Protector of our Lord: I, too, have been highly favored and blessed, entrusted with the care of soul and body of this Daughter of God as my life's vocation.  With you as my exemplar, ask your foster Son to grant me the graces always to faithfully fulfill my Christian duty as a husband and father until my own death.
O, Good St Joseph, in thanksgiving and rejoicing for this great joy and honor God has bestowed upon me – to participate with Him as co-Creator of Life, I beg you to come to my assistance and pray for me!  Be my constant advocate before the Throne of God in all my necessities and trials!  Amen.
Collect: O God, Who were pleased to give us the shining example of the Holy Family, graciously grant that we may imitate them in practicing the virtues of family life and in the bonds of charity, and so, in the joy of Your house, delight one day in eternal rewards. Through our Lord Jesus Christ, your Son, Who lives and reigns with You in the unity of the Holy Spirit, one God, for ever and ever. Amen.
Pray for us!
Love,
Matthew, Kelly & Mara