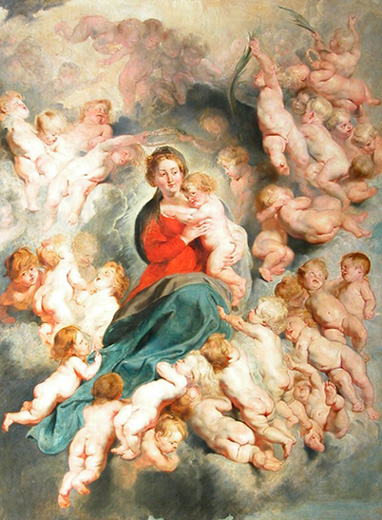 My novice master, Fr. Ambrose Eckinger, O.P., previously a barber in secular life, who insisted as part of our poverty we learn to cut each other's hair!, silliest thing I ever was ordered to do, IMHO, and a cliché rotund friar, think jovial cookie jar, an excellent organist, and whose Christian name was previously Joseph, had just returned from Rome prior to accepting the office of novice master for the province of St Joseph.  There he collected "goodies".  One of the "goodies" he collected were religious medals only to be found in Rome – the good stuff, literally.  Cannot be had/found here, for any price.
Novices and postulants to Catholic religious orders are held in special affection as the youngest, as children would be in a family, and as the future and the potential glory of the Order in the service of God Himself, alone. In some monasteries, the normal order of seniority, aka, order of religion, as in whom entered the order the earliest, not necessarily strictly age, is reversed on the feast, as a kind of humor and lesson in humility for all.
On the Feast of the Holy Innocents 1988, Fr. Ambrose presented to each novice a medal of the Holy Innocents containing a third class relic (LONG, technical explanation, if you are not familiar).  It being very fine, I placed mine on the beautiful, fine, nicest I EVER received, saw, was given, made in France rosary given me by the very young, blonde, most attractive Dominican Sister of Nashville, for whose grade school class I was mascot.
You're not really Catholic until you've got many, high quality, jingly-jangly, coveted religious medals, four to a Pater Noster, as you WORK the beads!, hanging from the rosary you will be buried with, or hope to.  The rosary is held in special esteem by the Order of Preachers.  By legend, given to St Dominic himself by the Blessed Mother, it is the Dominican sword, always worn to the left by the right-handed and vice-versa for easy and immediate withdrawal from the scabbard as a spiritual weapon.  And, oh, what a weapon.  Just ask the Saracens at Lepanto!
We keep that rosary in the safe deposit box along with the wills, jewels, emeralds, diamonds, rubies, krugerrands, (just kidding on the rubies), and other items I require I be buried with including most touching letters of thanks I have received from survivors of clergy sexual abuse.  Proof for Jesus, upon my Resurrection, as if He needed any.  Kelly has express instructions.  God have mercy on our souls.
I believe God and a mother's love are the two most powerful forces in the Universe.  I witnessed this as a son.  I witness this even more profoundly and have ever more irrefutable proof of said every day.  I stagger back and fall down.  My breath is withdrawn from me.  I tremble, literally, in fear, so powerful is this force.  The very incarnation (small "I") of God's love for His people.  I am not being facetious.  Fatherhood has NOTHING analogous.
Mt 2:18
Hymn: Salvete Flores
All Hail! ye infant Martyr flowers,
Cut off in life's first dawning hours:
As rosebuds snapt in temptest strife,
When Herod sought your Savior's life.
You, tender flock of lambs, we sing,
First victims slain for Christ your King:
Beside the very altar, gay
With palms and crowns, ye seem to play.
All honor, laud, and glory be,
O Jesu, Virgin-born, to Thee;
All glory, as is ever meet,
To Father and to Paraclete.
Merry Christmas,
Matthew