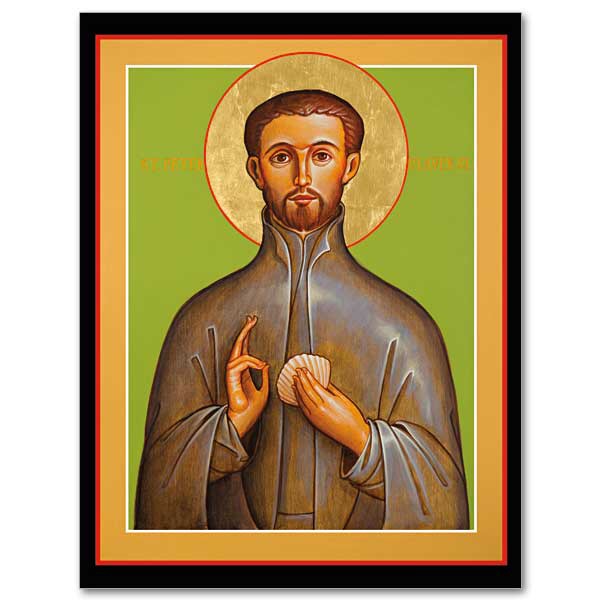 I am convinced, in our modern convenience, we forget, willfully, albeit unconsciously, how awful, terrible, and hard reality was at times in the past, or even more recently, mentally distancing ourselves as a means of emotional defense and comfort: Iraq, WWII, pioneers, the Civil War, slavery.
We relegate these visceral memories to colorful pages in a history book or, now, online. But, these, currently, and at one time, were reality. The story of St Peter Claver begins to show me so.
A native of Spain, young Jesuit Peter Claver left his homeland forever in 1610 to be a missionary in the colonies of the New World. He sailed into Cartagena (now in Colombia), a rich port city washed by the Caribbean. He was ordained there in 1615.
By this time the slave trade had been established in the Americas for nearly 100 years, and Cartagena was a chief center for it.  Criminals, war captives, the mentally unstable, the sick and various social misfits were bartered to the white traders by the African chiefs. Others were captured at random, especially able-bodied males and females deemed suitable for labor.
Ten thousand slaves poured into the port each year after crossing the Atlantic from West Africa under conditions so foul and inhuman that an estimated one-third of the passengers died in transit. Although the practice of slave-trading was condemned by Pope Paul III and later labeled "supreme villainy" by Pius IX, it continued to flourish.
Peter Claver's predecessor, Jesuit Father Alfonso de Sandoval, had devoted himself to the service of the slaves for 40 years before Claver arrived to continue his work, declaring himself "the slave of the Negroes forever."
As soon as a slave ship entered the port, Peter Claver moved into its infested hold to minister to the ill-treated and miserable passengers. After the slaves were herded out of the ship like chained animals and shut up in nearby yards to be gazed at by the crowds, Claver plunged in among them with medicines, food, bread, brandy, lemons and tobacco. With the help of interpreters he gave basic instructions and assured his brothers and sisters of their human dignity and God's saving love. During the 40 years of his ministry, Claver instructed and baptized an estimated 300,000 slaves.
His apostolate extended beyond his care for slaves. He became a moral force, indeed, the apostle of Cartagena. He preached in the city square, gave missions to sailors and traders as well as country missions, during which he avoided, when possible, the hospitality of the planters and owners and lodged in the slave quarters instead.
Claver had conflicts with some of his Jesuit brothers, who accepted slavery. Claver saw the slaves as fellow Christians, encouraging others to do so as well.
After four years of sickness which forced the saint to remain inactive and largely neglected, he died on September 8, 1654. The city magistrates, who had previously frowned at his solicitude for the black outcasts, ordered that he should be buried at public expense and with great pomp.
He was canonized in 1888, and Pope Leo XIII declared him the worldwide patron of missionary work among black slaves.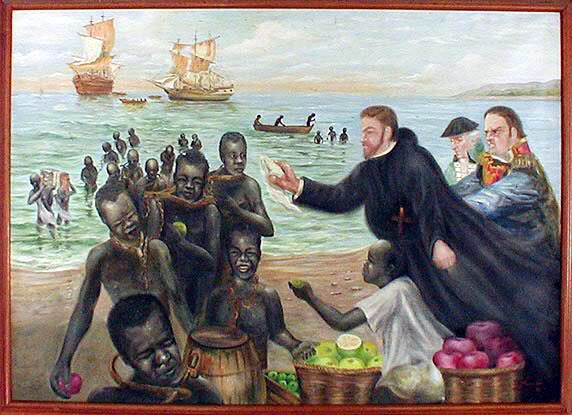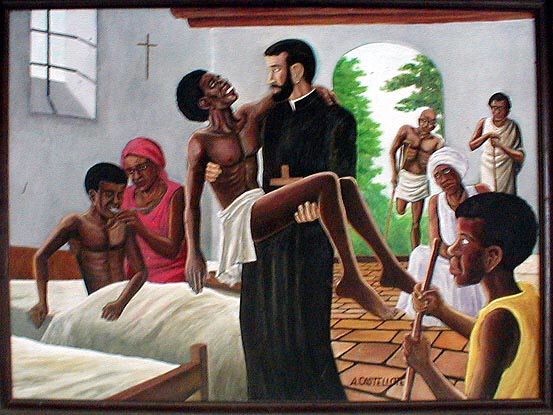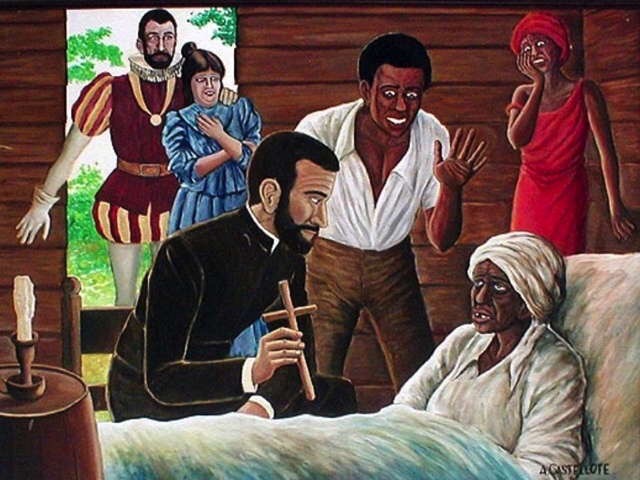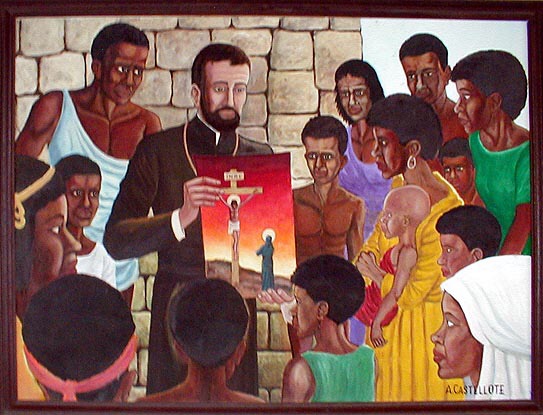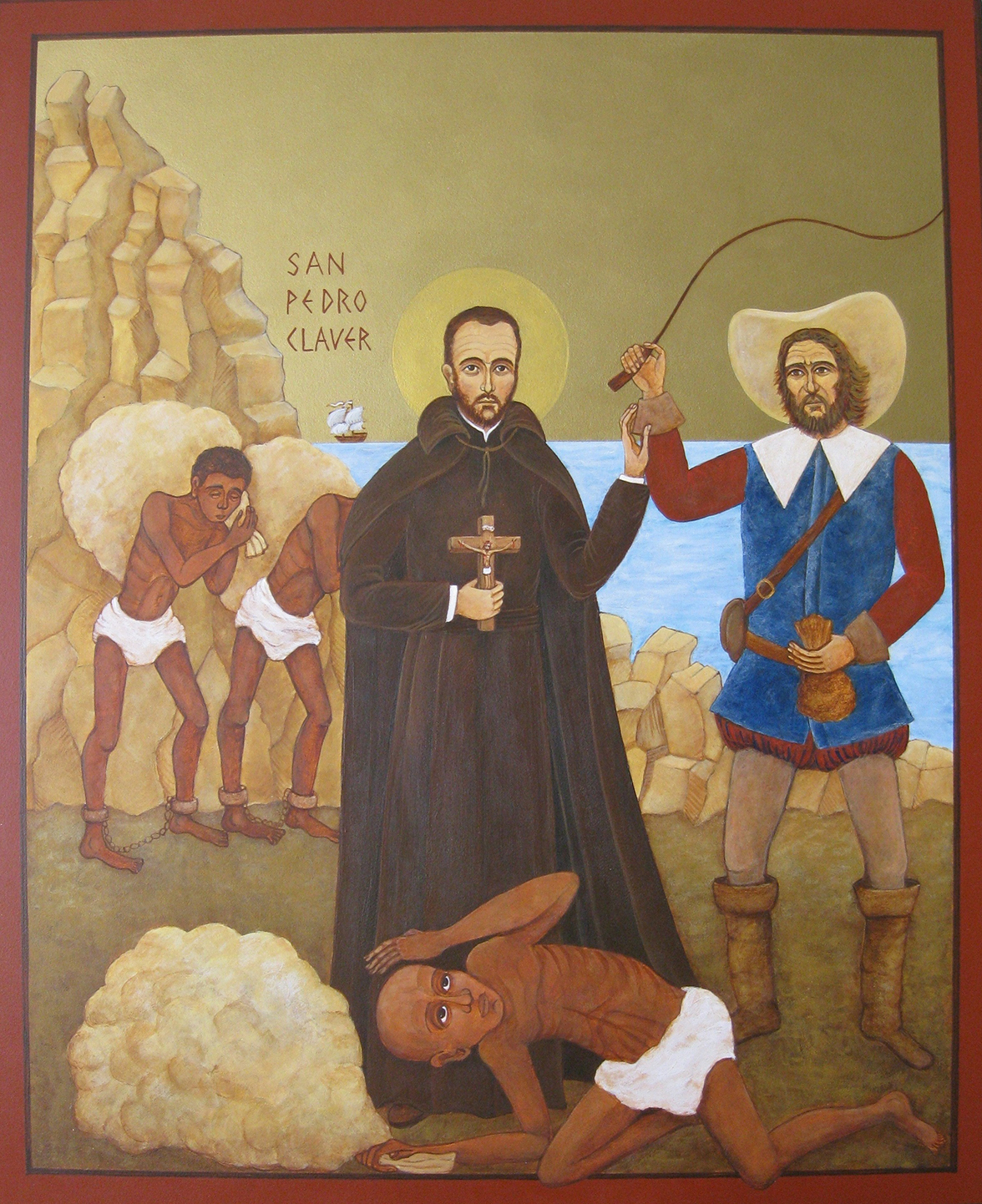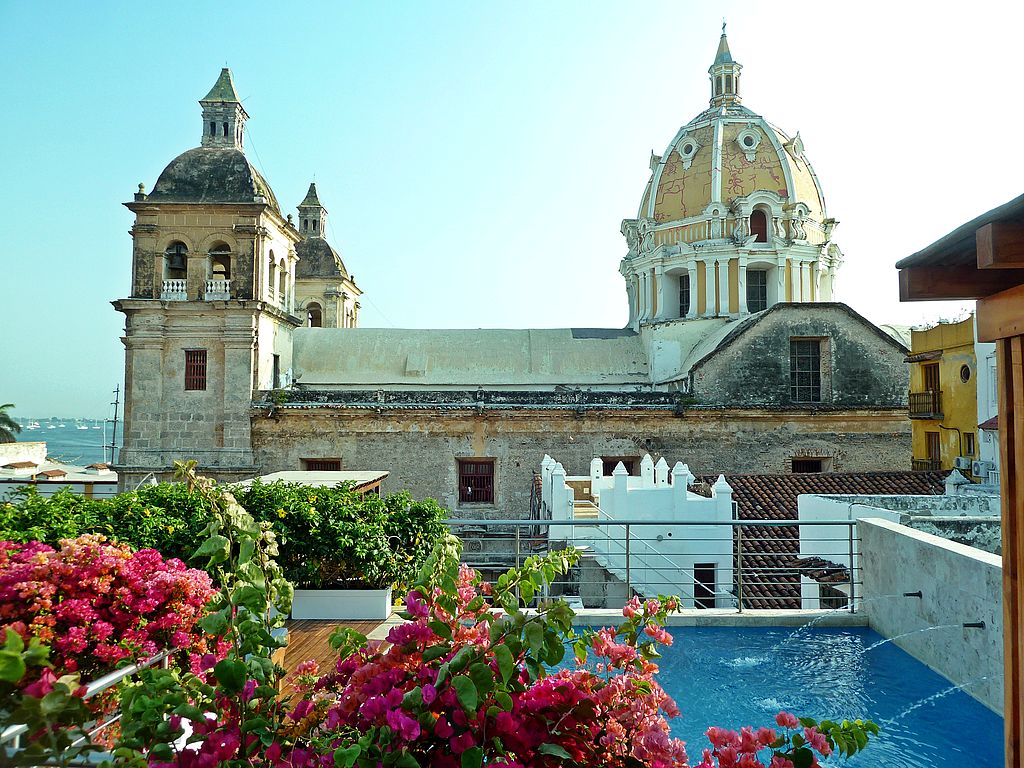 -Cathedral of San Pedro Claver, Cartegena, Colombia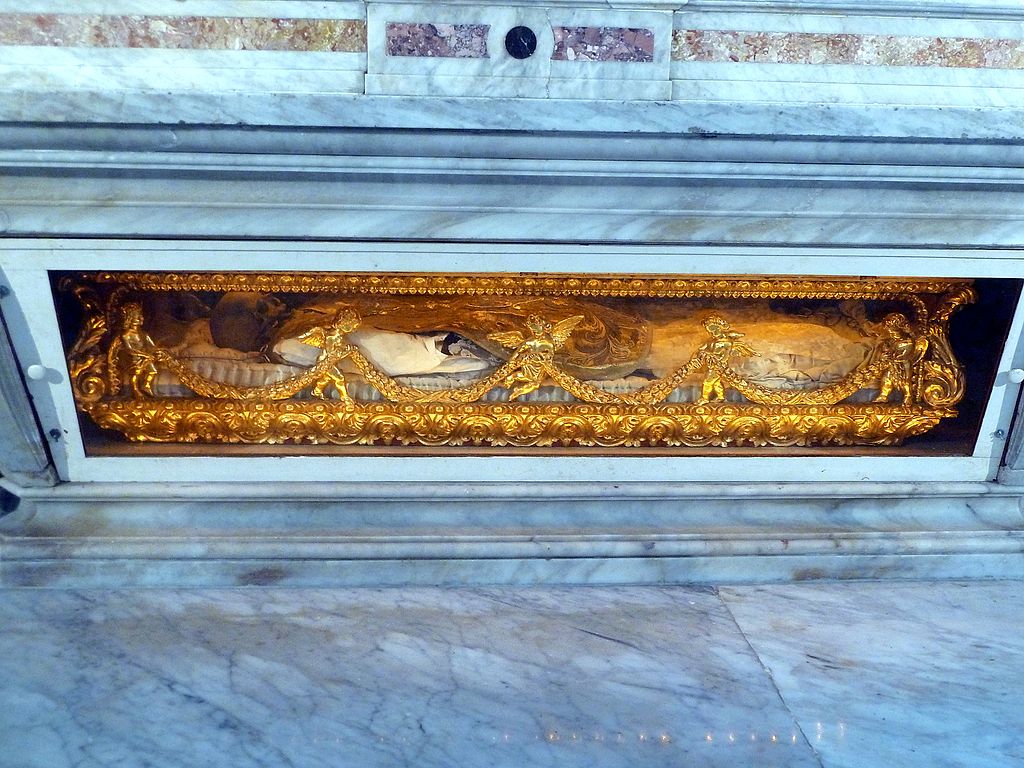 -remains of St Peter Claver, SJ, Cathedral of San Pedro Claver
"Yesterday, May 30, 1627, on the feast of the Most Holy Trinity, numerous blacks, brought from the rivers of Africa, disembarked from a large ship. Carrying two baskets of oranges, lemons, sweet biscuits, and I know not what else, we hurried toward them. We had to force our way through the crowd until we reached the sick. Large numbers of the sick were lying on the wet ground or rather in puddles of mud. To prevent excessive dampness, someone had thought of building up a mound with a mixture of tiles and broken pieces of bricks. This, then, was their couch, a very uncomfortable one not only for that reason, but especially because they were naked, without any clothing to protect them.
We laid aside our cloaks, therefore, and brought from a warehouse whatever was handy to build a platform. In that way we covered a space to which we at last transferred the sick, by forcing a passage through bands of slaves. Then we divided the sick into two groups: one group my companion approached with an interpreter, and I addressed the other group.
There were two blacks, nearer death than life, already cold, whose pulse could scarcely be detected. With the help of a tile we pulled some live coals together and placed them in the middle near the dying men. Into this fire we tossed aromatics. Then, using our own cloaks, for they had nothing of the sort, and to ask the owners for others would have been a waste of words, we provided for them a smoke treatment, by which they seemed to recover their warmth, and the breath of life. The joy in their eyes as they looked at us was something to see.
This was how we spoke to them, not with words but with our hands and our actions. And in fact, convinced as they were that they had been brought here to be eaten, any other language would have proved utterly useless. Then we sat, or rather knelt, beside them and bathed their faces and bodies with wine. We made every effort to encourage them with friendly gestures and displayed in their presence the emotions which somehow naturally tend to hearten the sick.
After this we began an elementary instruction about baptism, that is, the wonderful effects of the sacrament on body and soul. When by their answers to our questions they showed they had sufficiently understood this, we went on to a more extensive instruction, namely, about the one God, who rewards and punishes each one according to his merit, and the rest. Finally, when they appeared sufficiently prepared, we told them the mysteries of the Trinity, the Incarnation and the Passion. Showing them Christ fastened to the cross, as he is depicted on the baptismal font on which streams of blood flow down from his wounds, we led them in reciting an act of contrition in their own language."-from a letter by St Peter Claver, SJ
"To love God as He ought to be loved, we must be detached from all temporal love. We must love nothing but Him, or if we love anything else, we must love it only for His sake."-St Peter Claver, SJ
God of mercy and love, you offer all peoples the dignity of sharing in Your life. By the example and prayers of Saint Peter Claver, strengthen us to overcome all racial hatreds and to love each other as brothers and sisters. We ask this through our Lord Jesus Christ, your Son, who lives and reigns with you and the Holy Spirit, one God, for ever and ever. Amen.
Love,
Matthew