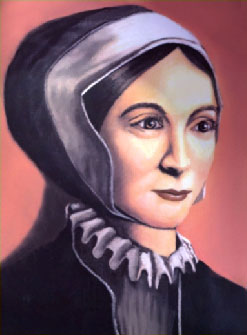 Margaret was born in York and lived there all her life. Her parents were Thomas and Jane Middleton.  She was one of five children.  Her father was a candle maker and had been sheriff of York for two years.  Like other young girls of the time, she was intentionally not taught to read or to write.
At the age of 15 she married a butcher, John Clitherow, July 8, 1571, and three years later became a Catholic. Together, they had three children:  Henry, Anne, and William, William having been born while Margaret was in prison.  She helped run her husband's butcher shop.  According to her confessor, spiritual director, and biographer, Fr. John Mush, Margaret became a Catholic because she "found no substance, truth nor Christian comfort in the ministers of the new church, nor in their doctrine itself, and hearing also many priests and lay people to suffer for the defense of the ancient Catholic Faith."
When speaking of her husband Margaret said, ""Know you, I love him next to God in this world. . . . If I have offended my husband in any way, save for my conscience, I ask of God and him forgiveness." John said that he could wish for no better wife, "except only two faults, and these were, she fasted too much and would not go with me to church."
Laws were passed which included a 1585 law that made it high treason for a priest to live in England and a felony for anyone to harbor or aid a priest. The penalty for breaking such laws was death. Despite the risk, Margaret helped and concealed priests. Margaret said "by God's grace all priests shall be more welcome to me than ever they were, and I will do what I can to set forward God's Catholic service."  Imprisoned for her non-attendance at Anglican services, she taught herself to read, and on her release ran a small school for her own and her neighbors' children. It is said that she used to visit the Knavesmire (the Tyburn of the North, a place of execution) to pray for those who had been martyred there.
She saw that her children were all educated in the faith through the services of a young man, Stapleton, who had been imprisoned for his faith in York Castle. She knew this prison well having been detained there several times for non-attendance at Church of England services.
Margaret wanted her son Henry to receive a Catholic education so she endeavored that her son be sent outside the England to Douai, France for schooling. Such an act was considered a crime.  On March 10, 1586, the council summoned the Chamberlain of York, John Clitherow and demanded that he explain the absence of his son abroad. This was a bold move because the chamberlain was a well respected member of the Protestant community. He was outraged and refused to give them any information about the whereabouts or activity of his son Henry who had enrolled in the seminary in France.
Margaret was not upset to find out that her husband was summoned. She was sure that the authorities would use the occasion to search their home but she was certain that they would find nothing that would incriminate her or her husband. Mass had been said that morning and the priest had escaped. The faithful Mr. Stapleton was conducting class for a group of children. When the alarm was sounded, the teacher escaped through a window. When the searchers burst open the schoolroom door, they found nothing but a group of children studying their lessons. Had it been only the Clitherow children and their Catholic neighbors involved, the authorities would not have learned very much. The Yorkshire children were strong in their faith and were not easily intimidated.
There was in the group a weak spot. There was an older student whom the children considered a foreigner. He was older than all the rest-about 14 years of age. He was Flemish and a stranger to the ways of England and its anti-Catholic laws. Fear showed on his face and the authorities recognized it. They stripped him and threatened him with a flogging. He quickly gave in and told them everything he knew.
He showed them everything—where the Mass was said and where the vestments and altar breads were kept. This was more than the searchers had even hoped for. It clearly proved that Mass was being celebrated in the house despite the law. The Flemish boy told them everything he knew and even some things he did not know. He was only too willing to speak and not too accurate in what he said.
Quickly the authorities ransacked the house. They carried off all of the incriminating evidence. The two Clitherow children were taken to loyal Protestant families and Margaret was never allowed to see her children again. The servants were arrested and thrown into prison because they were loyal to their mistress. Once again Margaret found herself in prison.
When she was brought before the council, she astonished everyone. She was not only fearless, she had a smile on her face. She seemed relieved at being arrested. It was as if she had foreseen the danger and it may have been a relief to have the suspense end when the outcome was known to be inevitable. She was confined with her friend Anne Tesh who was being held for hearing Mass. The two were supportive of each other and confounded their captors with their continued good humor in their jail cell.
On the third day of her confinement, the authorities allowed her husband John to visit her briefly. The visit took place in the presence of the jailer. She was never to see her husband again. The meeting had a sobering effect on both.
Early in the evening of Monday, March 14, Margaret Clitherow was brought before the judges at Common Hall in the city of York. A large crowd was in the streets and in the court for she was dearly loved by many of the citizens. Her indictment was read and she was asked how she pleaded. In answer she said, "I know of no offense whereof I should confess myself guilty. Having made no offense, I need no trial."
Following her refusal to plead guilty the judges tried to convince her to stand trial. For hours they tried to discredit her but she refused to be shaken. Judge Clinch warned her that if she refused to stand trial, the law would sentence her to a far more painful death than a jury could. The other judges on the panel accused her of crimes of every kind including having intercourse with the priests she harbored. Nothing seemed to move her and the presiding judge sent her back to prison for the night hoping that the solitary confinement would alter her thinking and bring her to her senses.On the next day she was taken back to the Common Hall in the early morning. Judge Clinch reminded her that under the law of Queen Elizabeth, when an accused person refused to make a plea and stand trial before a jury, the accused would be sentenced to what was called "peine forte et dure." The person was laid naked on the stone floor of an underground cell with a door laid over him and on the door heavy stones were piled. Further weights were piled upon him until he was pressed to death.
Margaret refused to make a plea and to stand trial because she did not want her young children called to court. She told her friend Mrs. Tesh that she knew she would be executed in any case and she did not want to have her children forced to give evidence against their mother. Many at the court pleaded with her to change her mind. Even the judge tried to persuade her to no avail.
Finally the judge passed sentence that she should be crushed to death as a punishment for having "harbored and maintained Jesuits and seminary priests, traitors to the Queen's majesty and her laws."  "You must return from whence you came, and there, in the lowest part of the prison, be stripped naked, laid down, your back on the ground, and as much weight laid upon you as you are able to bear, and so to continue for three days without meat or drink, and on the third day to be pressed to death, your hands and feet tied to posts, and a sharp stone under your back."
– words of condemnation spoken by the British magistrate of her majesty Queen Elizabeth, on Tuesday, March 15, 1586, in the Court of York, Judge George Clinch condemned to death St Margaret, pregnant with her fourth child. Her crime was sheltering Roman priests who were "traitors and seducers of the queen's subjects."  The stone under the condemned's back was to be the size of a fist, intended to break the spine as weight was applied.
When John Clitherow heard of his wife's sentence, 'he fared like a man out of his wits, and wept so violently that blood gushed out of his nose in great quantity, and said, "Alas, will they kill my wife? Let them take all I have and save her, for she is the best wife in all England, and the best Catholic also."' She had already sent her hat to her husband 'in sign of her loving duty to him as to her head'; her shoes and stockings she sent to her twelve-year-old daughter Anne, 'signifying that she should serve God and follow in her steps'.
Ten days were allowed to pass between her sentencing and execution. On Good Friday morning of March 25, 1586, after sewing her own shroud the night before and after praying for the Pope, cardinals, clergy, and the Queen, Margaret was executed.  She lay sandwiched between a rock and a wooden slab while weights, 800 pounds, were dropped upon her, crushing her to death. She did not cry out but prayed "Jesu, Jesu, Jesu, have mercy upon me." On the day of her execution she was calm and forgiving. When asked to pray for the Queen, she asked God to turn Her Majesty to the Catholic faith. Within a quarter of an hour she was dead. The sheriffs left the body under the door from nine in the morning until three in the afternoon. They then buried her body in some waste ground, where they hoped it would never be found, but was later discovered by friends, who buried her privately elsewhere; though the place of her burial has not yet been found. Her daughter Anne was imprisoned for four years for refusing to attend a Church of England service, and finally became a nun at Louvain. Two of Margaret's sons became priests.
"God be thanked, I am not worthy of so good a death as this."
– Saint Margaret, when advised of her sentence
"I die for the love of my Lord Jesu."
– Saint Margaret, when asked to confess her crimes before execution
"The sheriffs have said that I am going to die this coming Friday; and I feel the weakness of my flesh which is troubled at this news, but my spirit rejoices greatly. For the love of God, pray for me and ask all good people to do likewise."
– St Margaret Clitherow, to a friend upon learning of her condemnation
"I am fully resolved in all things touching my Faith, which I ground upon Jesu Christ, and by Him I steadfastly believe to be saved . . . and by God's assistance I mean to live and die in the same Faith; for if an angel come from heaven, and preach any other doctrine than we have received, the Apostle biddeth us not believe him."  – St Margaret Clitherow, (see Gal 1:8)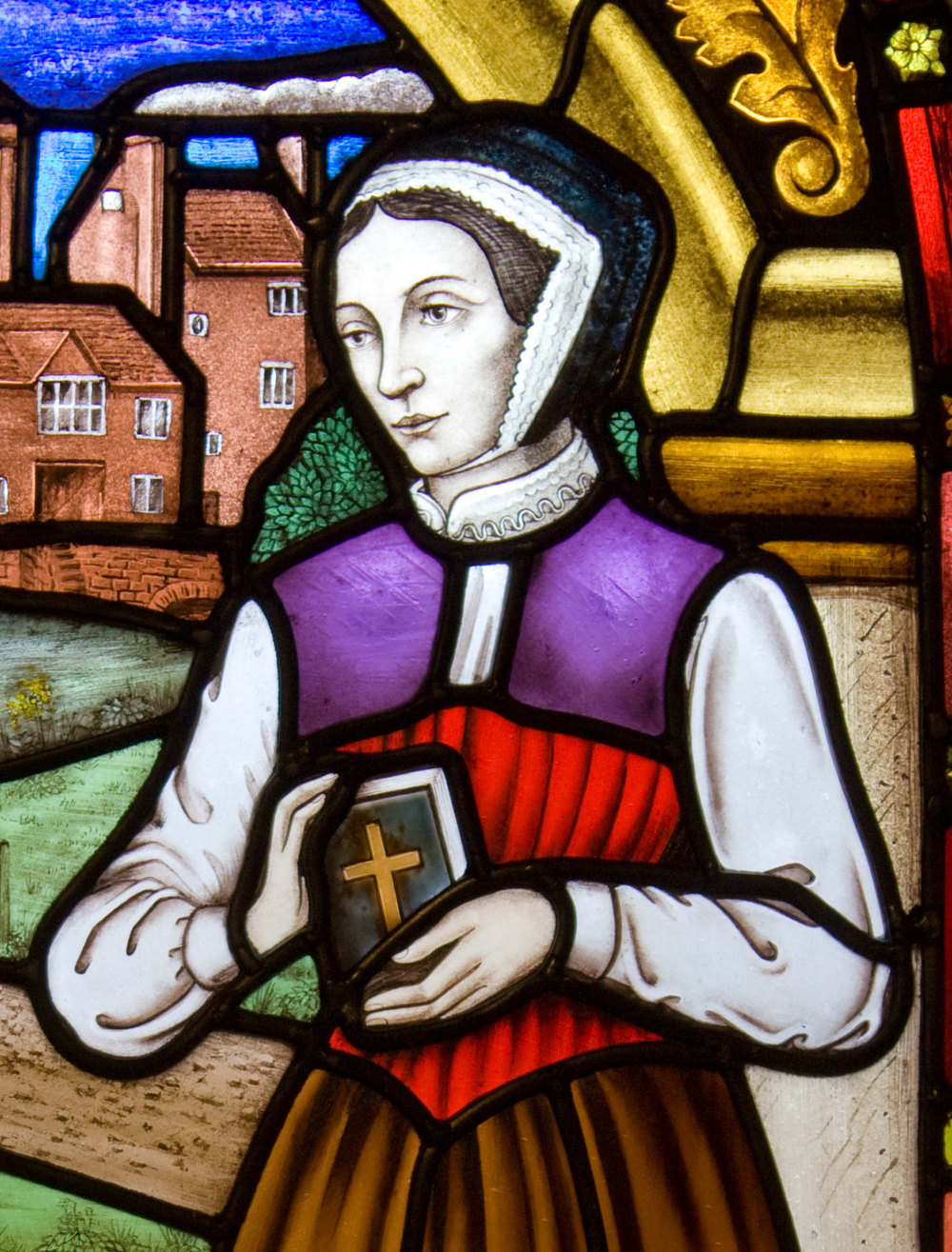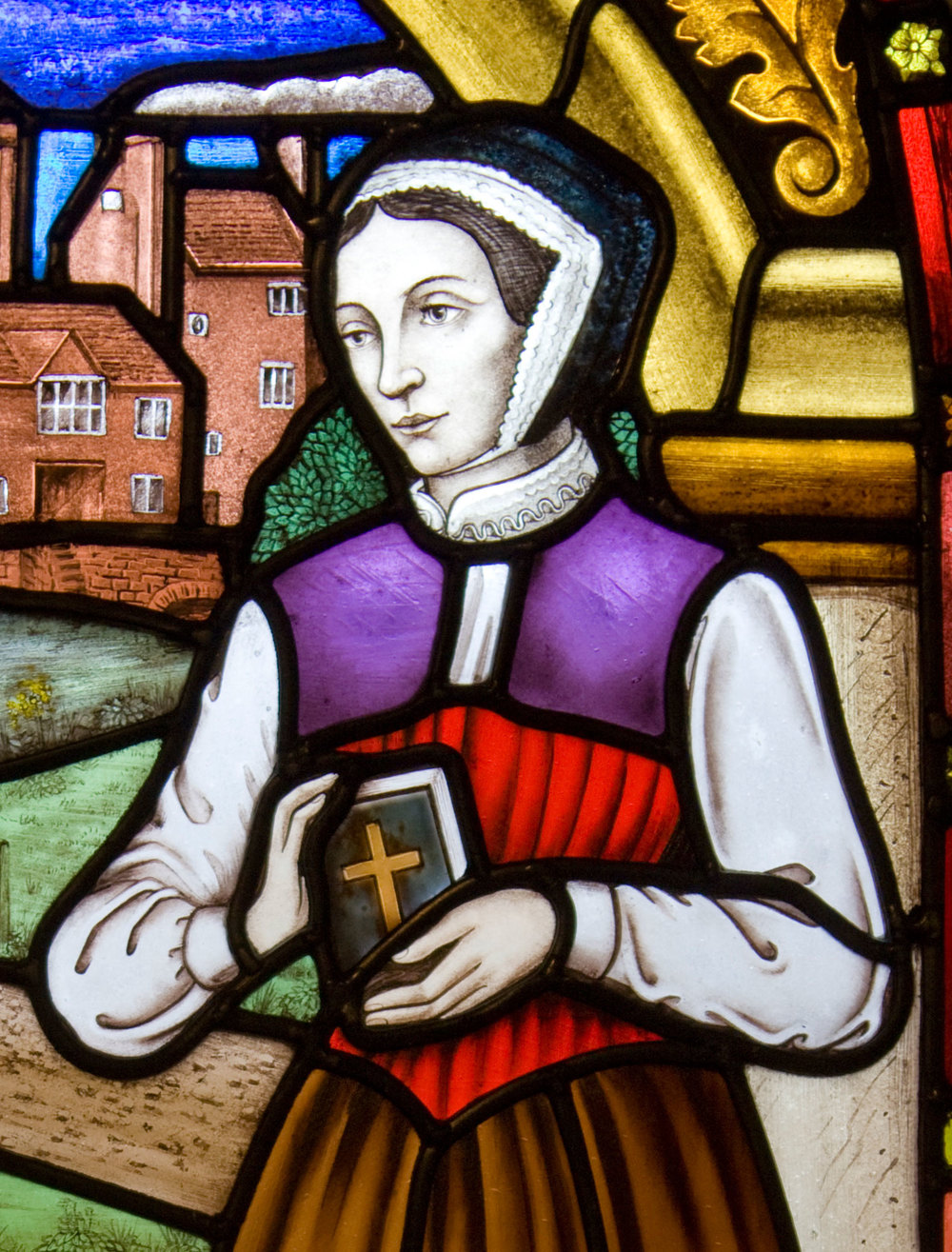 THE PEARL OF YORK
A girl, a lady,
Wife, a mother,
From church of England
She saw the other.
The other where
Her church came from.
The other where
The fruit was plumb.
The other where
Her church beat down
And looted jewels
For earthly crown.
And watching she
Was irritated
And slowly grew
Sophisticated.
Sitting silent
In her shell
Her home a place
Where priests could dwell
Confect the Mass
Many saved
For this their limbs
And lives were braved.
Because a woman
Kept her shell
A jealous fortress
Barring hell.
And then the weak
Pried open wide
Exposing truth
The shell's inside
Where mother, wife,
Lady, girl,
Had turned into
York's royalist pearl.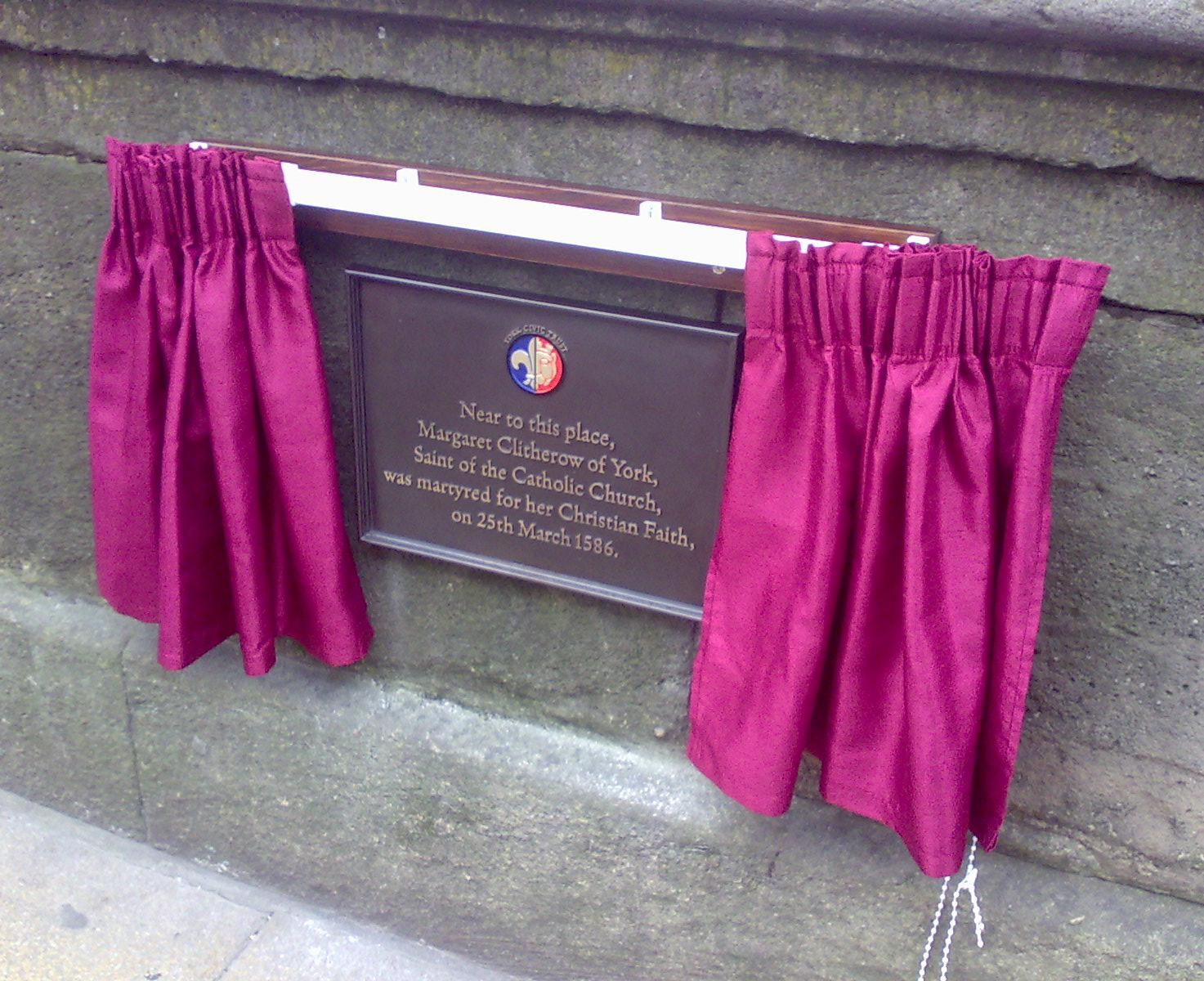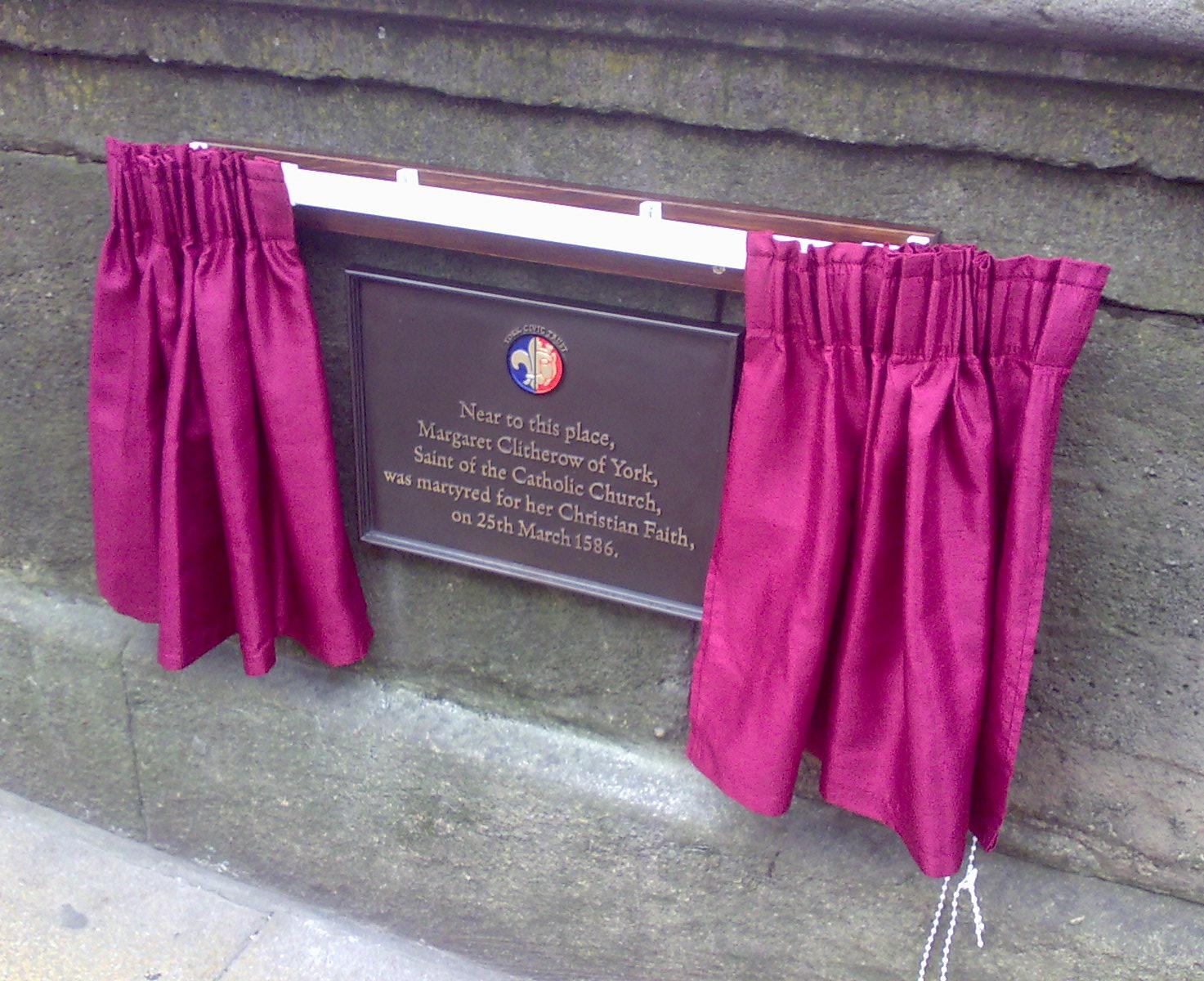 On Saturday, 26 March 2011, a pilgrimage in honor of St Margaret Clitherow was held in York.  Mass was offered at York Minster, the Anglican cathedral in York, previously a Catholic church dating back to before the time of the English Reformation.  The dean of York Minster, the Anglican prelate, was most gracious and hospitable accommodating and inviting the worshippers in use of the worship space.  Followed by a procession from the minster, via The Shambles @#s 10 & 11, where St Margaret lived, and Ouse Bridge to the Church of the English Martyrs in Dalton Terrace, where Benediction and veneration of the relic of St Margaret Clitherow took place.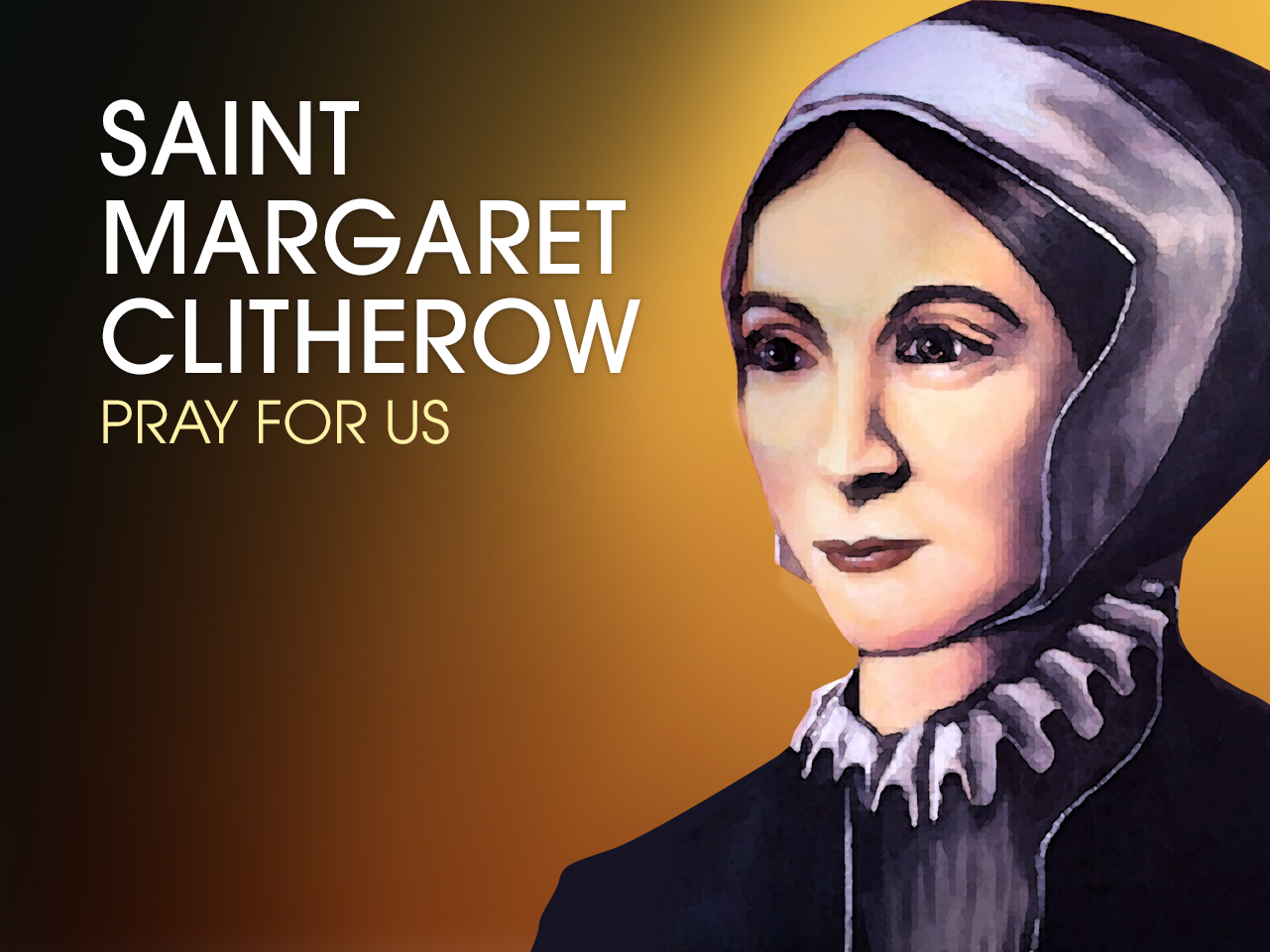 Love,
Matthew