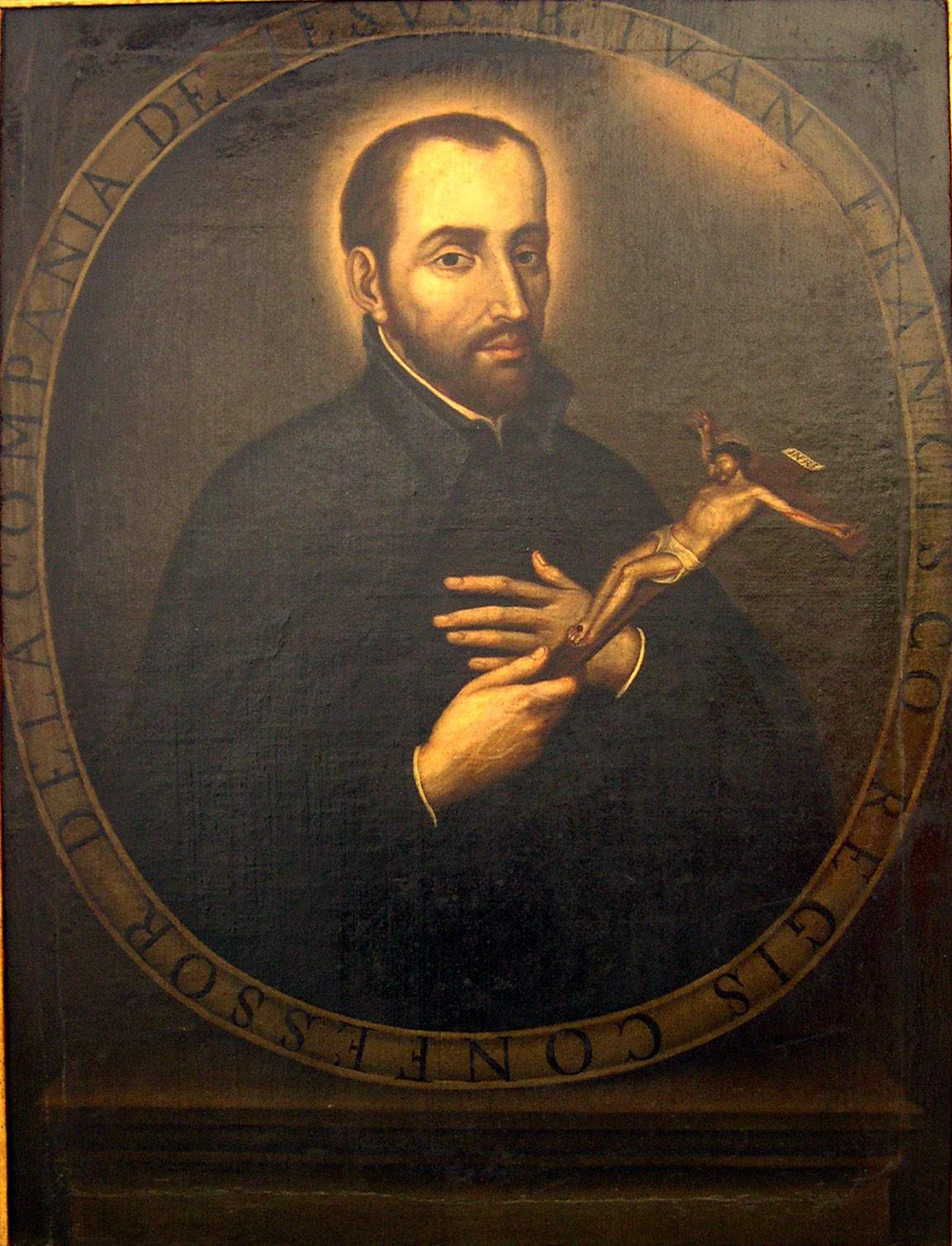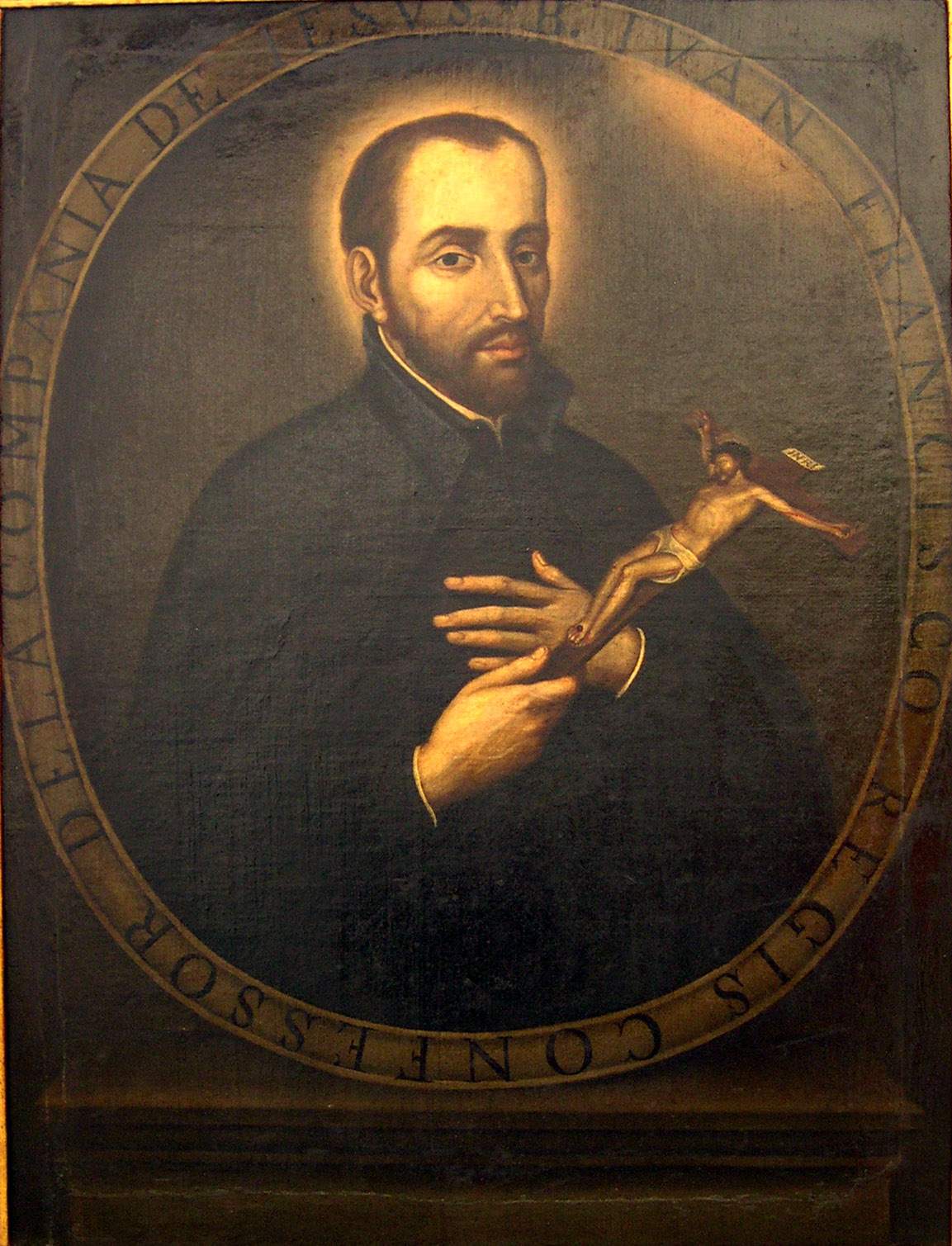 John Francis Regis was born in Fontcouverte, Aude, Languedoc, France, January 31, 1597.  It is reported that upon hearing instruction from his mother on the punishments of hell and the peril of damnation, the five year old John Francis fainted.
Being the son of a wealthy French merchant, he was educated at the Jesuit college at Beziers, and at Cahors, Le Puy, Auch, and Tournon.  Descartes was a contemporary of John's, and was similarly being educated by the Jesuits in one of their other fifty or so colleges in France at the same time.  John joined the Jesuits at age 18, after briefly considering a conversion to Buddhism.  He is best known for his ability as a preacher.  He was such a good catechist, the children whom he taught brought their parents back to the Church.
He began his life's work tending to plague victims.  He labored for the conversion of the Huguenots – French Calvinists.  He visited hospitals, sought material assistance for the poor, he created housing and employment as lace-makers for prostitutes wishing to reform their lives.  He endured many hardships.
As we all know, "no good deed goes unpunished", and so it was with John Francis.  At one point there was a movement against him by some of his fellow Jesuits, who felt his zealous "signs of simplicity and indiscretion (in his charity)" did not best showcase their order nor follow its teachings. The bishop of the diocese where Regis was giving missions resulting in many conversions, however, recognized there was more jealousy than theology in the complaint, and ignored it. Regis asked for transfer to Canada where he could preach without worries about the politics of the Order, but he was ordered to continue his good works in the French countryside.
Another famous French saint, St John Vianney, Cure' d'Ars & renowned confessor, Patron Saint of Priests, at the age of twenty, went on pilgrimage to the shrine and remains of St John Francis Regis in 1806.  It was the firm belief of this latter saint all his life that his vocation to the priesthood was due to the intercession of St John Francis Regis.
Knowing the end was near in late December, 1640, John Francis' last words were, "Into Thy hands, I commend my spirit."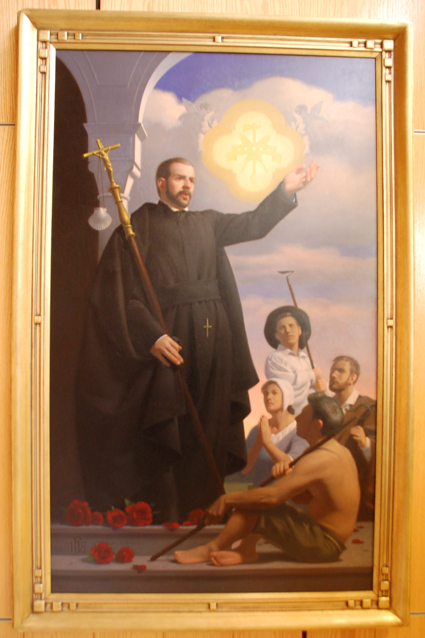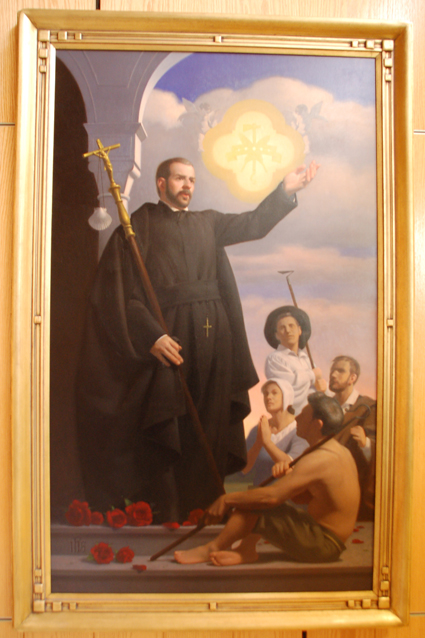 The portrait of St. John Francis Regis depicts him preaching to the French peasantry. The painting is full of symbolism, including the wampum belt, a tribal record treasured by the Iroquois. St. Regis wanted to preach and minister to the Indians and bring them to Catholicism.
Despite the fact that he never left France, Canadian Catholic Mohawk Indians, members of one of the original Five Nations of the Iroquois, founded a settlement in New York 1755 and named it St. Regis. The settlement, which straddles the St. Lawrence River, the international border between Canada and the United States, later became the St. Regis Mohawk Reservation.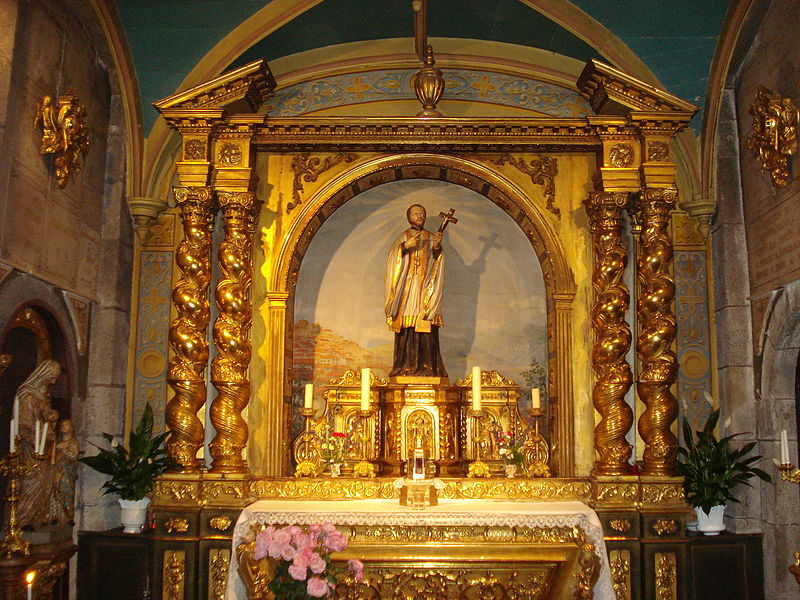 Le Puy-en-Velay, altar and statue of St.Jean-François Régis, Notre-Dame du Collège Church. -Altar of St John Francis Regis
Prayer
St John Francis
You felt a burning love
You could not, nor desired to ignore
Rather you left all things
When you heard the words, "Follow Me!"
You led others
To the One you followed,
Help us to follow
The same Master
All our days.
Amen.
When St John Francis was struck in the face by a sinner whom he was reproving, he replied, "If you only knew me, you would give me much more than that."
Love,
Matthew