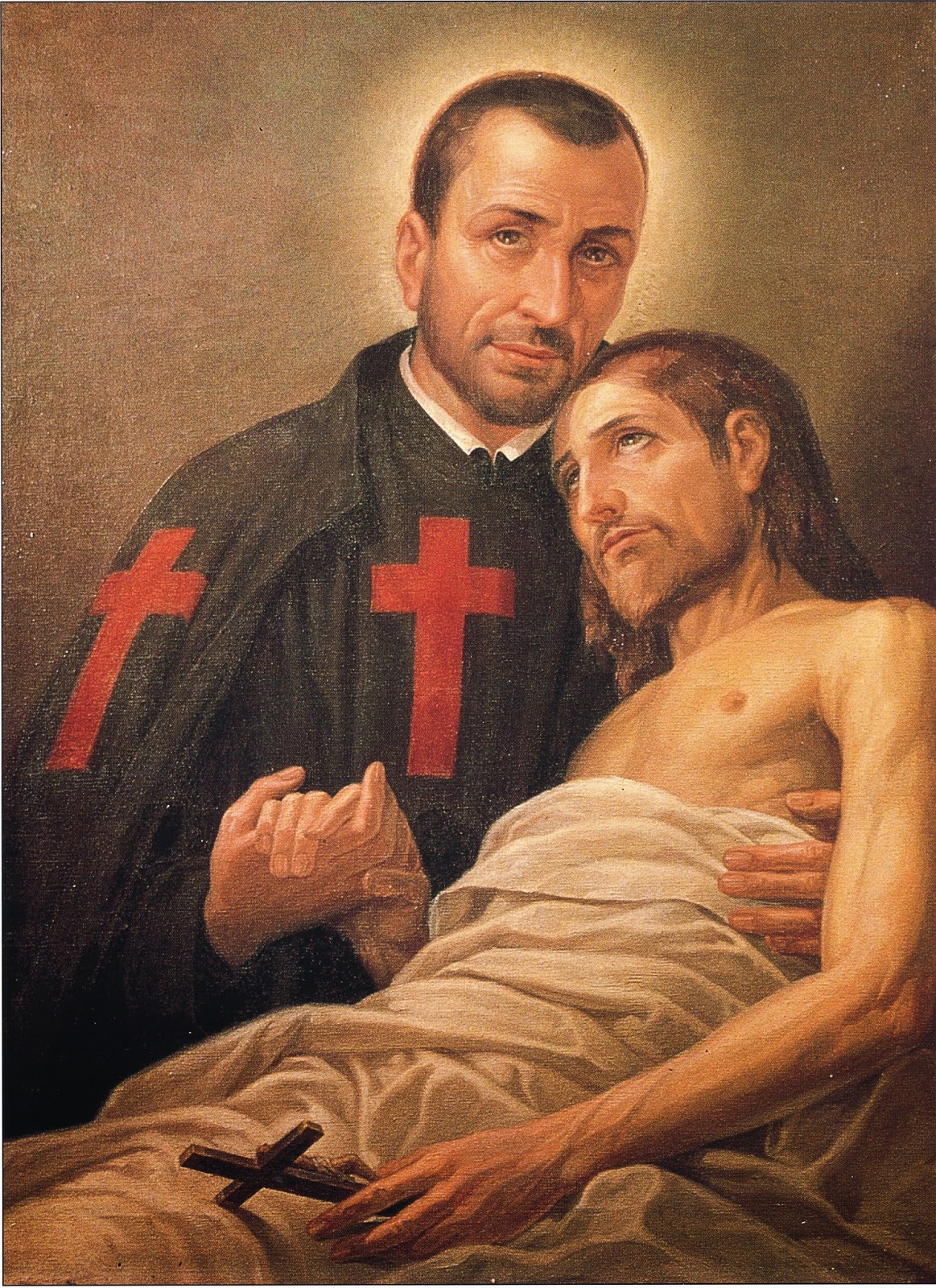 -please click on the image for greater detail
It would seem Camillus was going in the wrong direction from the very beginning.  Born to lose?  God writes straight with crooked lines.
At age 65, Camillus' mother had a dream her unborn son would wear a red cross on his chest and lead others who also wore that same symbol.  Saint Camillus de Lellis was born on May 25, 1550 in Bucchianico, Italy. His mother, Camilla, was almost sixty at the time. She and her husband, Giovanni, who was of noble ancestry, had waited in vain for an heir—their only other son had died in childbirth—so when the midwife delivered a healthy baby boy, Giovanni positively leapt for joy, capering about the room. Camilla, always the sensible one, simply smiled and told her excitable spouse to act his age. A good Italian, he only gamboled the more, asking her how she could be so calm "seeing that we have such a big son we could send him to school this very day!"  Camilla would die while Camillus was still a child, when he was twelve.
Camillus' father was an officer in both the Neapolitan and French royal armies, and so by necessity was away from home quite a bit.  Passed from extended family member to extended family member, Camillus was allowed to do pretty much as he chose.  He became a rebellious teenager and fell in with the street gangs of his time.   It is reported that, as a young man, Camillus was quite the physical specimen (6'6") and powerfully built, towering above all others – a trait that served him well in his not so gentile surroundings.   He developed a very quarrelsome disposition.
In what seems to have been a unique departure from family tradition, Camillus was named after his mother, but in every other way he took after his father, the hot-blooded career soldier. Camilla could do nothing to keep him in line, and Giovanni was too often away from home, on campaign, to do so.
The boy repeatedly ran away from school. A tutor was hired, but could not manage him. Card playing and gambling became his passion and, eventually, an addiction. He was intelligent—known for his exceptional ability to recite poems from memory—but undisciplined and reckless. Finally, at seventeen, he went off to fight against the Turks with two of his cousins. His father, even in his old age, could not resist coming along.
As it happened, both father and son got sick on the way. Giovanni became gravely ill, received the last sacraments, and died. Camillus was left destitute, and, possibly as a result of his illness, a sore broke out on his right foot. Festering, it never healed, and became a painful, lifelong affliction.
And so he began his unhappy journey home. On the way, he chanced to meet two Franciscan friars, and, wondering at their apparent serenity and good cheer, he secretly, and perhaps rashly, vowed to become a friar himself. Going to see his uncle, who was superior of a Franciscan house in Aquila, he sought admittance to the community. The wise old man encouraged him, but said he was not yet ready to enter religious life.
After a period of convalescence at the hospital of San Giacomo in Rome, where he was eventually hired as a servant and then fired for constant quarrelling and gambling, Camillus went back to war and fought in the bitter assault on the Turkish fortress of Barbagno (on the coast of modern-day Montenegro). Returning with his pay, he immediately gambled it away, along with his cloak. So he went back to war. On a sea voyage to Naples, a storm almost took his life. This inspired him to renew his vow to become a Franciscan, but, having arrived at Naples, he once again gambled everything away, including the very shirt on his back. Reduced to utter poverty, he wandered about with a fellow soldier, Tiberio, and begged for food.
It was in this sorry state that he caught the attention of a certain Antonio di Nicastro, who offered him a job working for the Capuchins. At first, Camillus declined, perhaps because the prospect of doing manual labor was too much for his pride. Eventually, however, he reconsidered the offer, thinking this might be God's way of allowing him to make good on his vow. But after several weeks on the job, he was so desperate to get back to his old life that he refused to wear some of the friars' serge, offered as protection against the cold, because it was too much like donning the habit.
Maybe this was protesting too much, because very soon afterward the decisive moment came.
The Capuchins sent Camillus to fetch wine from a nearby friary. The superior there took him aside and, beneath a grape arbor, spoke to him about God and sin. He exhorted him, when tempted by evil thoughts, to "spit in the face of the devil." Perhaps this roused the soldier's combative spirit; certainly, the conversation roused his conscience. The next day, riding back on a mule with his cargo of wine, he could stand it no longer. He flung himself to the road and wept freely for all his sins.  Camillus later joined that same monastery; however, due to the recurring problems with his ulcerated leg, Camillus was forced to take leaves of absence and was finally dismissed.
Camillus returned home. He was never cured.  He moved into San Giacomo Hospital for the incurable, and eventually became its administrator. Repulsed by the slack, uncaring character of the attendants he encountered at San Giacomo, he sought to reform the hospital's staff by finding people of character wishing to serve in charity. This was met with much resistance, but he also resolved with the help of his confessor, St. Phillip Neri, to receive Holy Orders, in order to more completely help the sick. Lacking education, Camillus began to study for the priesthood with children when he was 32 years old.
At thirty-two, he was as old as some of his teachers, and, at six-and-a-half feet tall, he towered over nearly all his contemporaries, especially the thirteen-year-old boys with whom he attended Latin class. They would laugh at their gigantic, bearded classmate and say, Venisti tarde! "You've come late!" Of course, if they had known their friend had once been a battle-hardened soldier with a violent temper, they might have spoken more respectfully. As it was, they just got an affectionate smile. Camillus devoted the rest of his life to helping the sick and was ordained in 1584.
The origin of the Red Cross symbol we are so familiar with today is the symbol in his mother's dreams. It became the symbol for the Order of Ministers of the Sick (Fathers of a Good Death) which was founded by Saint Camillus in 1586.
The next twenty years would see great expansion of the Congregation, with 15 houses of priests and brothers, and also 8 hospitals being erected. Two major houses were established, and he oversaw the Congregation's involvement in helping the sick on quarantined galleys in the harbor of Naples, from which several of his religious brothers died, becoming the first martyrs of charity.  Also accomplished was involvement in the wars in Croatia and Hungary, giving rise to the first military field ambulance. In 1591 Gregory XIV at last promoted the Congregation to an Order.
Camillus saw in the sick and the infirm the living image of Christ, and hoped the service he rendered them later in his life would be penance for his youthful waywardness.  During his final years, Camillus suffered from many other painful ailments, including a rupture, renal colic and stomach cramps.
St Camillus de Lellis is the patron of the sick, of hospitals, and of nurses.
"Let me begin with holy charity. It is the root of all the virtues and Camillus' most characteristic trait. I can attest that he was on fire with this holy virtue – not only toward God, but also toward his fellow men, and especially toward the sick. The mere sight of the sick was enough to soften and melt his heart and make him utterly forget all the pleasures, enticements, and interests of this world.
When he was taking care of the sick, he seemed to spend and exhaust himself completely, so great was his devotion and compassion. He would have loved to take upon himself all their illness, their every affliction, could he but ease their pain and relieve their weakness. In the sick he saw the person of Christ. His reverence in their presence was as a great as if he were really and truly in the presence of his Lord.
To enkindle the enthusiasm of his religious brothers for this all-important virtue, he used to impress upon them the consoling words of Jesus Christ: "I was sick and you visited me." He seemed to have these words truly graven on his heart, so often did he say them over and over again.
Great and all-embracing was Camillus' charity. Not only the sick and dying, but every other needy or suffering human being found shelter in his deep and kind concern." – from a biography of Saint Camillus by a contemporary
"Think well. Speak well. Do well. These three things, through the mercy of God, will make a man go to Heaven."
–St. Camillus de Lellis
"Commitment is doing what you said you would do, after the feeling you said it in has passed."
–St. Camillus de Lellis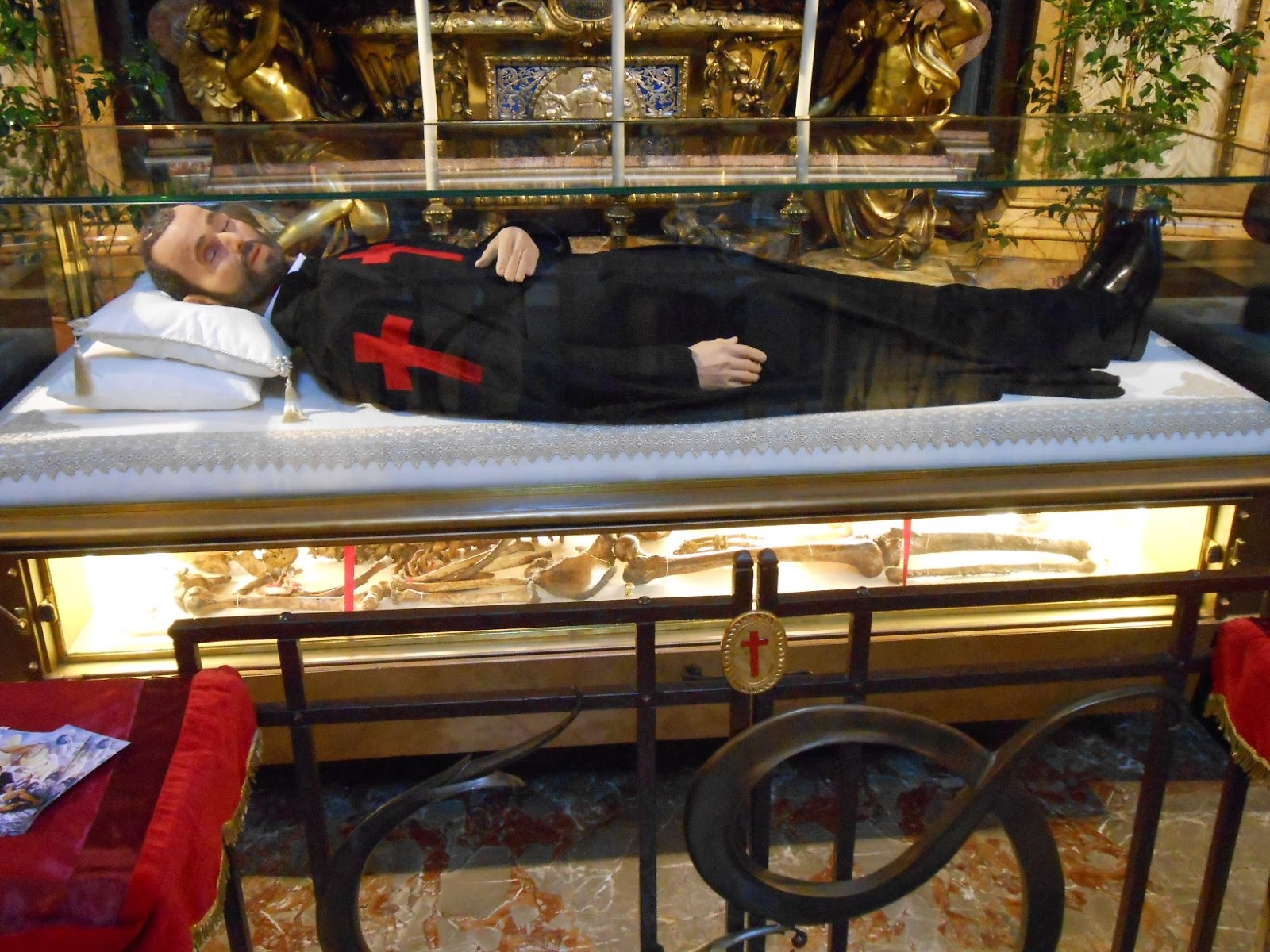 -tomb of St Camillus de Lellis in San Camillo de Lellis church on Via Sallustiana, Rome, Italy, please click on the image for greater detail

-the side-altar of the right transept, in which his relics were formerly kept, and a bust-reliquary of him above, San Camillo de Lellis church on Via Sallustiana, Rome, Italy, please click on the image for greater detail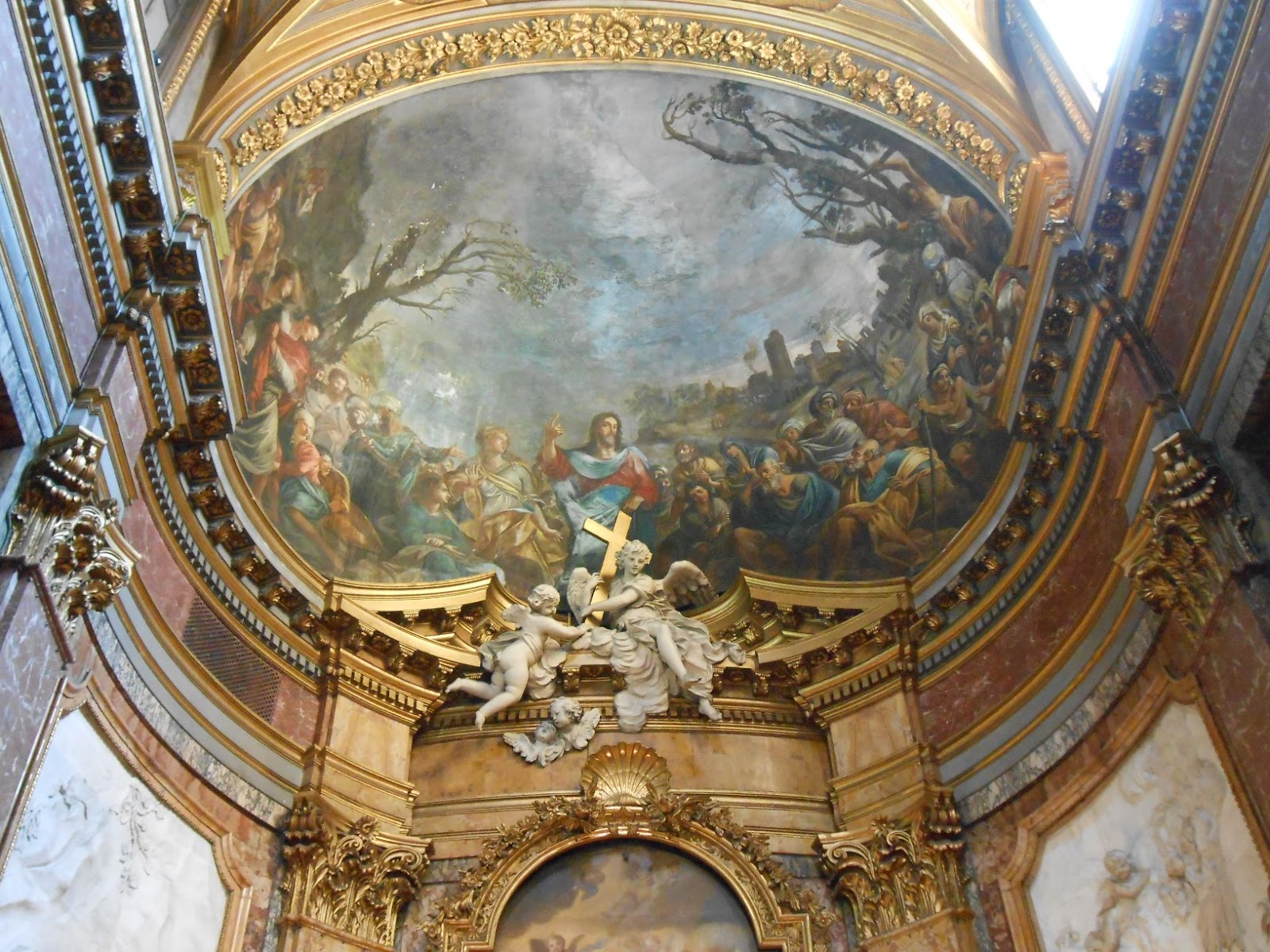 -fresco in the apse, showing Christ healing the sick, San Camillo de Lellis church on Via Sallustiana, Rome, Italy, please click on the image for greater detail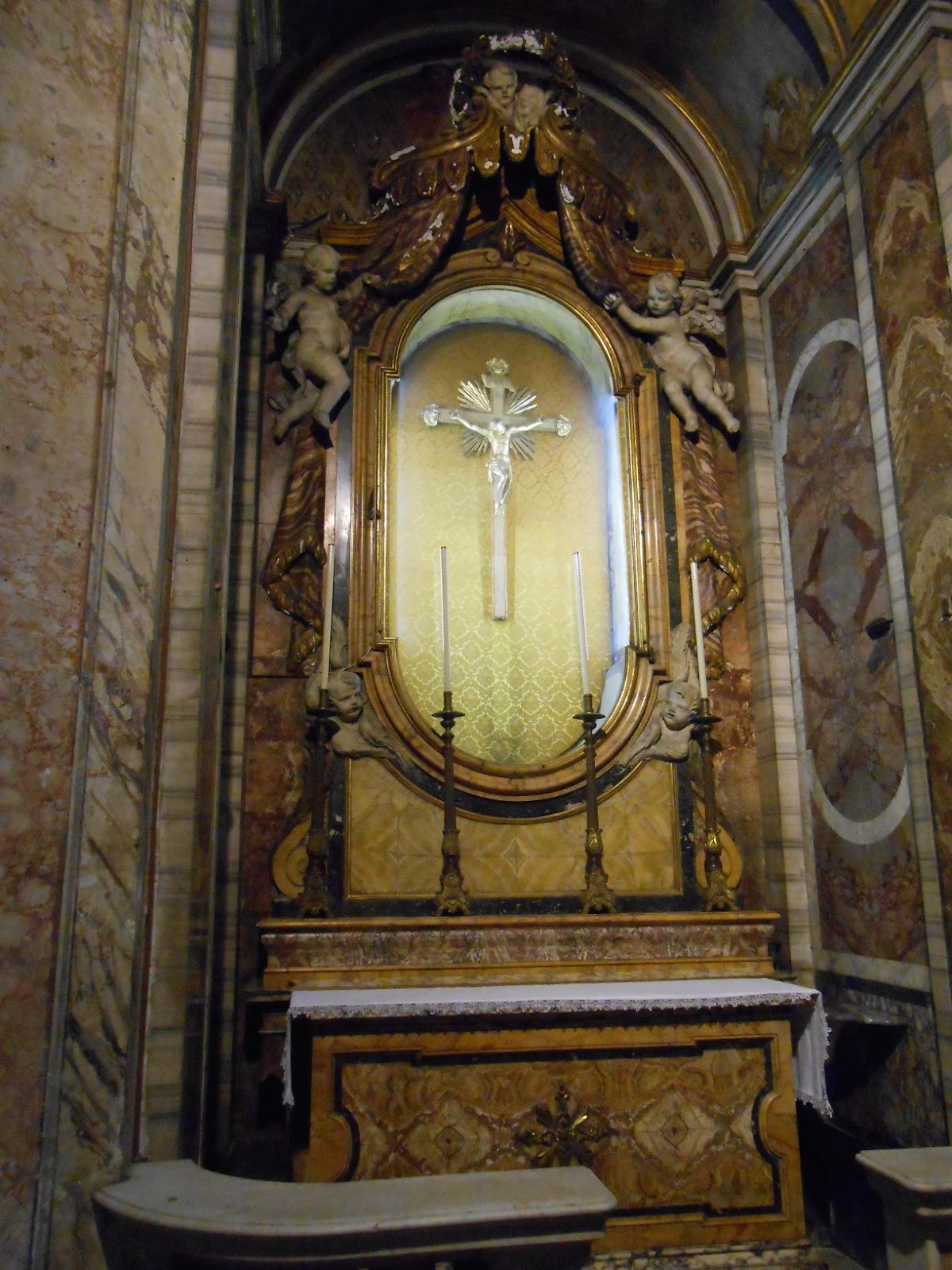 -in a side chapel at the back of the church on the right side is kept this Crucifix; as St Camillus was praying before it, the arms miraculously opened up and Christ spoke to him from it, to encourage him in the founding of the Order, San Camillo de Lellis church on Via Sallustiana, Rome, Italy, please click on the image for greater detail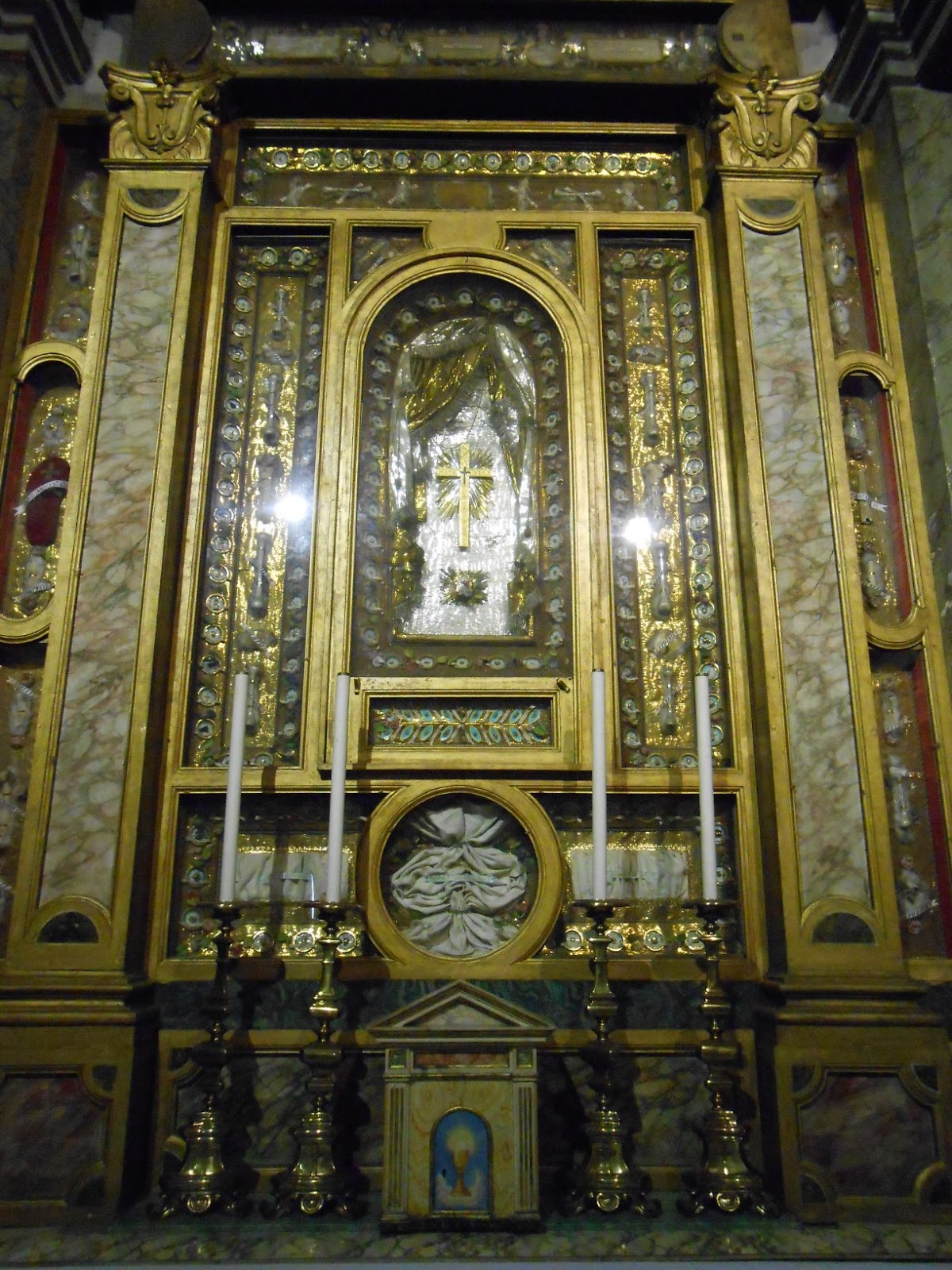 -side chapel on the opposite end contains an enormous number of relics, including several items of clothing worn by the Saint, San Camillo de Lellis church on Via Sallustiana, Rome, Italy, please click on the image for greater detail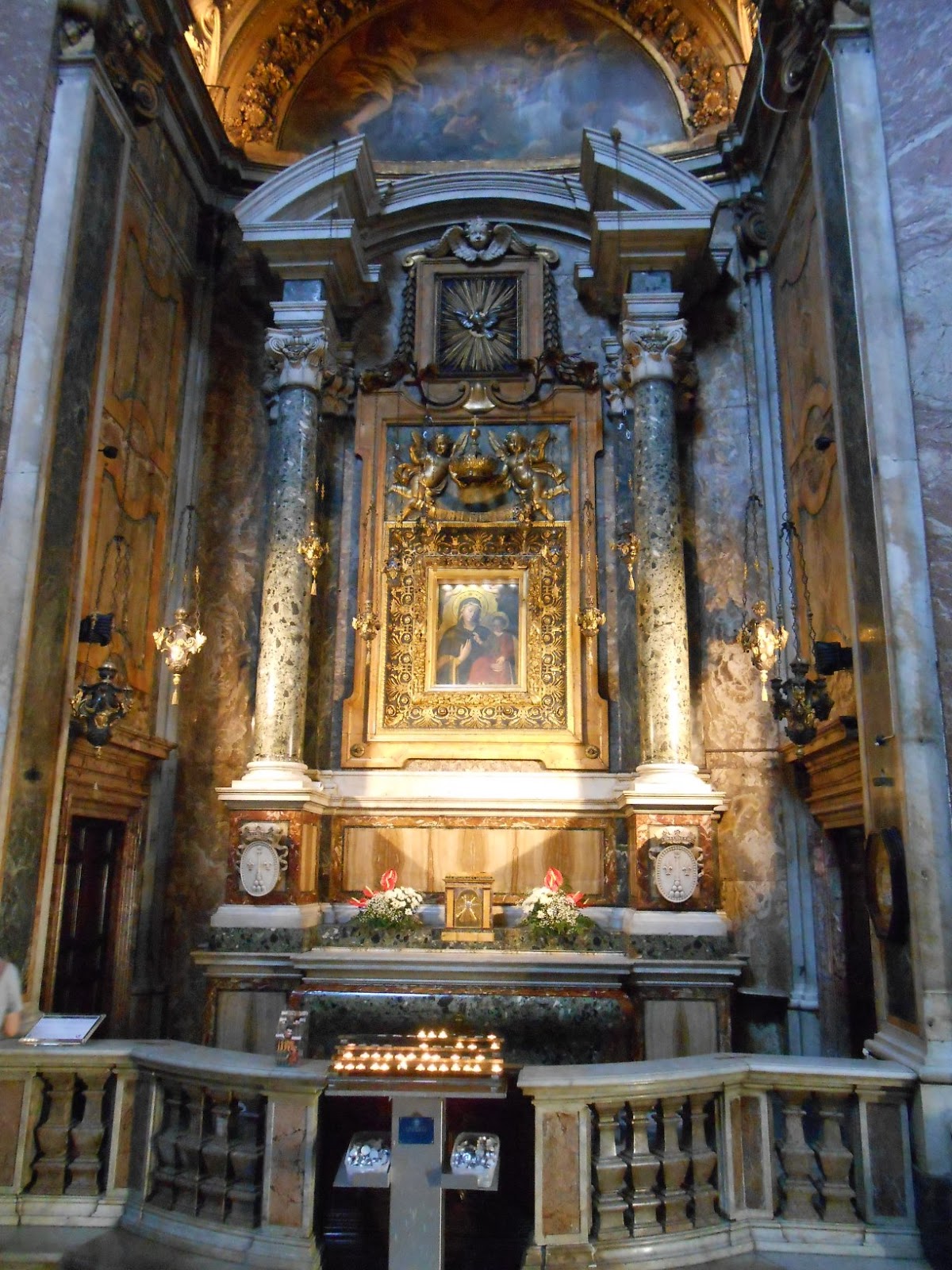 -a side chapel on the right side of the nave houses this image of the Virgin Mary, honored with the title "Salus Infirmorum – Health of the Infirm.", San Camillo de Lellis church on Via Sallustiana, Rome, Italy, please click on the image for greater detail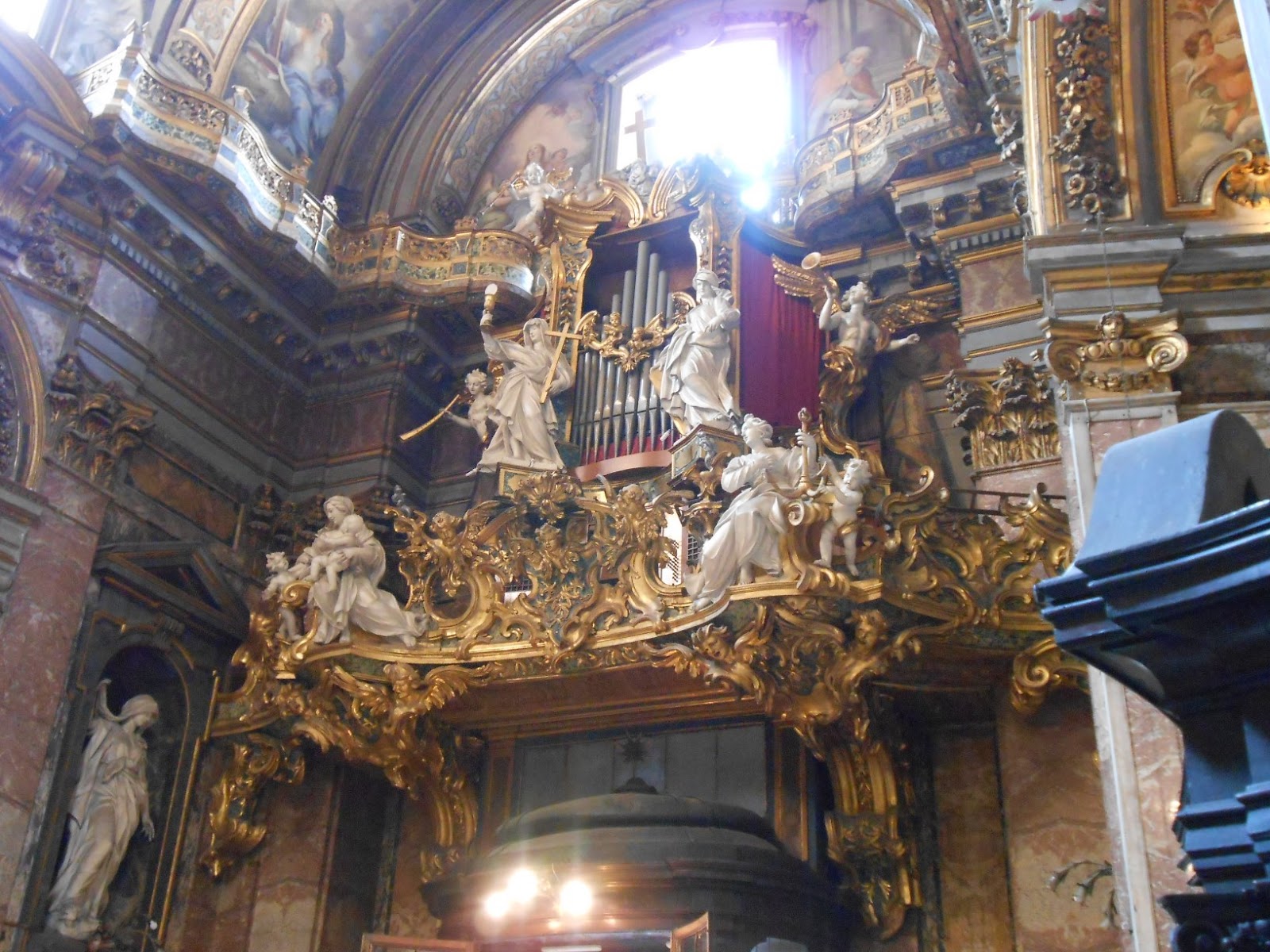 -the organ and organ loft, mounted on the counter-façade, famously one of the most elaborately decorated organs in the city of Rome, San Camillo de Lellis church on Via Sallustiana, Rome, Italy, please click on the image for greater detail

-St Mary Magdalene anoints the feet of Christ in the house of Simon the Pharisee, depicted in the ceiling of the crossing, San Camillo de Lellis church on Via Sallustiana, Rome, Italy, please click on the image for greater detail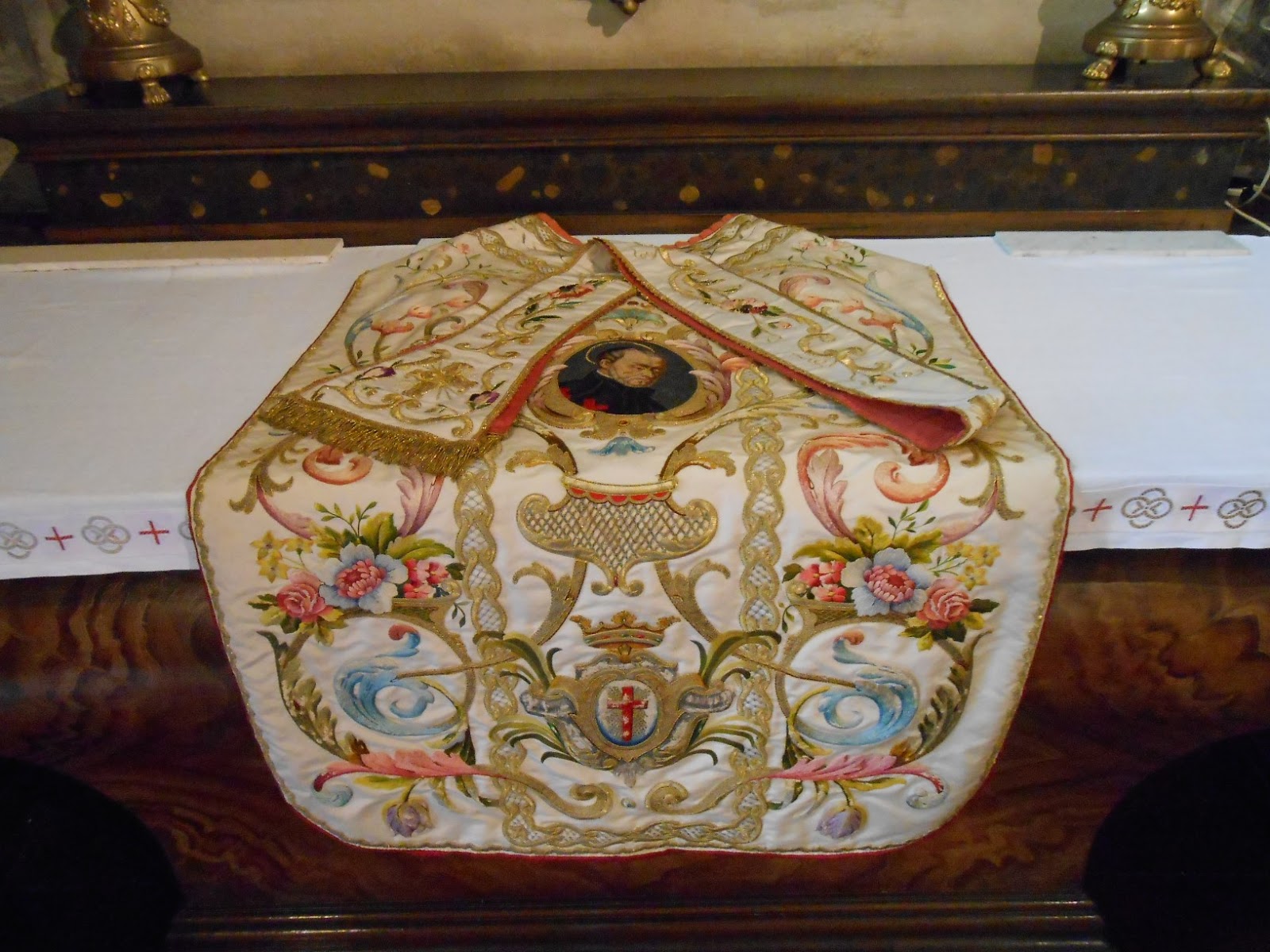 -chasuble and stole laid out for the feast day, decorated with a medallion image of St Camillus, and the red cross of the Order, please click on the image for greater detail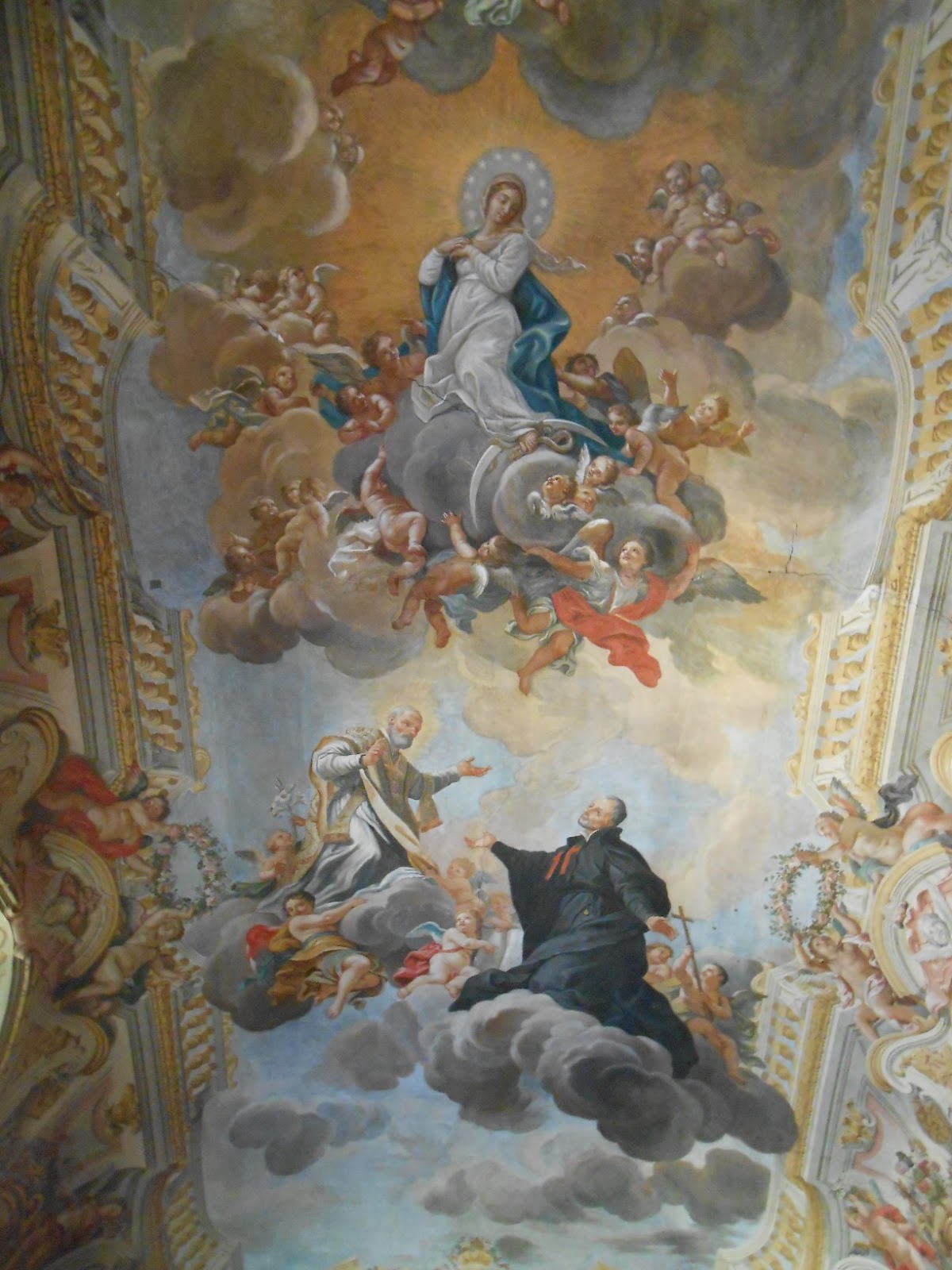 -the ceiling of the sacristy; St Philip Neri, who knew St Camillus personally and acted as his confessor, welcomes him into heaven and the company of the Saints, San Camillo de Lellis church on Via Sallustiana, Rome, Italy, please click on the image for greater detail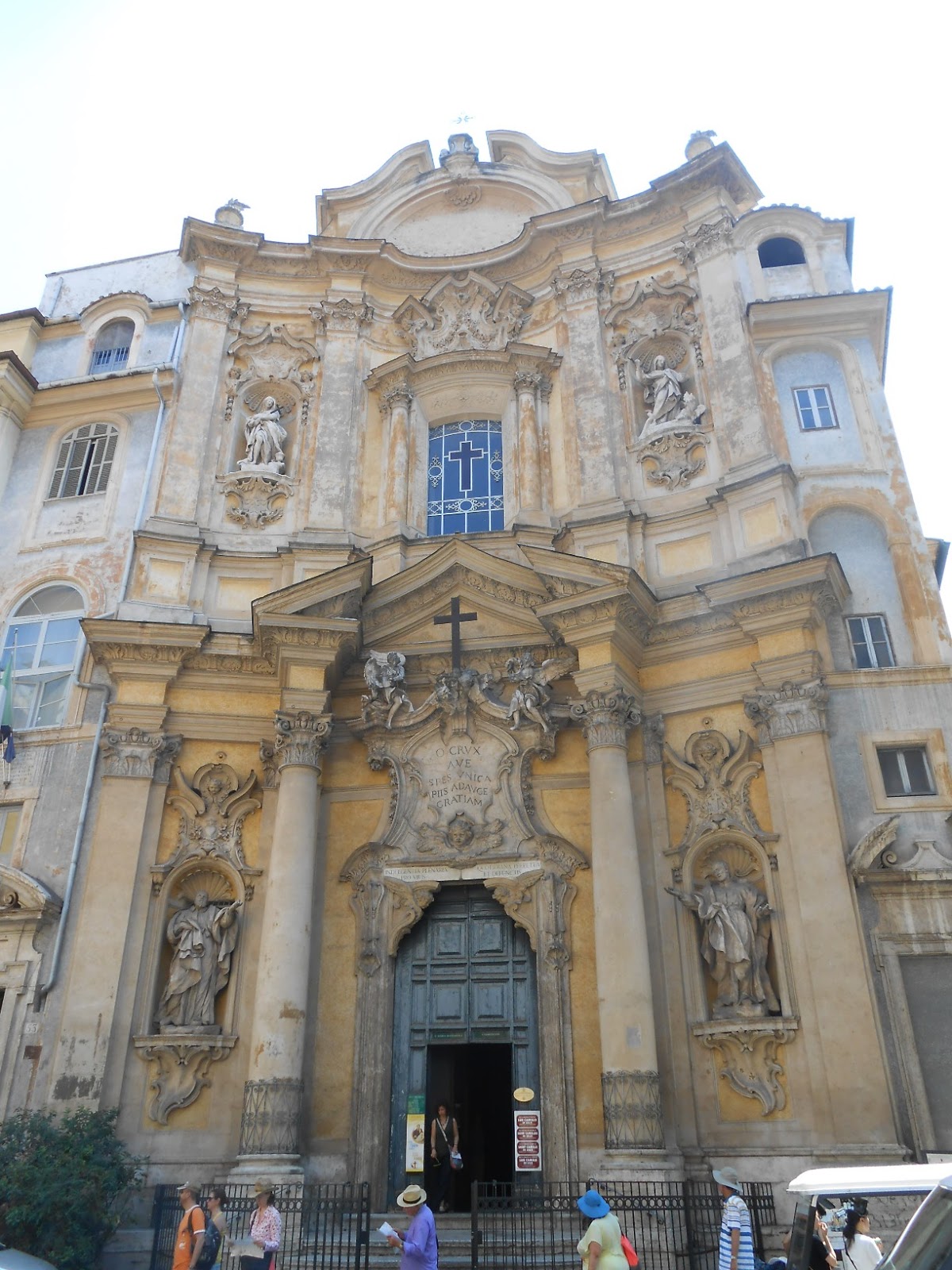 -the rococo façade, completed in the 18th century, one of only two constructions in that style in the historical center of Rome, San Camillo de Lellis church on Via Sallustiana, Rome, Italy, please click on the image for greater detail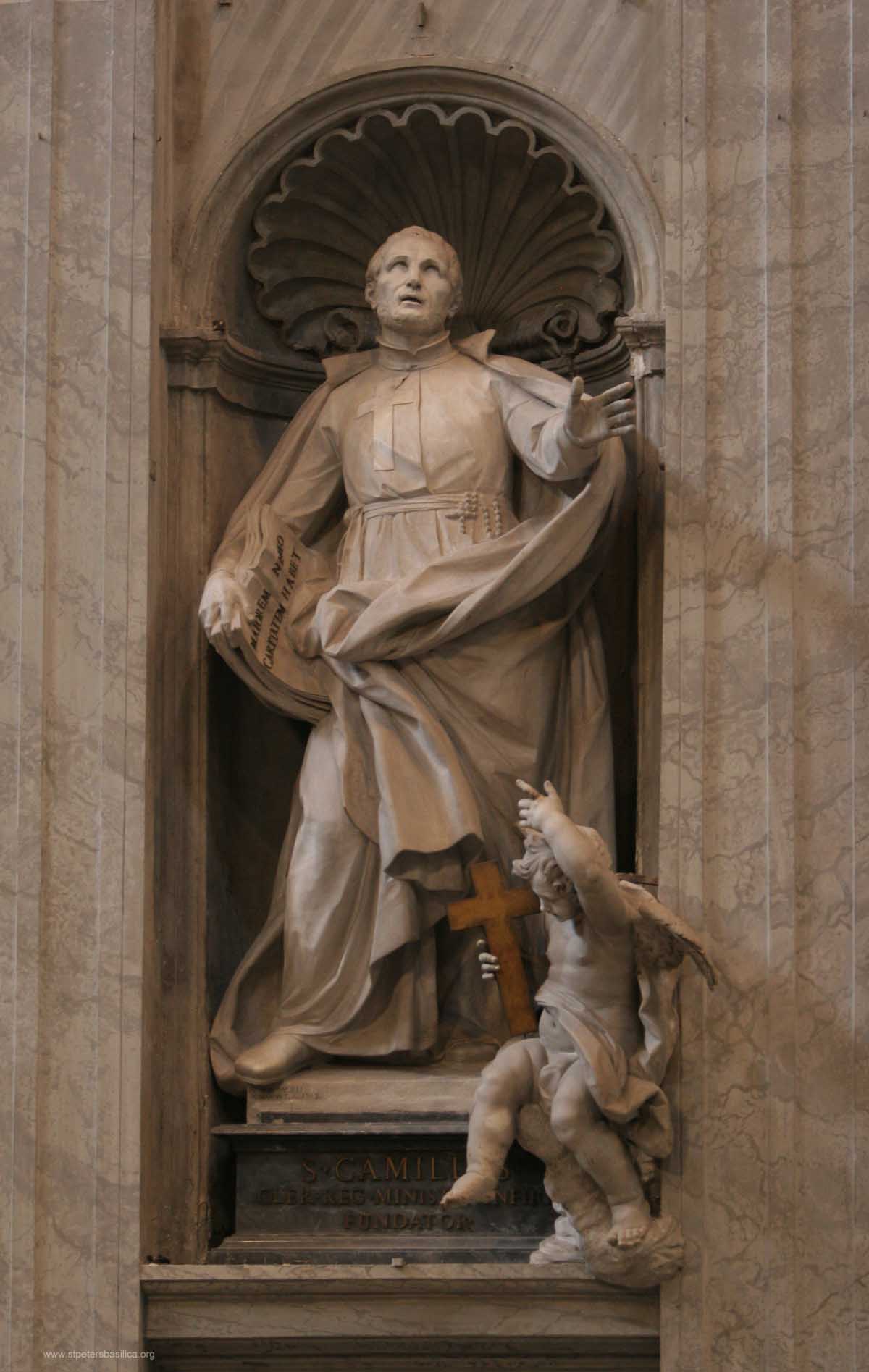 -St. Camillus de Lellis, St. Peter's Basilica, by Pietro Pacilli, 1753. (The book in St. Camillus's right hand displays John 15:13: "No man has greater love than this, that he lay down his life of his friends." It's a fitting verse since, from the time of their founding, the Camillians have taken a fourth vow: to minister to the sick even at risk to their own lives. Indeed, during St. Camillus's own lifetime, several of his followers died as a direct result of caring for victims of the Plague. The distinctive red cross on their habit, along with their history of caring for those afflicted by war and natural disasters, has led some to call the Camillians "the original Red Cross."), please click on the image for greater detail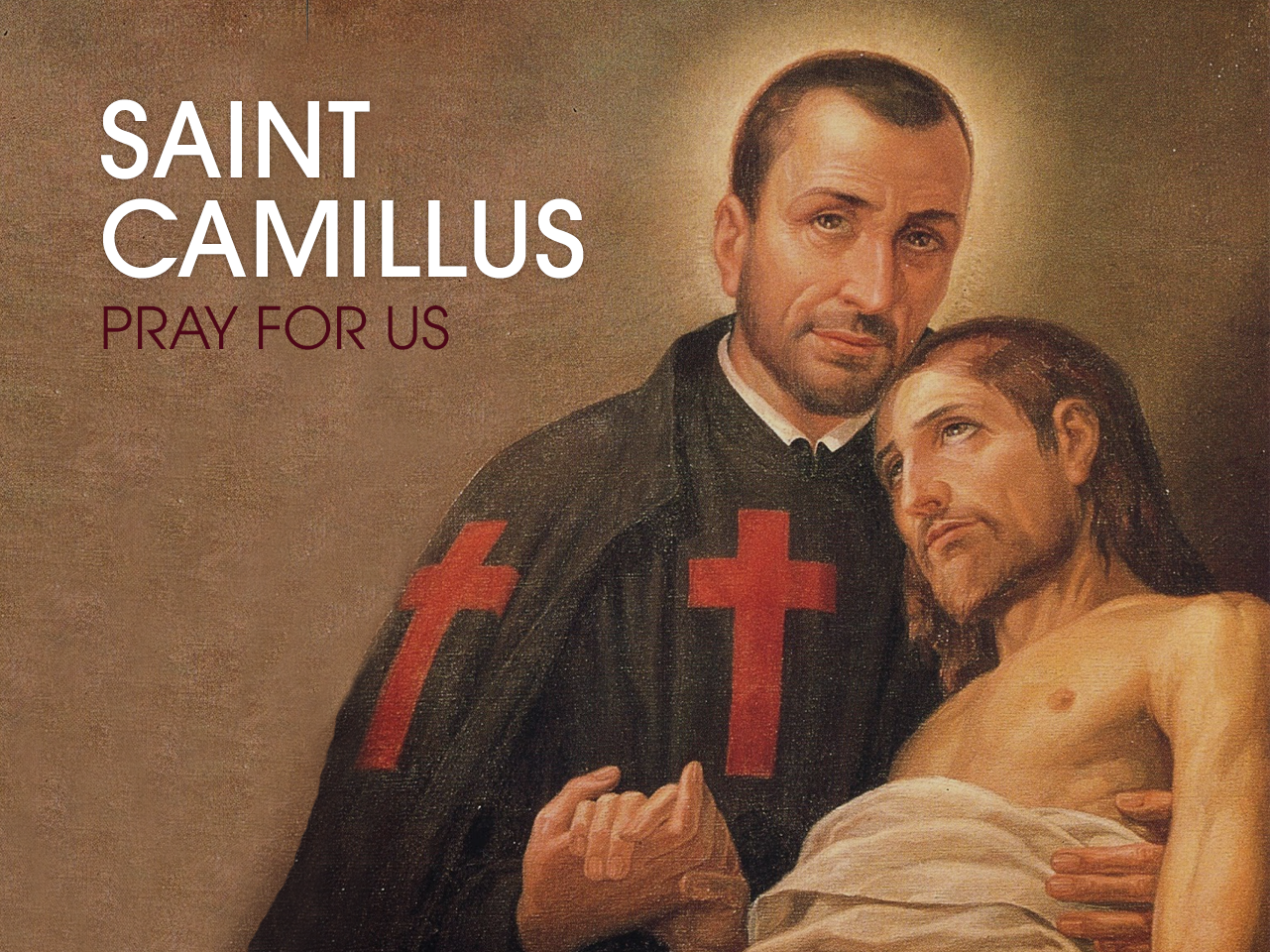 Love,
Matthew