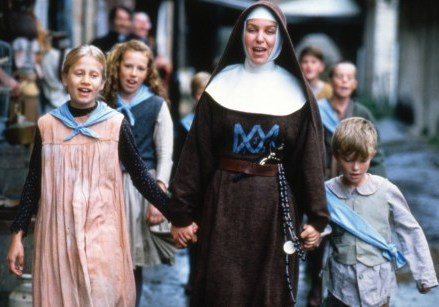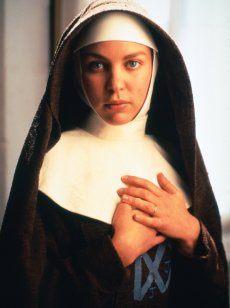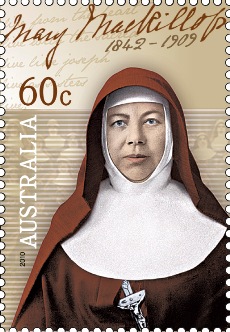 http://www.huffingtonpost.com/2010/02/19/saint-mary-mackillop-aust_n_468595.html
Feb 19 2010
VATICAN CITY (AP) – Pope Benedict XVI approved sainthood for Mother Mary MacKillop on Friday, making the woman known for her work among the needy Australia's first saint.
The pope made the announcement during a ceremony at the Vatican and set the formal canonization for Oct. 17 in Rome. Five others – from Italy, Spain, Poland and Canada – will be canonized at the same time.
MacKillop founded the Congregation of the Sisters of St. Joseph (of the Sacred Heart!), an order that built dozens of schools for impoverished children across the Australian Outback in the 1800s, as well as orphanages and clinics for the needy.
With vows of abstinence from owning personal belongings and dedication to helping the poor, MacKillop is credited with spreading Roman Catholicism in Australia and New Zealand.
But she was a strong-willed advocate who sometimes got into trouble for challenging orthodox thinking within the male-dominated church. In 1869 she was excommunicated for inciting her followers to disobedience, though the bishop who punished her recanted three years (some accounts say five months) later (nine days before his death – timing is everything) and she was exonerated by a church commission.
"This is a great, great tribute to the Catholic church and a great, great tribute to her hard work in education," Australia's Prime Minister Kevin Rudd said Friday. "This is a great honor for Australia. I offer a heartfelt expression of appreciation to the wider Catholic community."
MacKillop died in 1909 and was beatified by Pope John Paul II in 1995.
Australians have been awaiting Friday's announcement since Benedict in December cleared the way by declaring MacKillop was responsible for the required second miracle, one of the final steps in the complex process before sainthood can be bestowed.
"It's more than just Catholics, the whole country has a new hero – someone that will give them hope for the future," said Garry McLean, CEO of the Mary MacKillop Heritage Center in Melbourne.
"Today it has been recognized that a woman can become a saint in the Australian environment with all its complexities and challenges," Postulator for the Cause of Mary MacKillop, Sister Maria Casey, said in a statement. "Mary MacKillop is to be listed among the saints of the Catholic Church. I look forward to the celebration of her goodness when many pilgrims from all over the world come to Rome for the ceremony."
"By their fruits you will know them." (Mt 7:16)
Because of my personality, I realize, when I was considering making a solemn promise of vows similar to Mother MacKillop, the one I struggled with most then and still would now is obedience without reservation or foreknowledge. I wanted a contract with rights and duties, limits of liability, and perfect clairvoyance of the future – or something like that. With the benefit of twenty-two additional years of experience and maturity, I might have some incremental hope of inching closer to such a promise now, not knowing what that would mean or entail for the rest of my life; yet, my experience with authority in human organizations since then  could also be a bulwark and an impediment against the embrace of such a promise.
That may seem odd, and others might find poverty, or celibacy or life in religious community more challenging, but for me, it was obedience. And, I couldn't just let the clock run out and potentially make a promise in my heart of hearts I really knew I couldn't fully embrace or potentially fulfill. That would have been dishonest. It's not that simple, but that's probably one of the bigger reasons I left.
Marriage has its own implicit promises of obedience, without reservation, regardless of gender or role in family – the obedience of love, to the best of our ability. And this obedience is joyful, as I am sure those who embrace the vow of obedience in religious life, like Mother MacKillop, must find it to have any hope of living it.
What the article fails to mention is Mother MacKillop took that vow of obedience I could not. Obedience to authority has become very unfashionable in the last few centuries. Granted, those in authority are replete with all the human weakness we all suffer. Yet, Christian love, in my understanding and my attempted and faltering and failing practice, requires mission and obedience are inextricable, by the Lord's own example.
Mother MacKillop's life and example was replete with rich fruits of her profound faith and practice of it. Her works, as are all good works of Christian charity, are the fruits of profound faith. There is no dichotomy between "faith & works" in my understanding or experience. One blossoms into the other, it has to, in the Catholic understanding, and the Lord should be praised therefore.
When I grow angry with the failings of those in authority, and feel the need to express my displeasure openly, I ask myself "What are the irrefutable fruits of my own faith in my life all could recognize, such that I possess evidence for myself and for others that it is not merely anger which I am celebrating or indulging in, but my anger is a just a continuum of my attempt to live out of Christian love?" As Mother MacKillop did? That is not to let the culpable off the hook, but rather to assure myself of my proper orientation in what I am doing and trying to live my faith.
The Lord commands us to love one another, especially when we are most unhappy with or treated most unjustly by each other, even to the point of evil – even the evil of crucifixion and a tortured death. Could I forgive in the moment of my agony? I doubt it in the extreme. God give me the grace to hope to do so and, please Lord, do not test my faith.
In this Lent, let us give up righteous anger, no matter how good or right it feels in the moment, let us abstain from it, and put on righteous love, as Mother MacKillop did through grace.
Besides, would you mess with an Australian nun who lived in the outback without air conditioning wearing a habit like the one in the picture, accomplished what she accomplished, and who had so big a crucifix stuck in her belt? Not me.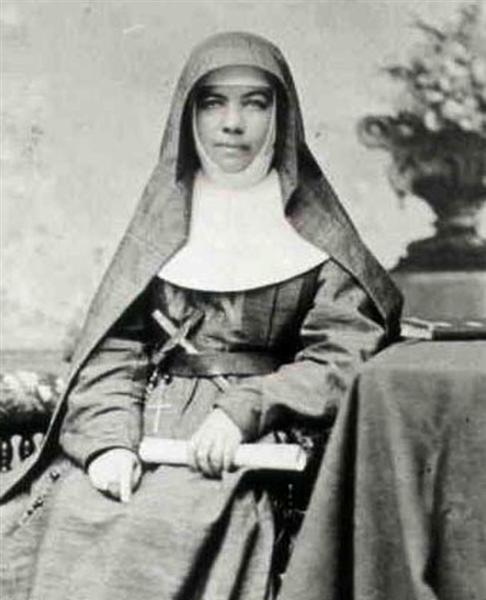 Love,
Matthew