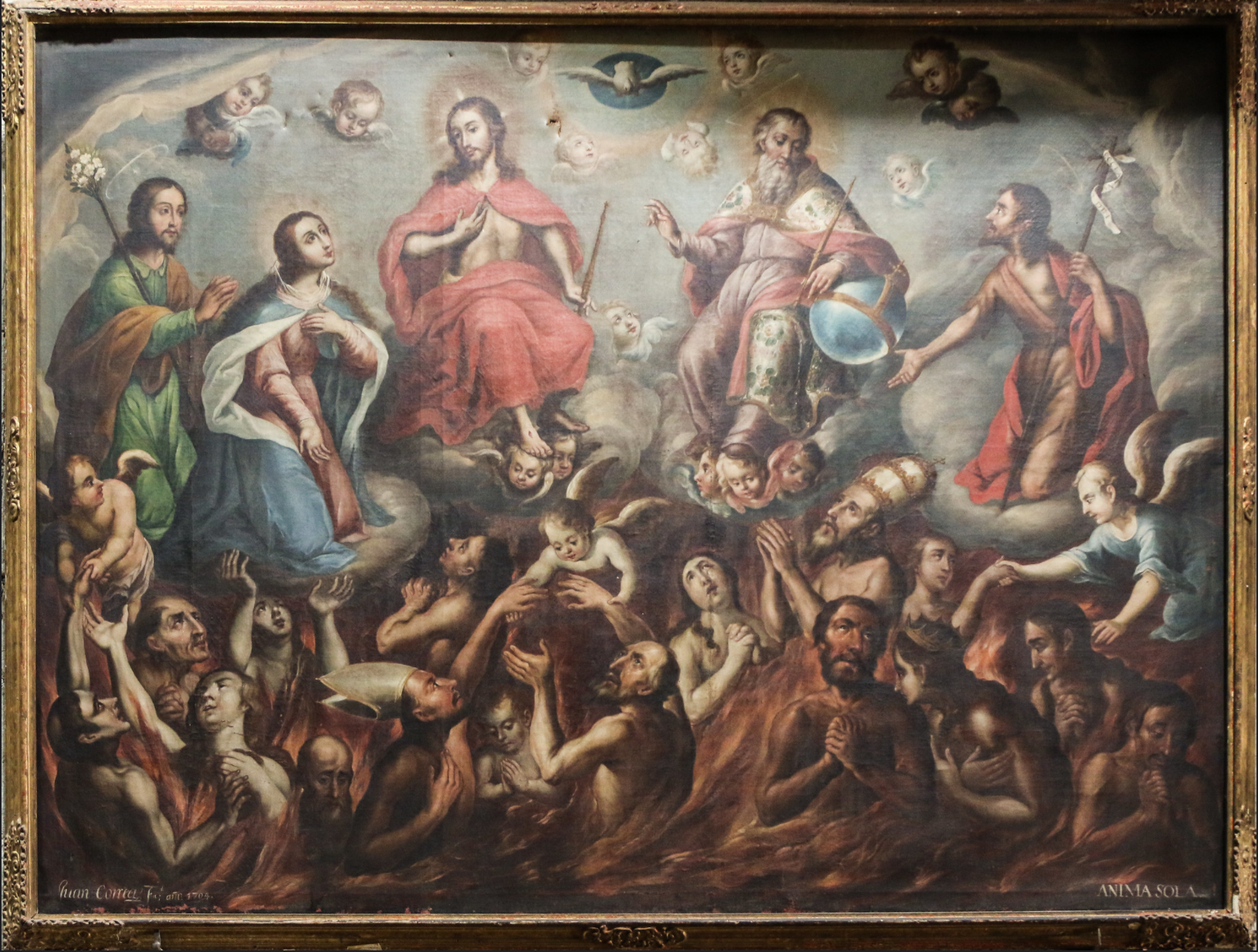 -painting in Mexico City Cathedral of the holy souls being purified of every attachment to sin in the fire of Purgatory.  Please click on the image for greater detail.
Church Suffering, Penitent, Expecting
"Jesus, remember me when you come into Your Kingdom!" -Lk 23:42
"Chastised a little, they shall be greatly blessed, because God tried them and found them worthy of Himself. As gold in the furnace, He proved them, and as sacrificial offerings, He took them to Himself." -Wisdom 3:5-6
"On this day is observed the commemoration of the faithful departed, in which our common and pious Mother the Church, immediately after having endeavored to celebrate by worthy praise all her children who already rejoice in heaven, strives to aid by her powerful intercession with Christ, her Lord and Spouse, all those who still groan in purgatory, so that they may join as soon as possible the inhabitants of the heavenly city." —Roman Martyrology
"…the fire which both burns and saves is Christ Himself, the Judge and Savior. The encounter with Him is the decisive act of judgment. Before His gaze all falsehood melts away. This encounter with Him, as it burns us, transforms and frees us, allowing us to become truly ourselves. All that we build during our lives can prove to be mere straw … and it collapses. Yet in the pain of this encounter, when the impurity and sickness of our lives become evident to us, there lies salvation. His gaze, the touch of His heart heals us through an undeniably painful transformation 'as through fire.' But it is a blessed pain, in which the holy power of His love sears through us like a flame, enabling us to become totally ourselves and thus totally of God."
-Pope Benedict XVI, Spe Salvi, Encyclical Letter, November 30, 2007, par. 47; http://www.vatican.va/content/benedict-xvi/en/encyclicals/documents/hf_ben-xvi_enc_20071130_spe-salvi.html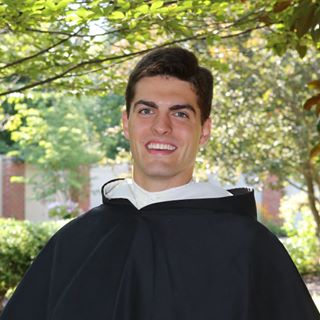 -by Br Charles Marie Rooney, OP
"It is no accident that each year, All Souls Day follows on the coattails of All Saints Day. In fact, if we look closely, we behold in their sequence a revelation of the Mystical Body of Christ and the place of our life and death within it.
Yesterday, we acclaimed the deceased who persevered in grace and now sing divine praises in a heavenly key. We especially heralded the hidden heroes—the innumerable "little" or "medium" saints known only to their family members, parishioners, religious brothers, etc.—and likewise the "big" saints whose time of earthly veneration has alas receded. (After all, there are too many "big" saints for even a calendar year to hold.) And so we beseech their aid—the aid of all of them, the whole "Church Triumphant"—that we, too, might join their ranks in glory and song.
Today, by contrast, it is our aid that is beseeched, and so we pray. We pray for those deceased who have need of prayer but cannot pray for themselves—whose wills, fixed by the separation of body and soul at death, entered eternal life rightly ordered toward God but not without earthly attachments, spiritual barnacles still unscraped by the agent of grace. Thus they endure purgation, for which they are named the "Church Suffering."
We, the "Church Militant," bear a unique charge in their regard. Since God has a penchant for deploying instruments, He deigns to use us, the woefully imperfect, to be the means of perfecting post mortem those judged worthy of eternal perfection. Indeed, He asks us to be the means for all of them, i.e. not solely those deceased loved ones whose anniversaries we already celebrate and whose names remain in our daily intentions.
Thus appears the nexus of life, death, and salvation. Death, it is said, is the great equalizer, the one fate all men must face, and in its face, our "condition is most shrouded in doubt" (GS 18). About the details of death and life hereafter, we have the certainty of faith but not the clarity of vision. We do not yet see with our eyes nor fully understand with our minds the realities that we know by grace. And so at death—whether our own or that of a loved one—the truth claims we've made all our lives long about God and the meaning of reality rush to the fore with a towering urgency, demanding that we live them to the end in their fullness.
On this side of our personal eschaton, there is need for a genuine ars moriendi—an art of dying, through which we ourselves are sealed by the grace of final perseverance. For those already on the other side, there is need for constant prayer on their behalf: our loved ones and all the suffering are best served not by sentimental memorialization but by the holy and pious works of [making] atonement for the dead, that they might be delivered from their sin (2 Macc 12:45).
Like complements, All Saints Day and All Souls Day, along with the entirety of November—the month of the Holy Souls—spur this confrontation with death, for which we must always keep watch and be ready (Matt 24:42, 44). Indeed, the Christian stands uniquely prepared for death because he has in a real way already died in Christ. Saint Paul is crystal clear: You were buried with [Christ] in baptism, in which you were also raised with him through faith in the working of God, who raised him from the dead. And you, who were dead in trespasses and the uncircumcision of your flesh, God made alive together with him, having forgiven us all our trespasses … nailing [them] to the cross (Col 2:12–14).
Steeped in sanctifying grace, we actually possess heaven now, and yet we await the full reception of our inheritance in glory (see Gal 4:1–7, Rom 6:5–11, Rom 8, Eph 1:3–14, 2 Tim 2:11). Moreover, this same sanctifying grace, flowing from the headship of Christ, unites the Church—Militant, Suffering, and Triumphant—into one Mystical Body spanning space and time, heaven and earth. Life on earth is thereby rendered an arduous pilgrimage in grace, through which our fleshly bodies—good but afflicted with concupiscence—are animated by our resurrected souls—redeemed but in constant need of divine aid—unto their separation at death, after which they await reunion in bodily resurrection at the end of time. En route, we draw into the Way as many as we can, and we intercede for those who trod before us in grace but still await entry among the Triumphant.
This interplay between November 1 and November 2, between All Saints Day and All Souls Day, sums up the dynamics of salvation. Only in virtue of the astounding love of God can we the Church Militant stand confident before death—before our own and those of all the Church Suffering—and rejoice with the Church Triumphant: O death, where is your victory? O death, where is your sting? But thanks be to God, who gives us the victory through Our Lord Jesus Christ (1 Cor 15:55, 57)."
Love, Joy & Hope that is Him,
Matthew