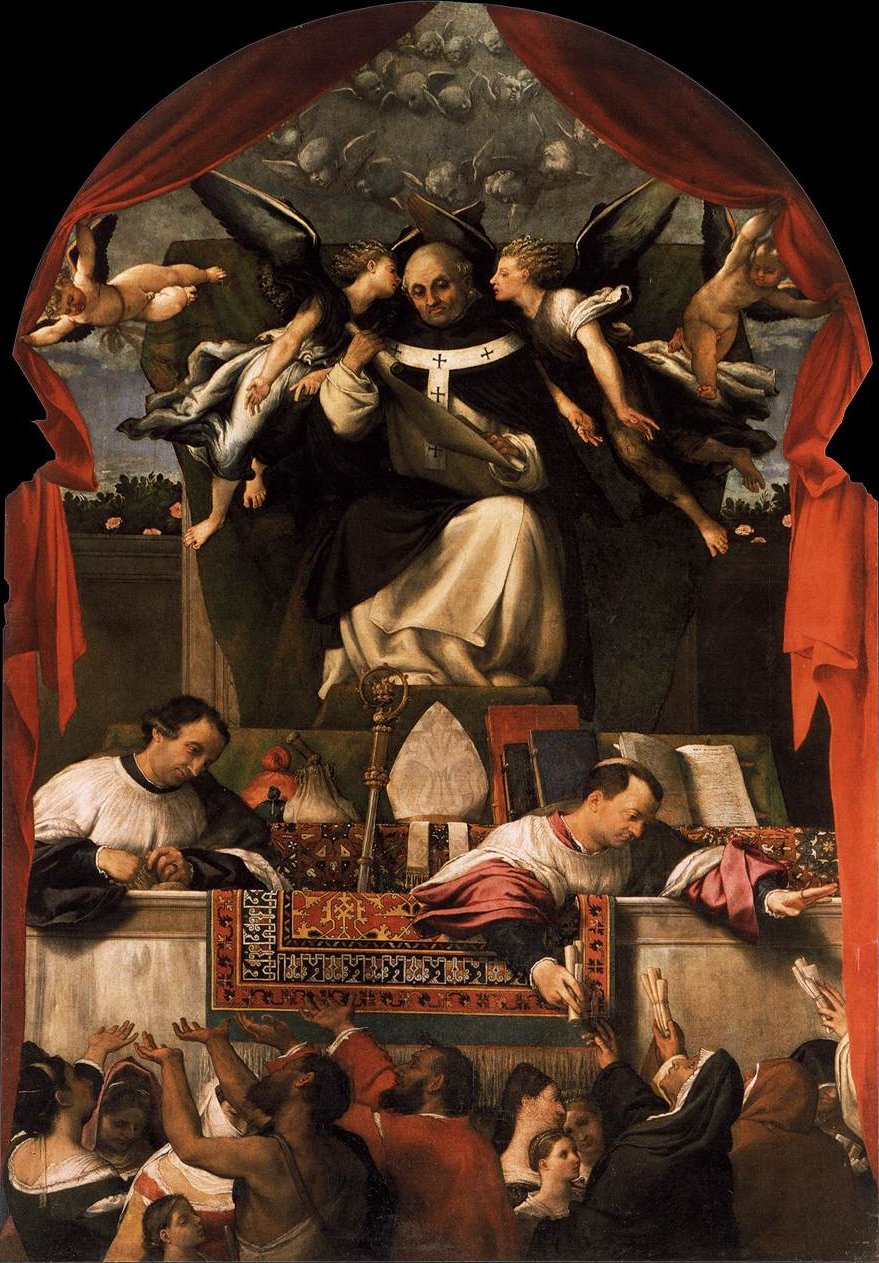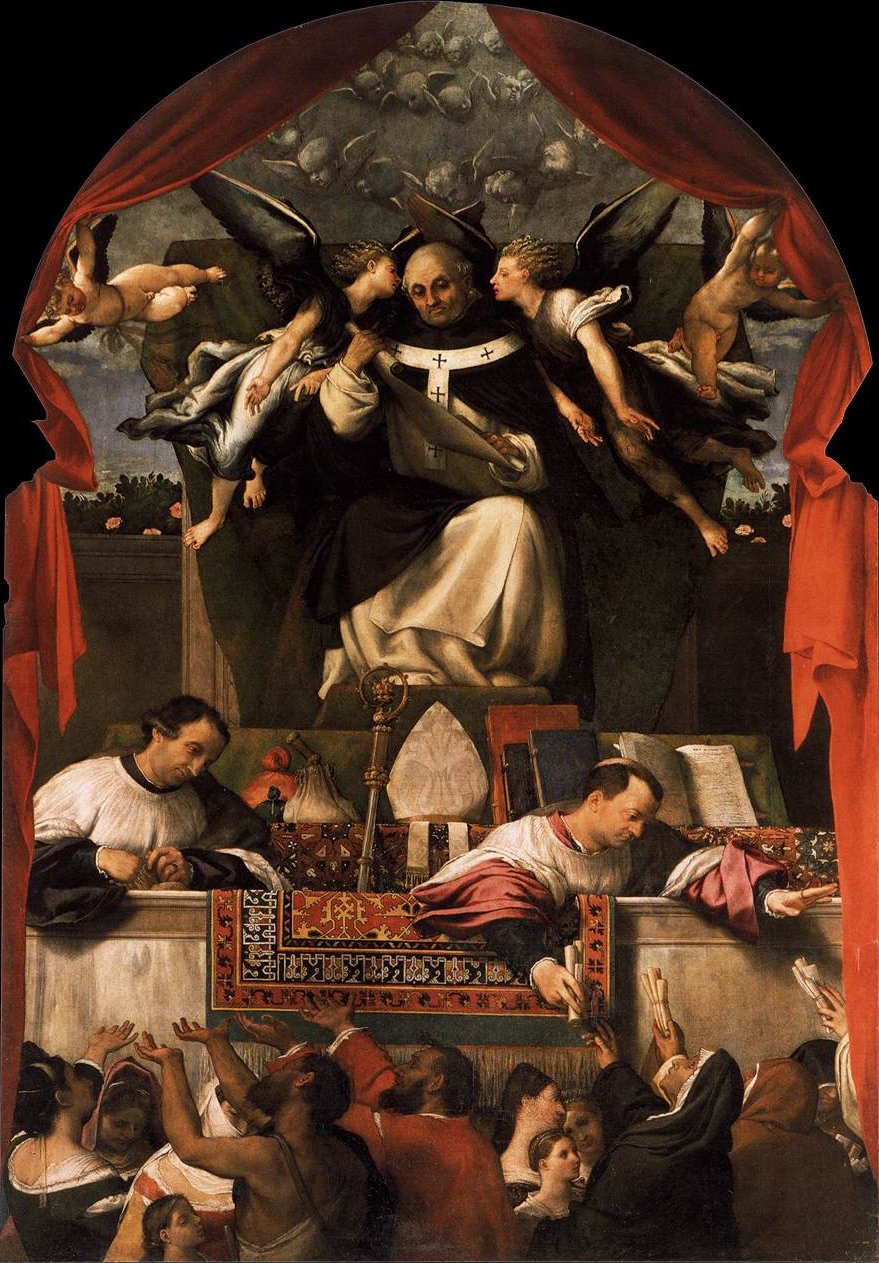 -The Charity of St. Anthony, Lorenzo Lotto, 1542; Italy – High Renaissance, oil on panel, 235 x 332 cm, Basilica dei San Giovanni e Paolo, Venice, Italy, please click on the image for greater detail
My sister, although we did not know it then, only the symptoms of several car accidents in short succession, was suffering the effects of PSP in 2005, the year Kelly and I happened to want to be married.
Since my parents had passed eight weeks apart towards the end of 2001, my eldest sibling, my sister, my second mother, was very important to me to have in attendance.  She could not travel, and so, at the risk of my soul and marriage, I asked Kelly if we could delay until Spring of 2006 to see if my sister's condition would improve.  It never did.  She passed in 2008.
Tearfully and most generously, Kelly agreed to wait.  In so doing, we had to give up the HOTTEST ticket for a wedding ceremony in Chicago, Old St Patrick's Church.  There is a waiting list of years.  So, desperate for a church building, and Chicago Catholic churches scarce (understatement) on short notice for wedding Saturdays, and the Catholic Church insisting on weddings in Catholic Church churches, you have to get a dispensation otherwise, and who wants to do that, and, it may not be granted, we went begging. The gloriously beautiful Holy Family Church, now in a depressed part of the near west side of Chicago, and so with few congregants and fewer weddings, welcomed us and we became parishioners at the invitation of the pastor, who also witnessed our wedding.
He was the lone priest in this big, sadly underused, gem of a church where Mrs O'Leary, of infamy, used to be a parishioner. This pastor later quipped to us when we blurted out later, as Catholics are wont to do upon some small sacrifice, "But, our reward will be great in Heaven!!" And, he said, to this day we're not sure if he was serious or not, "Don't kid yourself." This pastor, regrettably, turned out to be not one of the better priests either of us have ever met. It happens.
"If you love those who love you, what credit is that to you? For even sinners love those who love them. If you do good to those who do good to you, what credit is that to you? For even sinners do the same. If you lend to those from whom you hope to receive, what credit is that to you? Even sinners lend to sinners, to receive as much again. But love your enemies, do good, and lend, expecting nothing in return. Your reward will be great, and you will be children of the Most High; for He is kind to the ungrateful and the wicked. Be merciful, just as your Father is merciful." -Lk 6:32-36
Lk 17:18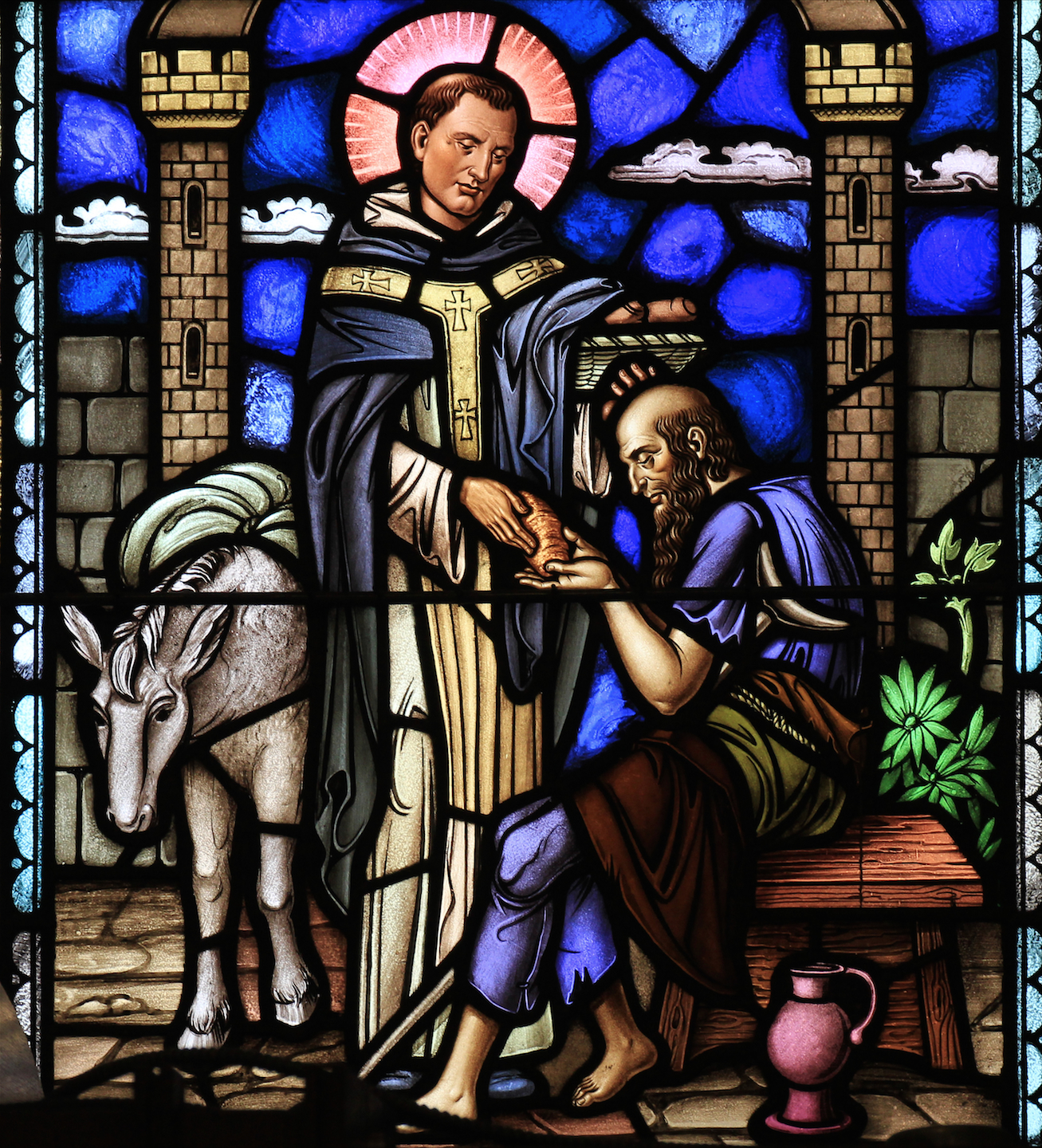 – St Antoninus, from Saint Dominic's Church in Washington, D.C., please click on the image for greater detail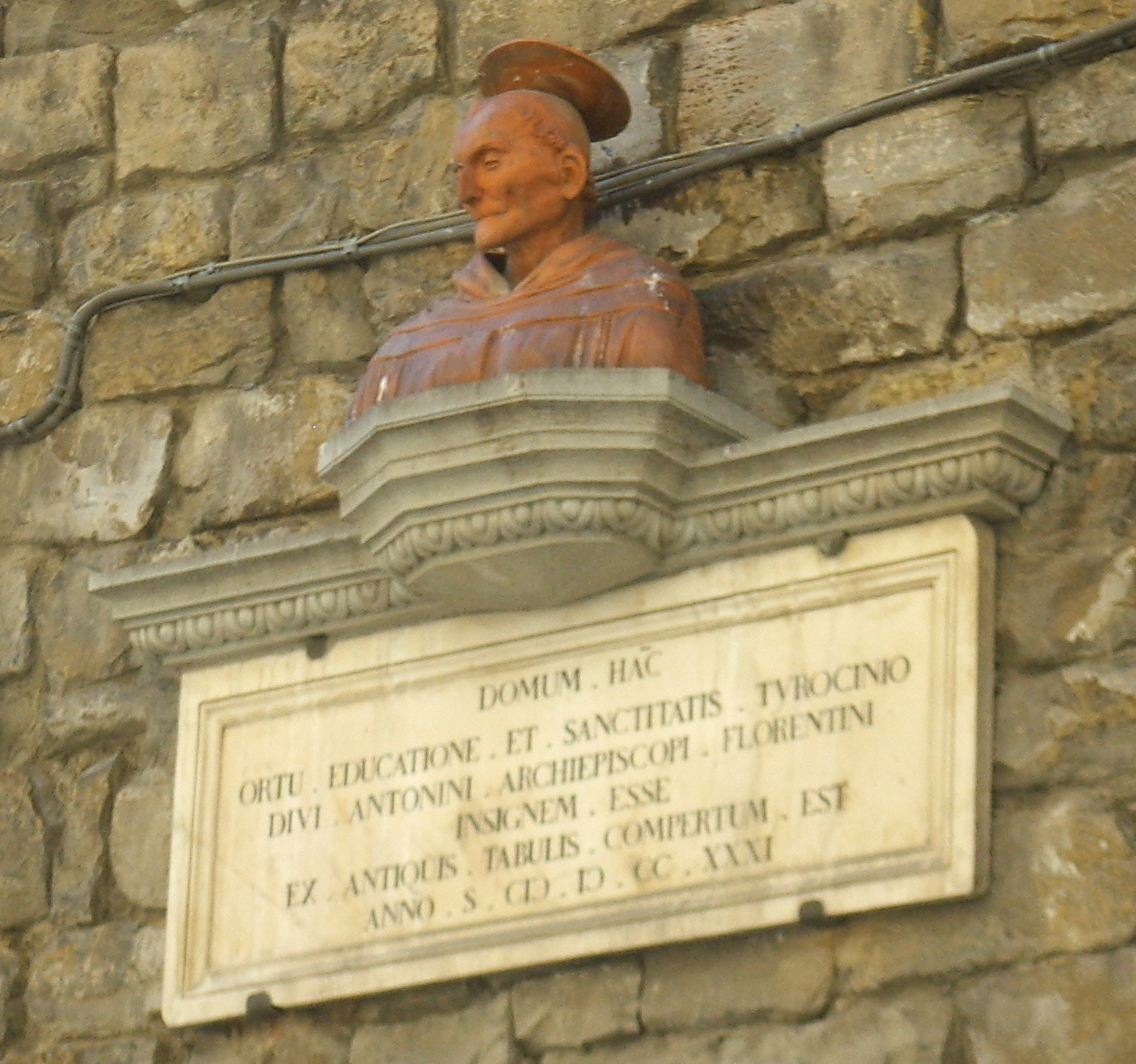 -bust outside the family home of St. Antoninus Torre dei Pierozzi, Florence, Italy, please click on the image for greater detail
To mitigate the wide-spread misery caused by the taxes of the Medici, St Antoninus established a lay society, known as the 'Good Men of St Martin', who systematically sought out the poor and gave assistance to them.
The plague hit Florence in 1448 and 1449. Then an earthquake shook it in 1453, followed by a cyclone in 1456, and then a famine! St Antoninus was frequently seen with his mule loaded with emergency supplies, going through the streets of the city to help those in both material and spiritual need, bringing relief supplies and the succour of the sacraments.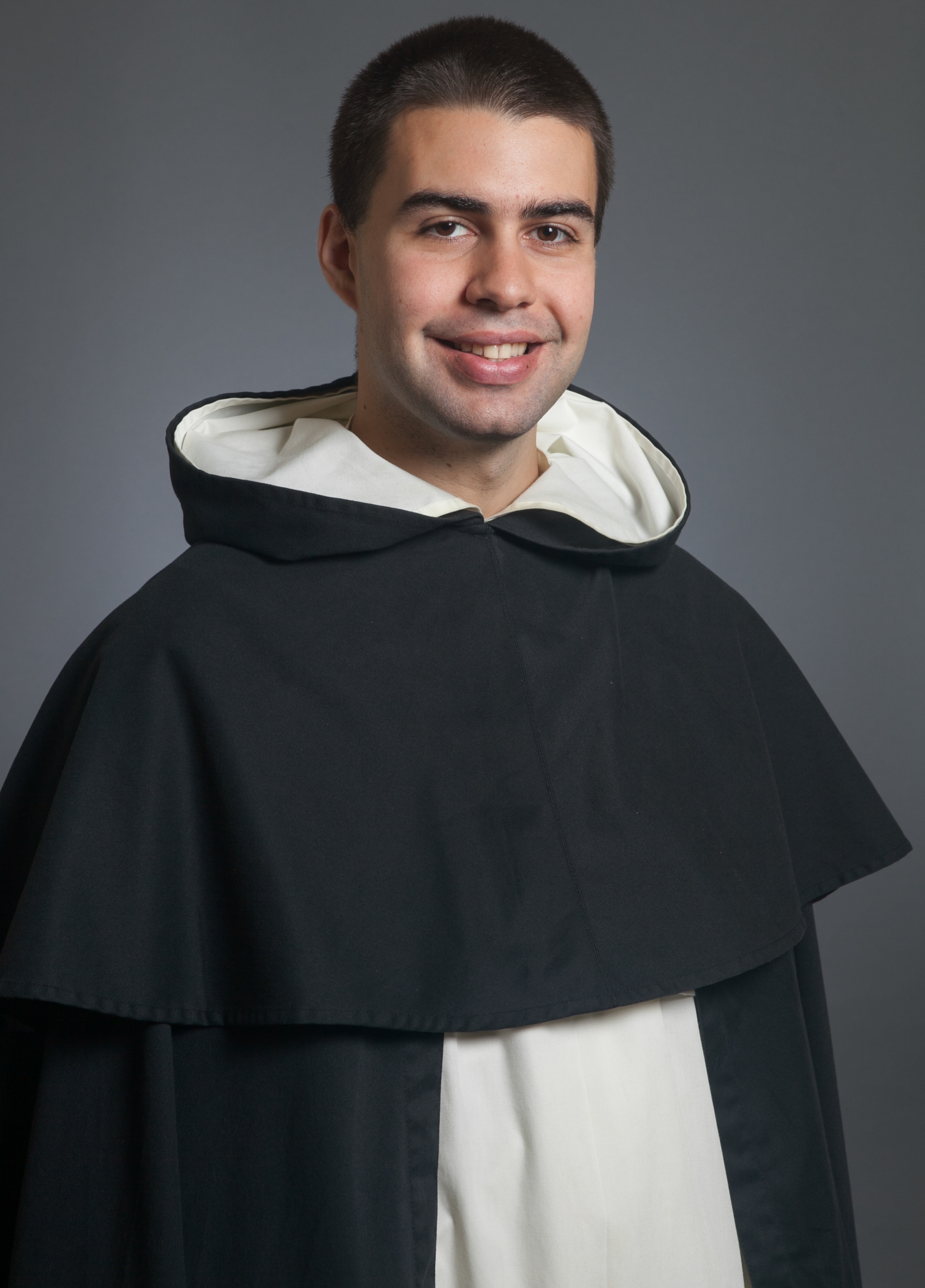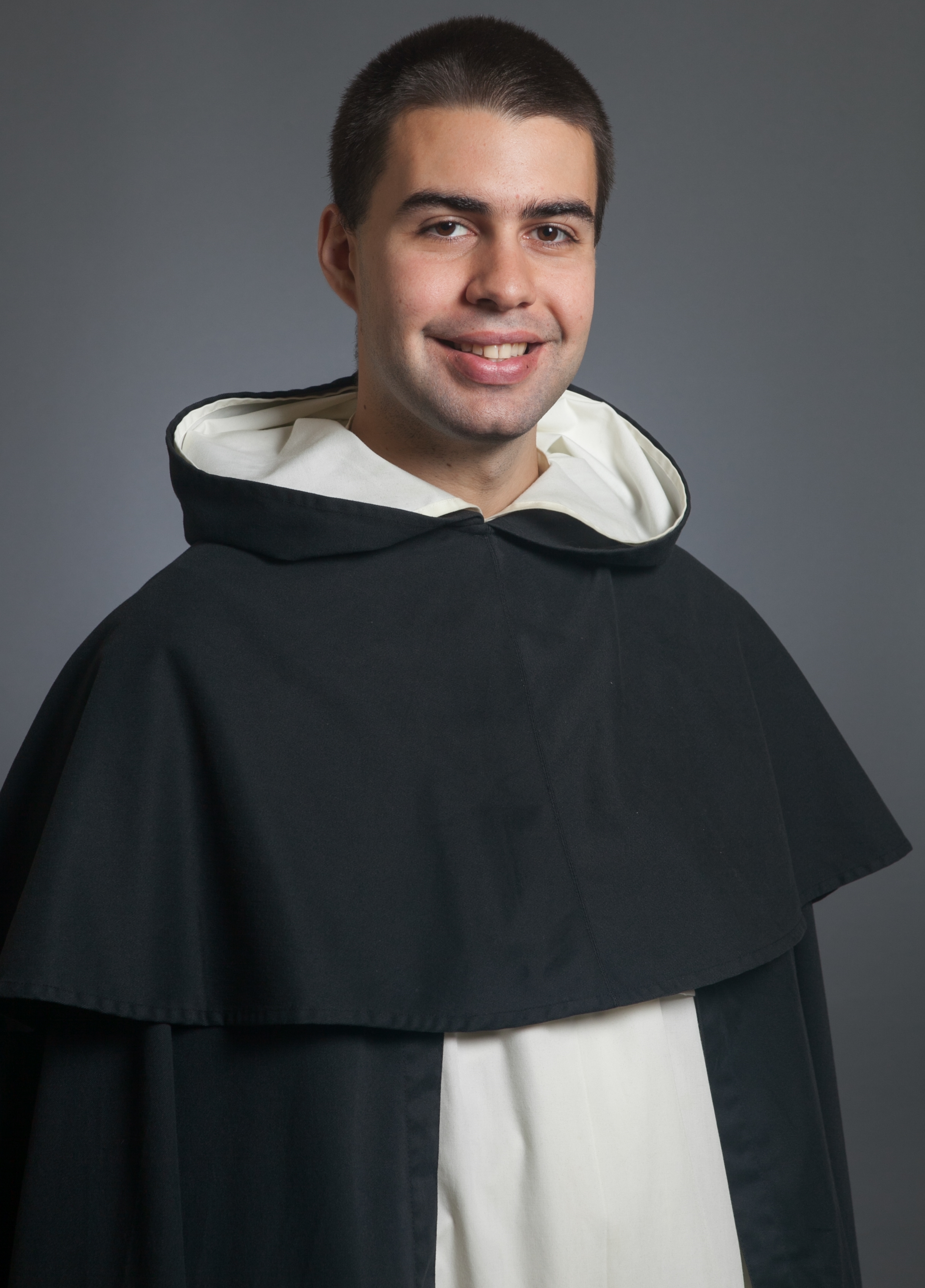 -by Br Bartholomew Calvano, OP
St Antoninus is "…a model in this thankless charity. Saint Antoninus, a Dominican friar who lived in the early 15th century, was well known both for his contributions to moral theology and for his love of the poor. As Archbishop of Florence, he focused his attention and resources on the poor. He instructed those who established homes for the care of the suffering, whether it be from malady, poverty, or abandonment, to persevere in their care, even if those they served were ungrateful.
A prime example of the types of organizations that St. Antoninus founded was the association known as the Good Men of St. Martin. This group of laymen dispersed funds entrusted to it wherever the need was found. The primary purpose of this association, however, may seem strange to us. The first recipients of its charity were to be the shamefaced poor, a title given in 15th century Florence to those who, because of having fallen from a higher stratum of society, were too ashamed to beg and so starved in silence. Such poor only accepted charity reluctantly, and scant gratitude could be expected from them for it. Saint Antoninus' charity, however, was too broad to be limited to only those who came seeking it.
Saint Antoninus chose to trade in, by means of charity toward the grateful and ungrateful alike, the riches he had on earth to receive a reward in heaven. In imitation of him, may we also show ourselves to be children of God through unselfish mercy and kindness to all of our neighbors."
"Eternal God, you wonderfully blessed Saint Antoninus with the gift of wisdom. Pour out upon us, Your servants, the same spirit of understanding, truth, and peace. May we know in our hearts what pleases You and pursue it with all our strength. We ask this through our Lord Jesus Christ, your Son, Who lives and reigns with You in the unity of the Holy Spirit, one God, for ever and ever. Amen".
– Collect for the feast of St Antoninus (10th May).
His body remains incorrupt.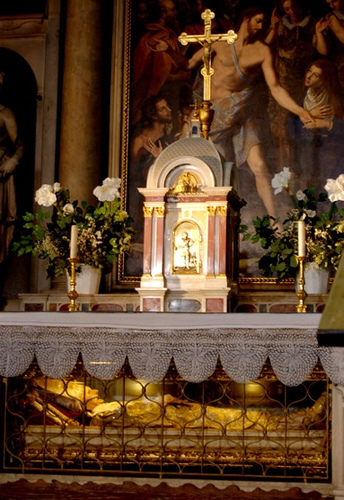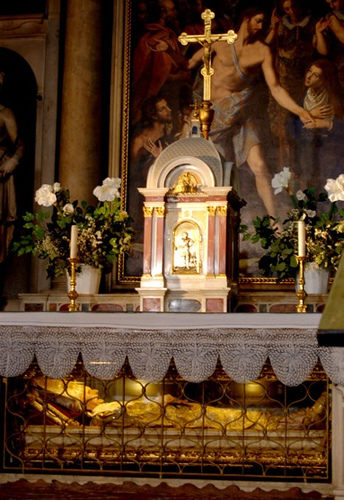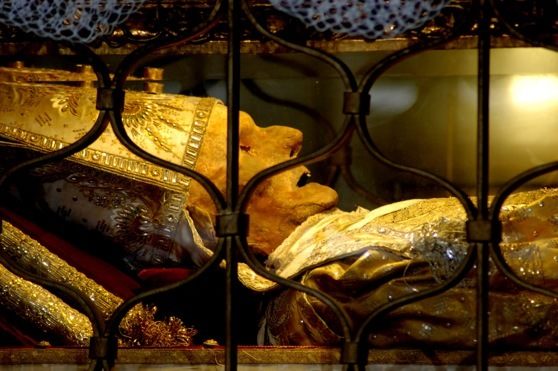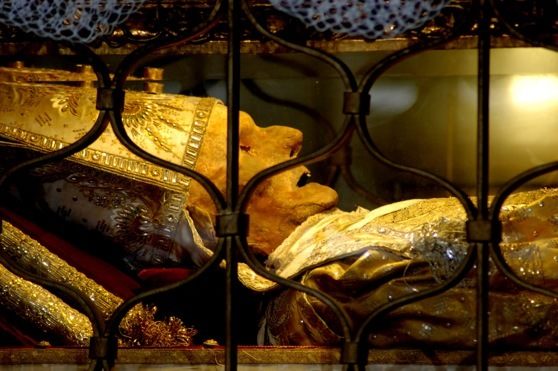 Looks good for 560, not a day over 100.  San Marco, Florence, Italy.
Love,
Matthew