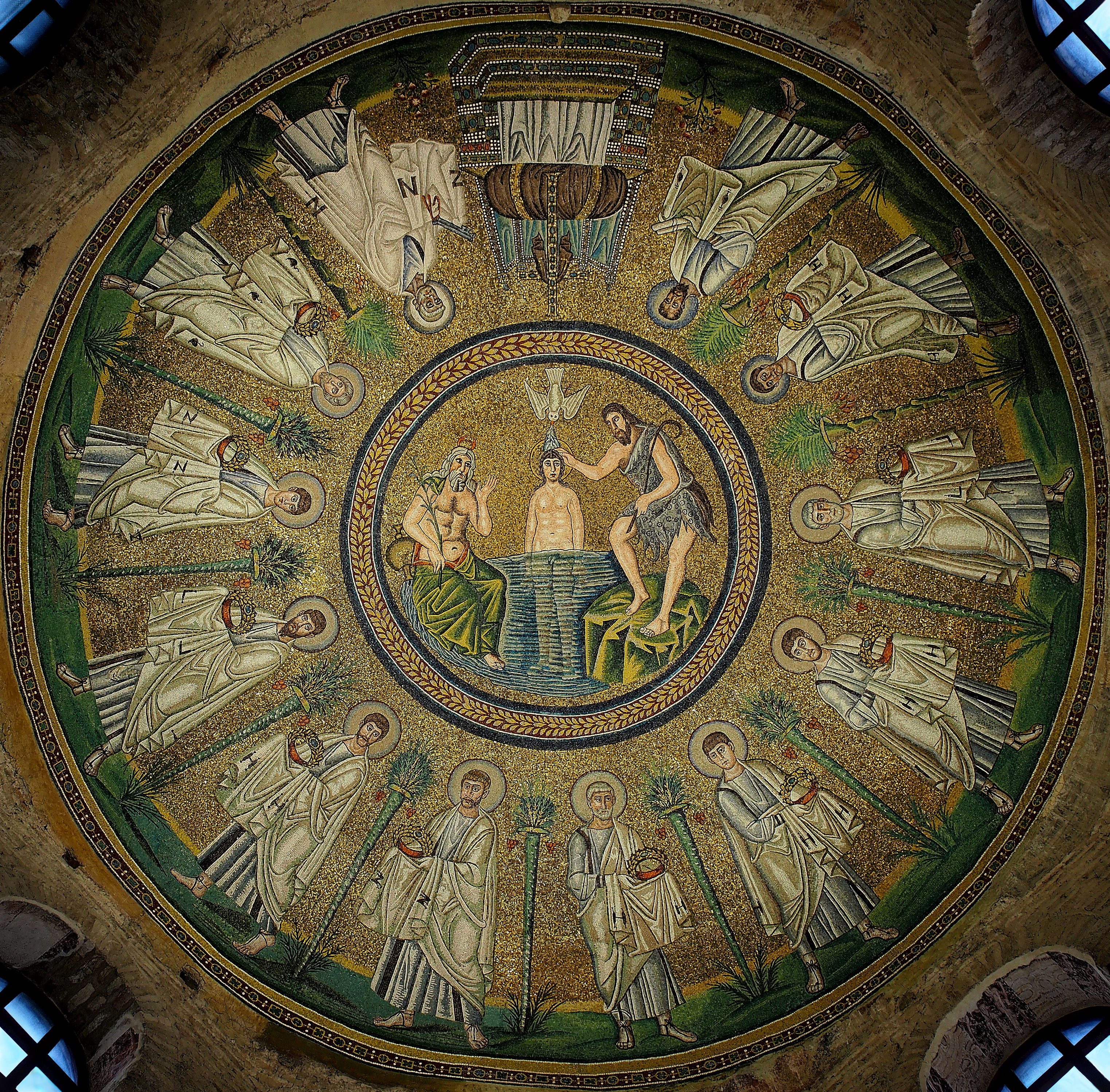 -ceiling mosaic of the Arian Baptistery, built in Ravenna by the Ostrogothic King Theodoric the Great (454-526 AD), please click on the image for greater detail.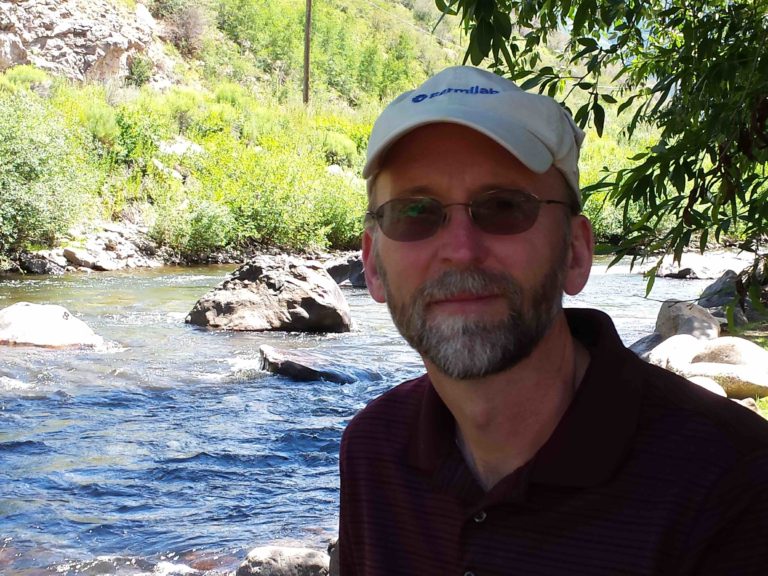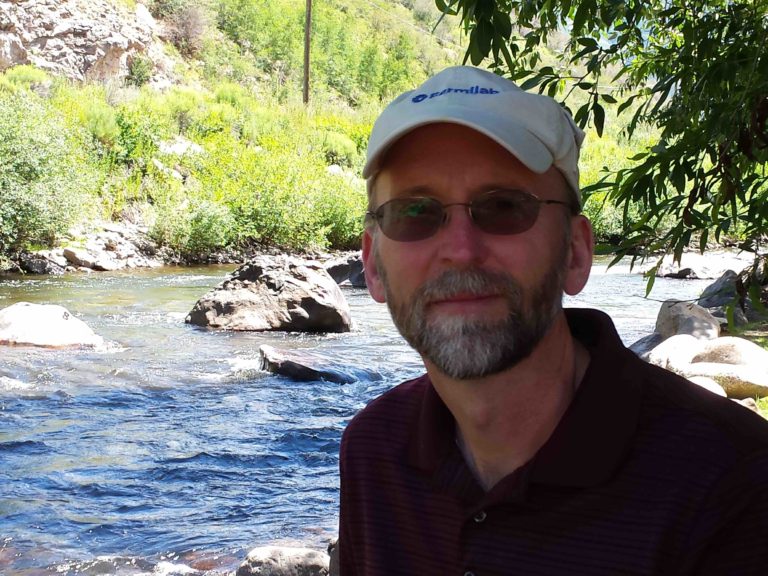 -by Mike Knapp (Mike Knapp was born in Chicago and raised on a farm in Garden Prairie, IL. He went to National Louis University to collect all their degrees finishing a doctorate in "Science and Spirituality in Public Education." A National Board Certified middle school science teacher, he's ending 35 years of teaching at the end of the 2018/2019 school year to start a new chapter with his wife — yet to be determined, as becoming a Catholic has really changed everything. An "elder/pastor" for over 20 years with the Bible Students he was received into the Universal Church in 2017. He's serving as an altar boy at the Latin Mass, runs, reads, teaches graduate courses in environmental science for SCARCE and a course in particle physics for teachers at Fermilab, and goes to Feed My Starving Children regularly.)
"Following the lead of others, I encouraged our congregation's move away from simple worship of some hymns and readings before the sermon to a more Evangelical-style worship with a band. We developed various themes and programs to try to keep people interested and coming. It was a total flop. As many Protestant churches have discovered, if you try to keep people entertained or emotionally tied, it quickly reaches the point of diminishing returns.
Now, as a Catholic, being in Jesus' presence daily as I pray before the Tabernacle is the most important part of my day. In contrast, the way I lived out my Christianity through my Bible Student upbringing was a "head experience." Being a science teacher as well as a pastor supported keeping everything in my head. But my real need was to live Christ in body, soul, and spirit. Getting the right program or manner of worshiping was not the main thing.
As I started studying early Church history, I encountered the early Christians and Church Fathers. These were people who lived out Jesus' teaching and promises. I didn't need New Age magical thinking. I didn't need a program, a new form of worship. I needed to submit to God, worshiping the way He wanted, not the way I wanted. That is the main thing: full submission to Him, to His will. But I only realized that later.
On the other hand, I started to stop by a Catholic parish in my town on my way to work. It is the only Christian church that is open at 5:45 AM weekdays for people to pray; they have a daily 6:30 AM Mass. I was beginning to appreciate sacred spaces and places.
However, I had a hard time dealing with Catholic doctrine. I had been well-trained to dissect Catholic thought and practice — at least the caricature of it that we were taught. Catholics were (and sadly, still are) pretty easy targets to "evangelize" away from their faith. Very few Catholics I met knew their Bible, their history, or how to defend any of their practices.
So, since I "knew" that what I was looking for couldn't be the Catholic Church, I first looked at Orthodox writers and thinkers. It is funny how our prejudices work. I couldn't bring myself to look into the Catholic Church, but I was OK with looking into the Eastern Orthodox — all the while praying each morning in a Catholic church. People thought the Orthodox faith strange, but I didn't get the strong reactions I did later as a Catholic.
I was blessed during my time studying Orthodoxy. The Orthodox schism of 1054 fit in with my Protestant idea of the Church "going off the rails," but I had to move to much later the date of the "Great Apostasy." Among Orthodox writers and saints, I could see the promises of Christ being lived out. Reading of the monks of Mt. Athos, the Eastern Fathers, the rich liturgy, and abundance of miracles, I thought that I was on the right track. I began to challenge people to look into the Orthodox faith, pointing out the wonders and beauties I had discovered.
A lot was going on at that time. I was taking classes at the Antiochian Orthodox seminary and knew my future was taking me where my brethren were unwilling to go. I had been trying to re-create the early Church, as many Protestants have, within the confines of my own church. That was not fair to them.
It didn't take a full semester to realize that I was running into many of the same issues in the Orthodox Church that I saw in Protestant churches. The nationalism of the various sects of the Orthodox was troubling. Attending various Divine Liturgies was enlightening as well. In the Antiochian church nearby, the people were very devout. In my sampling of other Orthodox parishes, not so much. Still, the Orthodox Churches have apostolic succession and the true Presence of Christ in their Divine Liturgy. 
On the other hand, I also learned that the Catholic Church does include several Eastern forms of liturgy."
Love,
Matthew