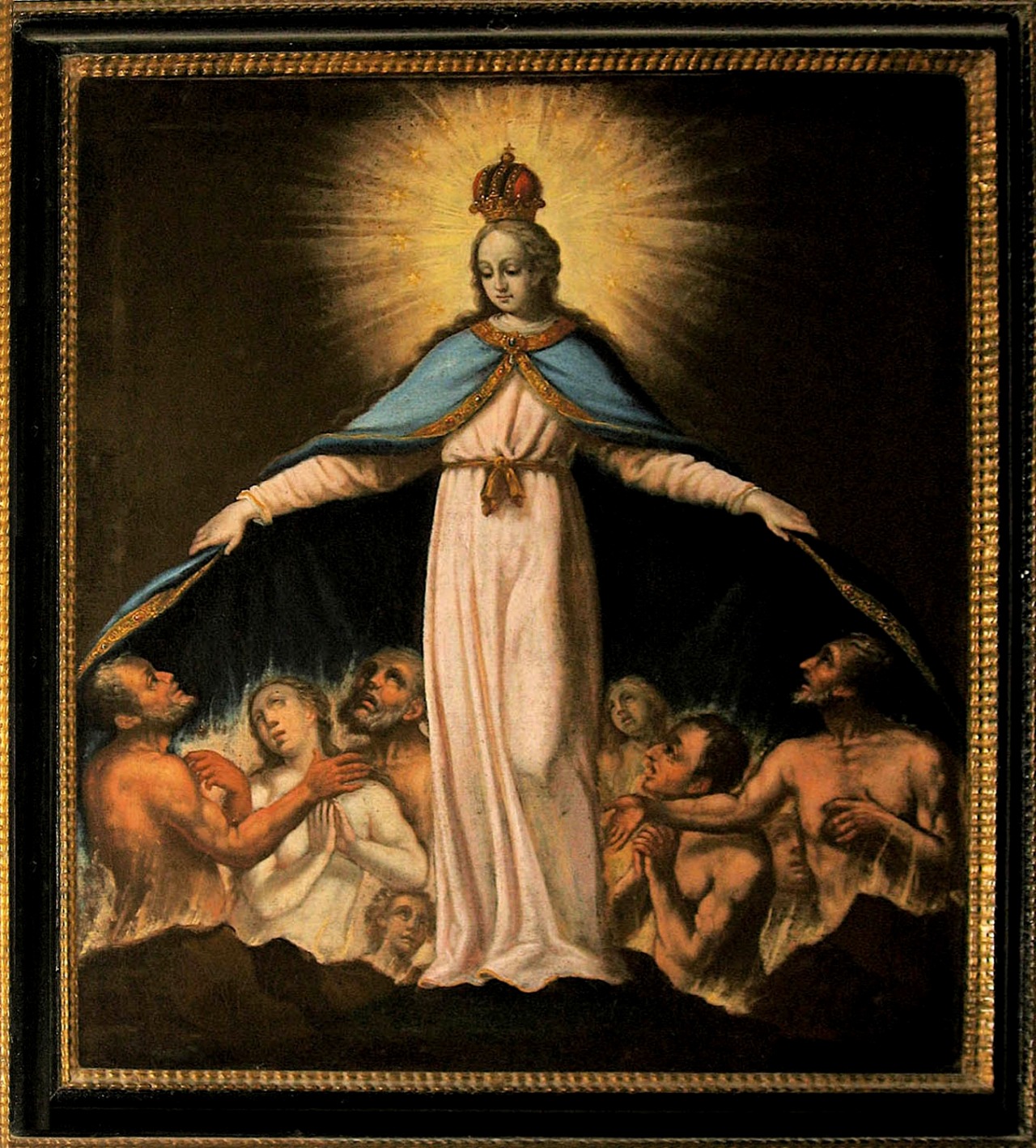 "The belief that love can reach into the afterlife, that reciprocal giving and receiving is possible, in which our affection for one another continues beyond the limits of death—this has been a fundamental conviction of Christianity throughout the ages and it remains a source of comfort today. Who would not feel the need to convey to their departed loved ones a sign of kindness, a gesture of gratitude or even a request for pardon? Now a further question arises: if "Purgatory" is simply purification through fire in the encounter with the Lord, Judge and Savior, how can a third person intervene, even if he or she is particularly close to the other? When we ask such a question, we should recall that no man is an island, entire of itself. Our lives are involved with one another, through innumerable interactions they are linked together. No one lives alone. No one sins alone. No one is saved alone. The lives of others continually spill over into mine: in what I think, say, do and achieve. And conversely, my life spills over into that of others: for better and for worse. So my prayer for another is not something extraneous to that person, something external, not even after death. In the interconnectedness of Being, my gratitude to the other—my prayer for him—can play a small part in his purification. And for that there is no need to convert earthly time into God's time: in the communion of souls simple terrestrial time is superseded. It is never too late to touch the heart of another, nor is it ever in vain. In this way we further clarify an important element of the Christian concept of hope. Our hope is always essentially also hope for others; only thus is it truly hope for me, too. As Christians we should never limit ourselves to asking: how can I save myself? We should also ask: what can I do in order that others may be saved and that for them, too, the star of hope may rise? Then I will have done my utmost for my own personal salvation as well."
–Spe Salvi, by Pope Benedict XVI
"Today we pray for the holy souls in purgatory. This idea of the holy souls in purgatory seems an odd notion to contemporary ears. One tends to think of heaven as the place where the holy souls go. Purgatory, one would think, is for unholy souls, an unpleasant place where it would be unfortunate to end up. As with most ideas, this has some truth and some error. Purgatory is not meant to be a pleasant place, but it is not a place for unholy souls. Rather, purgatory is for those souls who are holy, but not quite holy enough.
The souls in purgatory are holy souls. They loved God in this life, and sought to do his will. They did this, however, somewhat imperfectly. These souls in purgatory strove for God during their earthly life, but hit some stumbling blocks along the way. This striving, this desire for God, is what kept them from the perils of hell, but the stumbling blocks they tripped on have kept them from attaining the fullness of joy which awaits them in heaven.
Whereas yesterday's solemnity of All Saints was a celebration of all the men and women who have gone before us and attained this fullness of joy, today's commemoration is a day of prayer to keep the purgatorial conveyor belt moving, as it were. The holy souls in purgatory have a desire for God, but because their earthly life has ended, they are no longer capable of performing the deeds which, by God's grace, merit heaven. Now that their earthly pilgrimage has run its course, they are entirely dependent upon God and the prayers of those who remain on earth.
This is where you and I come in. We pray for these souls, these souls who have no one else to pray for them. We can do penance for them, we can pray for them, and in the process we can grow in holiness ourselves. In doing so, we build bonds of charity with those for whom we pray, nameless though they are. And once they attain the joys of heaven, which they certainly will after their purgation is completed, we can be assured of their intercession for us, as we celebrate them on All Saints Day.
Today we pray for the holy souls in purgatory, that they may attain the joys of heaven and be enrolled among the saints, and, in doing so, may we gain new intercessors in heaven, helping us to grow in holiness ourselves."
Love,
Matthew