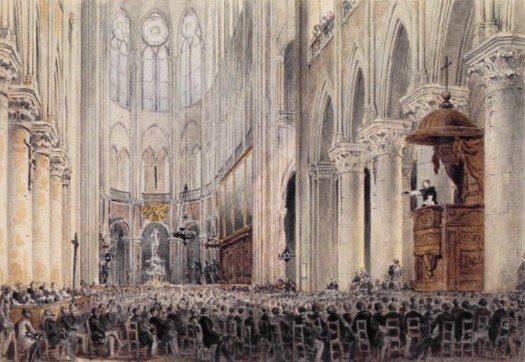 -Lacordaire preaching his Lenten Conferences from the elevated pulpit at Notre-Dame Cathedral, Paris, 1845.
"In Advent of 1843, Lacordaire ascended the winding steps of the pulpit at the Cathedral of Notre Dame. About eight years earlier, he had given a series of conferences there which, by all accounts, were a roaring success—reports state that they averaged over 6,000 attendees per conference. The conferences were aimed at teaching the Faith again to a country that had lost it in the Revolution. But this time was different. In 1836 Lacordaire had left France in order to further his education in Rome. While there, he had met the Dominican Order and joined their number. After formation, he returned to France with the expressed aim of restoring the Order in his home country. And did the Dominicans ever need restoring—they had gone from over 20,000 friars in 1789 to less than 5,000 a generation later. Around this time, one John Henry Newman became interested in religious life. Finding the Order much diminished in Europe, he wondered if it was not "a great idea extinct."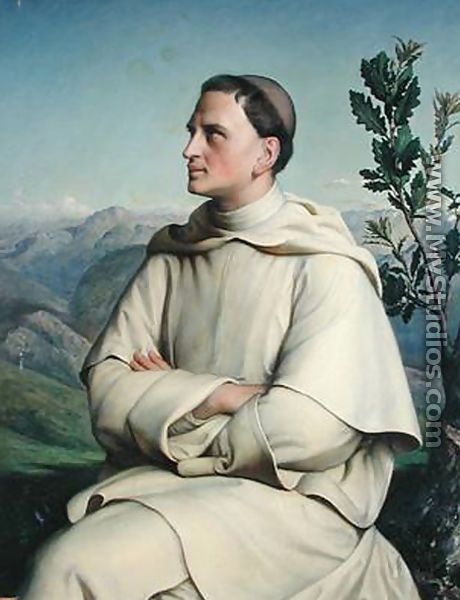 -"Henri Lacordaire At Sorreze" by Anne-Francois-Louis Janmot, oil on canvas, 1847, Chateau de Versailles, Paris, France.
Yet, Lacordaire did not seek to resurrect a nearly extinct religious order simply for the novelty of it. Nor was he against the liberal egalitarian ideals of the revolutionaries. He too was a self-avowed proponent of liberté, égalité, et fraternité. It is reported that shortly before his death he told a confrere: "I die a repentant religious, but an unrepentant liberal." Lacordaire believed that the desires for true freedom were fundamentally good, but that they could only be fulfilled in Christ. Figures like Voltaire were not the enemy, but misguided and a source for confusion. Faith did not destroy the rational capacities of the believer, but could be a source for greater insight into reality. He sought to show the modern world that Christianity was both true and in accord with what they sought."(1)
In January 1834, at the encouragement of the young Frédéric Ozanam, the founder the Society of Saint Vincent de Paul (a charitable organization,) Father Lacordaire started a series of lectures at the Collège Stanislas. This met with great success, even beyond his students. His thematic emphasis on freedom provoked his critics, who charged him with perverting the youth. Lacordaire was reputed to be the greatest pulpit orator of the nineteenth century. Lacordaire's preaching was not so much penitential as an exercise in apologetics. He demonstrated that one could be a French citizen and a Catholic. The lectures were a great success.
Monseigneur de Quélen, the Archbishop of Paris, asked Lacordaire to preach a Lenten series in 1835 at the Cathedral of Notre-Dame in Paris, as part of the Notre-Dame Lectures specially aimed at the catechesis of Christian youth, which had been inaugurated at the behest of his friend Ozanam. Lacordaire's first lecture took place on 8 March 1835, and was met with wide acclaim. The social event of its day, 6,000 attended. Because of this immediate success, he was asked to preach again the following year. According to Thomas Bokenkotter, Lacordaire's Notre Dame Conferences, "…proved to be one of the most dramatic events of nineteenth century church history." Today the Lacordaire Notre-Dame Lectures, which mixed theology, philosophy and poetry, are still acclaimed as a sublime modern re-invigoration of traditional homiletics.
Among those who attended his Lenten sermons in 1836 was Marie-Eugénie de Jésus de Milleret. The encounter with Lacordaire marked a turning point in her life and the beginning of a spiritual journey that would eventually lead her to found the Religious of the Assumption. In a letter written to Lacordaire years later, she recalled, "Your words gave me a faith which henceforth nothing could shake."
But in 1836 after such considerable success, he was still the object of mounting attacks on his theological stance. Suddenly his mother died. Lacordaire, aware of the need to continue his theological studies, retreated to Rome to study with the Jesuits. There, he published his "Letter on the Holy See" in which he reaffirmed with vigor his ultramontane positions, insisting on the primacy of the Roman Pontiff, "the one and permanent trustee, supreme organ of the Gospel, and the sacred source of the universal communion." This text ran afoul of the Archbishop of Paris, Monseigneur Quélen, who was a sincere Gallican.
Faith, Hope, Love,
Matthew