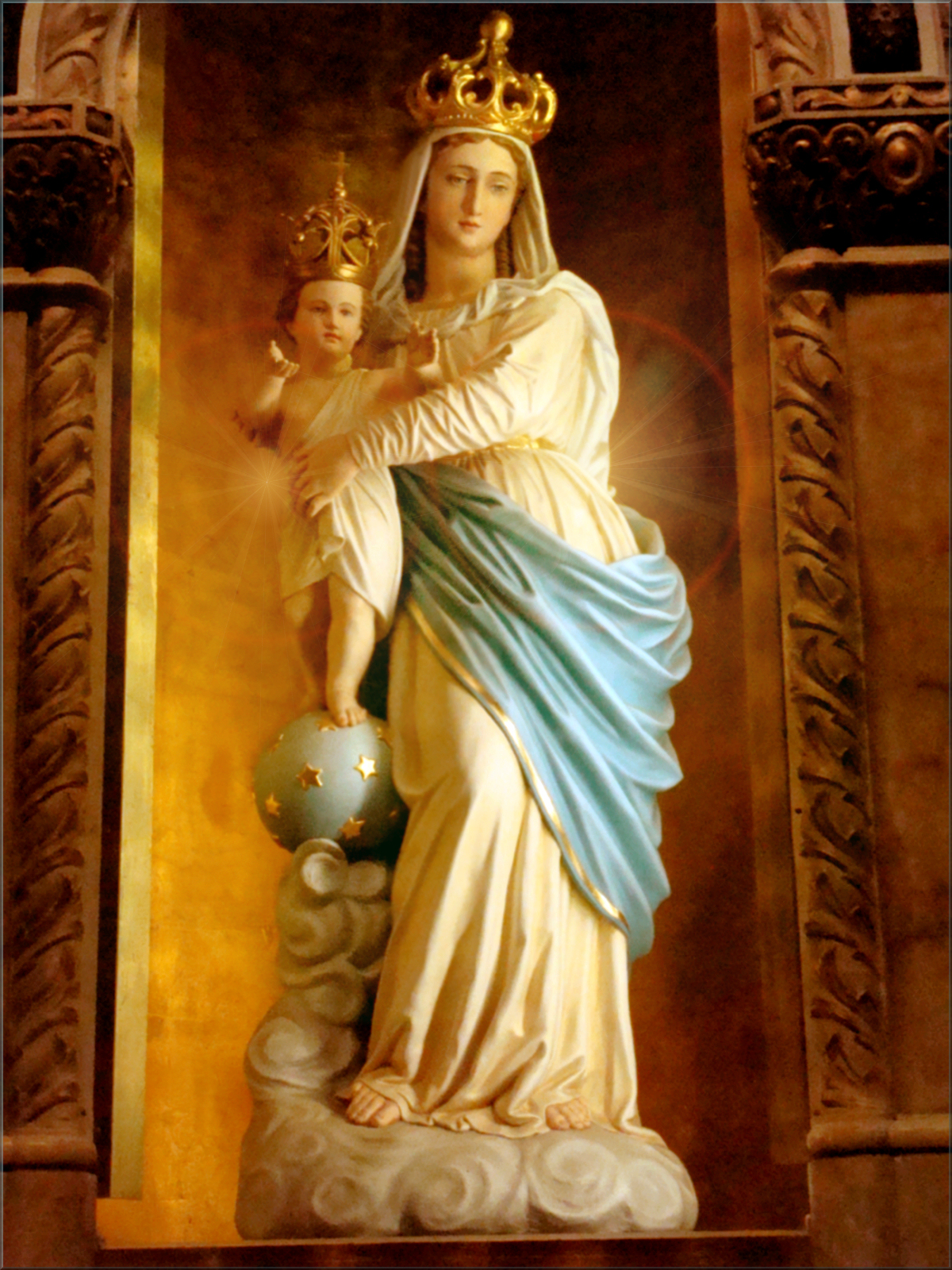 O my Lord and Savior, support me in my last hour by the strong arms of Thy sacraments and the fragrance of thy consolations. Let Thy absolving words be said over me, and the holy oil sign and seal me; and let Thine own body be my food and Thy blood my sprinkling; and let Thy Mother Mary come to me, and my angel whisper peace to me, and Thy glorious saints and my own dear patrons smile on me, that in and through them all I may die as I desire to live, in Thy Church, in Thy faith, and in Thy love. Amen.
–Bl John Henry Cardinal Newman
"O Dearest Lady, sweet Mother mine, watch the hour when my departing soul shall lose its hold on all earthly things, and stand unveiled in the presence of its Creator. Show thyself my tender Mother then, and offer to the Eternal Father the precious blood of thy Son Jesus for my poor soul, that it may, thus purified, be pleasing in His sight. Plead for thy poor child at the moment of his (or her) departure from this world, and say to the heavenly Father: Receive him (her) this day into Thy kingdom! Amen.
Through your help I hope to die a happy death. O my Mother I beg you, by the love you bear my God, to help me at all times, but especially at the last moment of my life. Do not leave me, I beseech you, until you see me safe in Heaven, blessing you and singing your mercies for all eternity. Amen, so I hope, so may it be."
–St Alphonsus Ligouri
Grant unto us, Lord Jesus, ever to follow the example of Thy holy Family, that in the hour of our death Thy glorious Virgin Mother together with blessed Joseph may come to meet us and we may be worthily received by Thee into everlasting dwellings: Who livest and reignest world without end. Amen.
Lord Jesus, pour into us the spirit of Thy love, that in the hour of our death we may be worthy to vanquish the enemy and attain unto the heavenly crown: Who livest and reignest, world without end. Amen.
Grant, we beseech Thee, O Lord, that in the hour of our death we may be refreshed by Thy holy Sacraments and delivered from all guilt, and so deserve to be received with joy into the arms of Thy mercy. Through Christ our Lord.
"It was not too long ago that I stood in a hospice center praying at the bedside of a friar in his final hours. At one point the social worker on duty came in to offer some surprising advice: leave him be. She told me that some people prefer to die alone, and that they'll hold on until the room is empty. She described dying as "a wonderful expression of our autonomy." Our society celebrates autonomy in all its forms, but this advice seemed particularly audacious. Especially because the limits of autonomy are most transparent at the end, when suffering and death strip away our illusions of ultimate power and self-determination.
It's not that we don't have a real power to choose, or that our will isn't free, or that our choices are unimportant. Though, in a certain sense, the many choices we make throughout our lives on earth are really many acts of just one choice: the choice to pursue God or to pursue ourselves. We are continually deciding whether to worship God or ourselves, to follow His will or our own, and, ultimately, whether to accept His gift of Himself (heaven) or reject it (hell). In this way we are faced with the same choice that the angels had, but we decide it differently. For the angels are more noble beings, and when they were created they chose in a single act of the will. We, as men and women living in time and constrained by our physical natures, have to make this choice throughout our lives, in our daily acts. Our choice, and how each of our acts moved us toward it, will be the subject of our particular judgment.
Every act of ours is therefore a movement giving primacy to God's will or to our own will. And in this sense it could be said that the most autonomous souls, the most independent, are those deepest in hell. Having chosen to reject every help, they have chosen instead to be utterly alone.
To speak of autonomy at someone's deathbed is a futile grasp at a failing value. But what is proper to speak of, then? It's not an academic question — we will all be there sooner or later. When we reach our end, facing a fate that seems to be a final defeat, what do we cling to? (For we should cling to something other than ourselves.) We should cling to our Savior and trust in His mercy.
We cling to Jesus and His Mother Mary, and especially to the lifeline that they have given to us in the rosary. Holding onto the rosary, we are pulled out of darkness and into light. Through the rosary we anchor ourselves in the mysteries of Christ's life, death, and Resurrection; in those chains of beads we are tangled up within His salvific love, we are bound to His divine life. There is a reason that Our Lady of the Rosary and Our Lady of Victory are two names for the same feast day. For in repeating the Hail Mary we repeat the names of Jesus and Mary, and we recall that in the Incarnation God "emptied himself and took the form of a slave, being born in the likeness of men." (Phil. 2:6) We ask Mary to pray for us, now and until the end. We ask her to be with us, and to not leave us to face the sting of death on our own. So that, remembering Christ's victory over death, we can echo the bold words of St. Paul: "Death, where is thy victory? Death, where is thy sting?" (1 Cor 15:55)
What better way to live and to die than in the rosary, in the continual repetition of those two holy and sweetest names of Jesus and Mary? What better way than by begging, again and again, for Mary's intercession? So we stayed by our brother's side in his final moments, praying the rosary when he could not. And in such a way may "the angels lead [us] into paradise," may the martyrs receive us into the Holy City of our God, with the names of Jesus and Mary sounding in our ears and written on our heart."
Love,
Matthew