Born in London, England in 1823 to an Anglican family, Augusta Theodosia Drane converted to Roman Catholicism in 1850 and shortly thereafter entered the Dominican Sisters of Stone, where she received the name Sister Francis Raphael. Since Drane was already an established author when she entered the congregation she continued to publish under her former name. She served as mistress of novices, mistress of studies and then prioress general. Sister Francis Raphael produced nineteen books of catechetics, history, biography, drama and poetry. Among her works are a two volume definitive biography of Saint Catherine of Siena and a biography of Saint Dominic. She died in 1894.
What the Soul Desires is from Drane's collection of poems, Songs in the Night. In the poem the author expresses her frustration and sorrow about a fleeting mystical experience that never recurred. The poem was reprinted in The Oxford Book of Mystical Verse.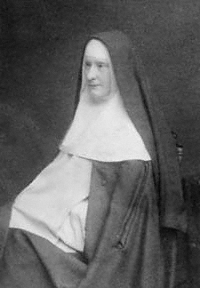 http://www.amazon.com/Augusta-Theodosia-Drane/e/B00J1UDTUI
-by Augusta Theodosia Drane (1823–1894), aka Mother Francis Raphael, OP
-Nicholson & Lee, eds. The Oxford Book of English Mystical Verse. 1917.
There Thou wilt show me what my soul desired;
There Thou wilt give at once, O my Life, what Thou gavest me the other day!
(St. John of the Cross. Spiritual Canticle, Stanza xxxviii)
"THERE is a rapture that my soul desires,
There is a something that I cannot name;
I know not after what my soul aspires,
Nor guess from whence the restless longing came;
But ever from my childhood have I felt it,
In all things beautiful and all things gay,
And ever has its gentle, unseen presence
Fallen, like a shadow-cloud, across my way
It is the melody of all sweet music,
In all fair forms it is the hidden grace;
In all I love, a something that escapes me,
Flies my pursuit, and ever veils its face.
I see it in the woodland's summer beauty,
I hear it in the breathing of the air;
I stretch my hands to feel for it, and grasp it,
But ah! too well I know, it is not there.
In sunset-hours, when all the earth is golden,
And rosy clouds are hastening to the west,
I catch a waving gleam, and then 'tis vanished,
And the old longing once more fills my breast.
It is not pain, although the fire consumes me,
Bound up with memories of my happiest years;
It steals into my deepest joys—O mystery!
It mingles, too, with all my saddest tears.
Once, only once, there rose the heavy curtain,
The clouds rolled back, and for too brief a space
I drank in joy as from a living fountain,
And seemed to gaze upon it, face to face:
But of that day and hour who shall venture
With lips untouched by seraph's fire to tell?
I saw Thee, O my Life! I heard, I touched Thee,—
Then o'er my soul once more the darkness fell.
The darkness fell, and all the glory vanished;
I strove to call it back, but all in vain:
O rapture! to have seen it for a moment!
O anguish! that it never came again!
That lightning-flash of joy that seemed eternal,
Was it indeed but wandering fancy's dream?
Ah, surely no! that day the heavens opened,
And on my soul there fell a golden gleam.
O Thou, my Life, give me what then Thou gavest!
No angel vision do I ask to see,
I seek no ecstasy of mystic rapture,
Naught, naught, my Lord, my Life, but only Thee!
That golden gleam hath purged my sight, revealing,
In the fair ray reflected from above,
Thyself, beyond all sight, beyond all feeling,
The hidden Beauty, and the hidden Love.
As the hart panteth for the water-brooks,
And seeks the shades whence cooling fountains burst;
Even so for Thee, O Lord, my spirit fainteth,
Thyself alone hath power to quench its thirst.
Give me what then Thou gavest, for I seek it
No longer in Thy creatures, as of old,
I strive no more to grasp the empty shadow,
The secret of my life is found and told!"
Love,
Matthew