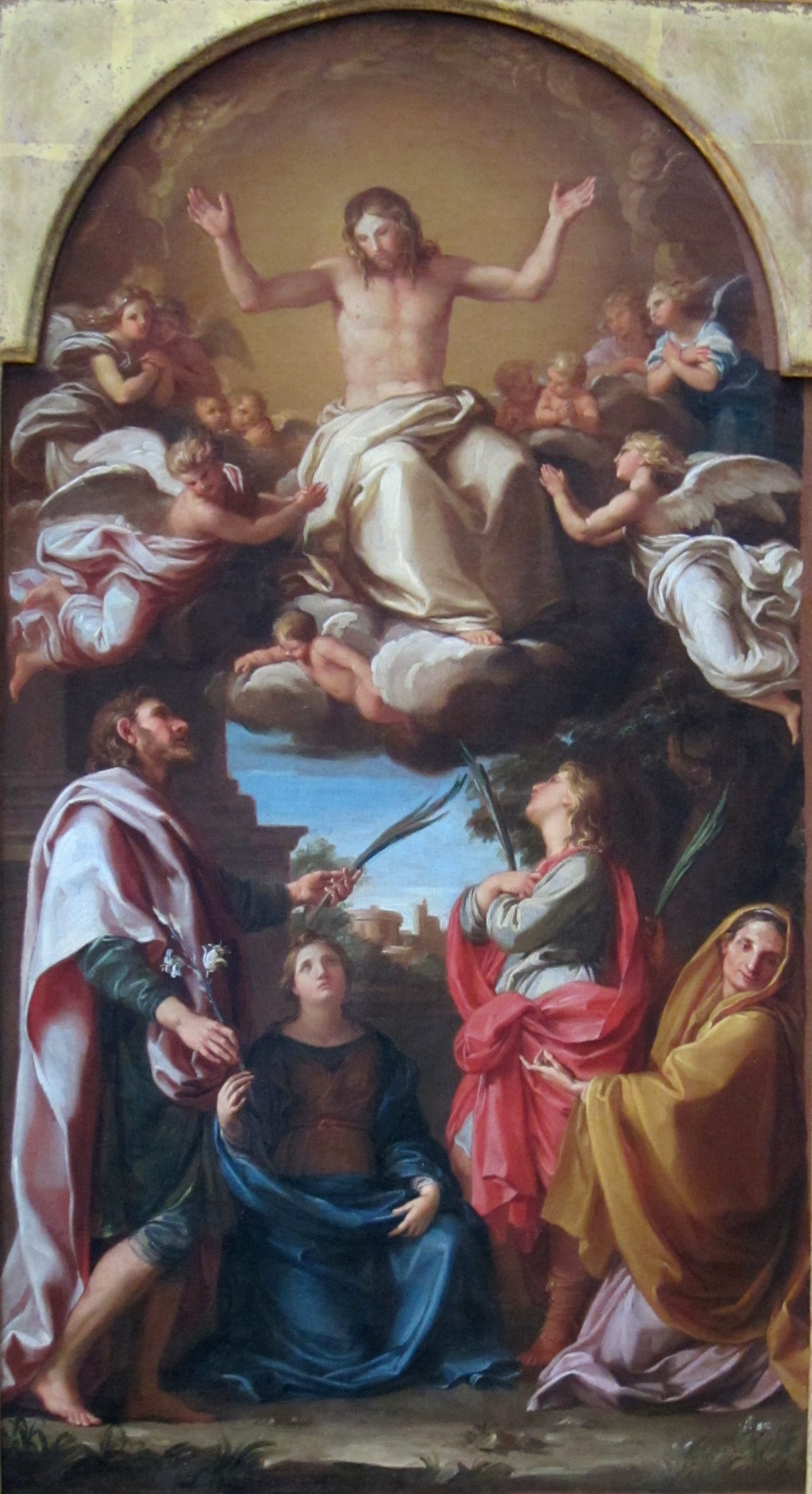 -"Christ with Saints Julian and Basilissa, Celsus and Marcionilla", Pompeo Batoni, 1736-8, currently held in Los Angeles, Getty Museum.  Note they each hold the palm of martyrdom, the palm of victory.  The palm branch is a symbol of victory, triumph, peace and eternal life.  In particular, the species of palm is known as Phoenix, and has relation to the ever resurrecting from ashes bird of ancient Egypt. 
You know the old catechetical joke! "Johnny/Sally: what are the seven sacraments? Reply: Baptism, Confirmation, Reconciliation, Extreme Unction, Ordination, and….Martyrdom!!!" Well, that might not be as far from the truth as we might like in this case!
I LOVE married saints!!!!  Julian and Basilissa were married, served the poor, ill, and destitute, during the reign of Diocletian.
While little substantive information is known of the lives of this holy couple, it appears that Julian was forced by his family to marry. To comply with their pressure, Julian selected Basilissa as his spouse, and together, they both pledged to live in celibacy, preserving their chastity before the Lord. Basilissa eventually founded a convent for women, of which she became the superior. Similarly, Julian gathered a large number of monks to himself and served as their spiritual director. Together, the two converted their home into a hospice for those in need, housing approximately 1,000 people at any given time. The sisters and monks provided daily food and care to the ill, poor, and dying, and accepted no money in return. As their hospital was located in Egypt, and many were introduced to the faith through their work, conversions were numerous. As word spread of their heroic and Christian work, they attracted the attention of those who were actively persecuting Christianity.
Saint Basilissa died a holy death after years of Christian persecution, worn out from hard work and constant threats. Before her death, she foretold that her husband would die a martyr. Saint Julian survived for some time, keeping the hospital running, and providing the Lord's care to all who needed it. Eventually, he was arrested, interrogated, and tortured during the reign of Diocletian and beheaded for refusing to recant his faith. His interrogation and his tortures were accompanied by astonishing prodigies and numerous conversions of his captors and tormentors. Following his burial, numerous miracles were reported at his tomb, including the cure of ten lepers in a single day.
Saints Julian and Basilissa devoted their life to service to the Lord through service to those around them needing the most help. In their hearts grew the flame of Christian love, illuminated for all to see. In their touch, those in need found the healing and redemption of a life in Christ.
Relics of Sts. Anastasius, Celsus, and Julian rest in the Basilica of the Sacred Heart, Notre Dame University reliquary chapel, South Bend, Indiana.
Joy & Peace, and special prayers to those called to the vocation of Christian marriage, as the means and vehicle by which they are to work out their salvation.
Love,
Matthew