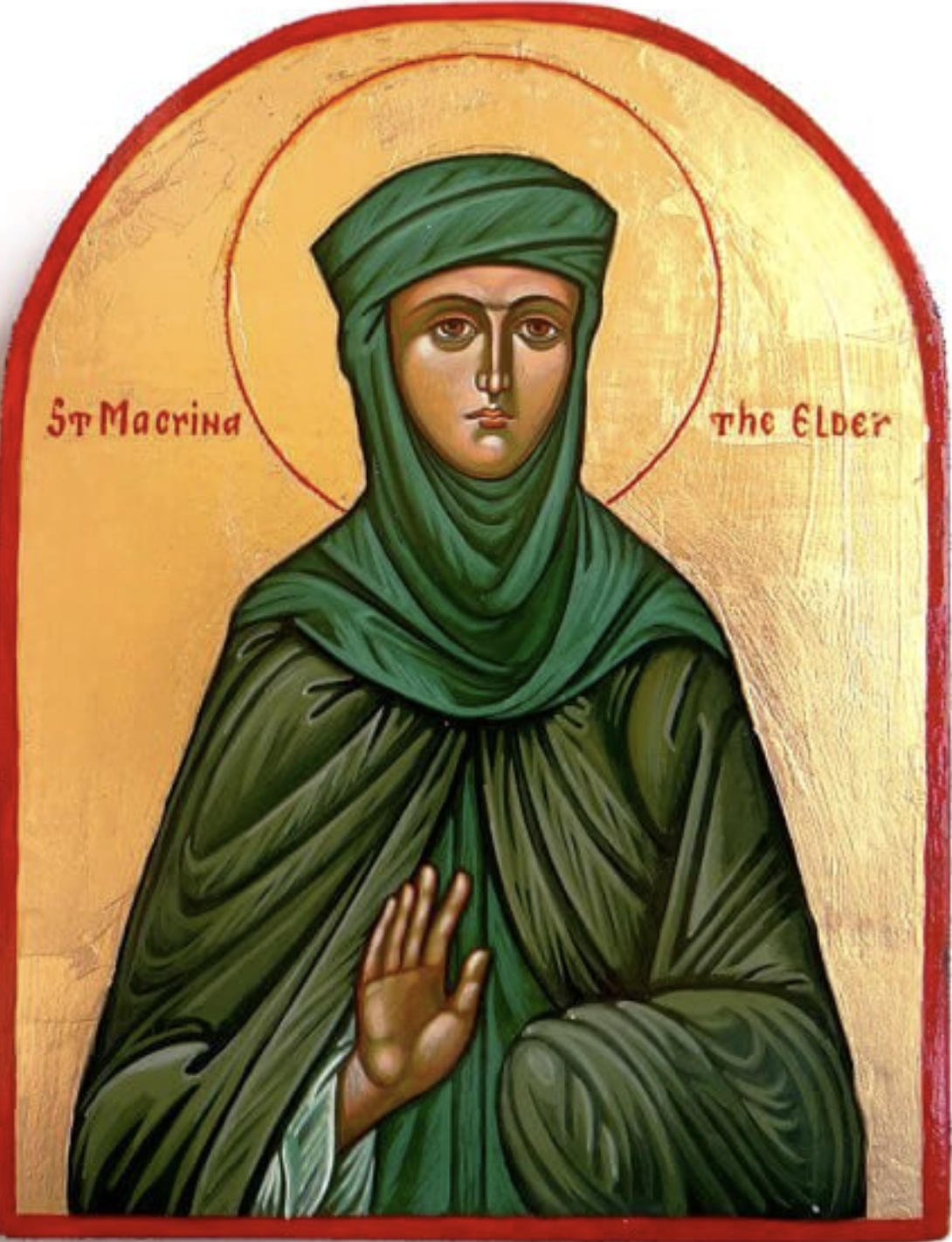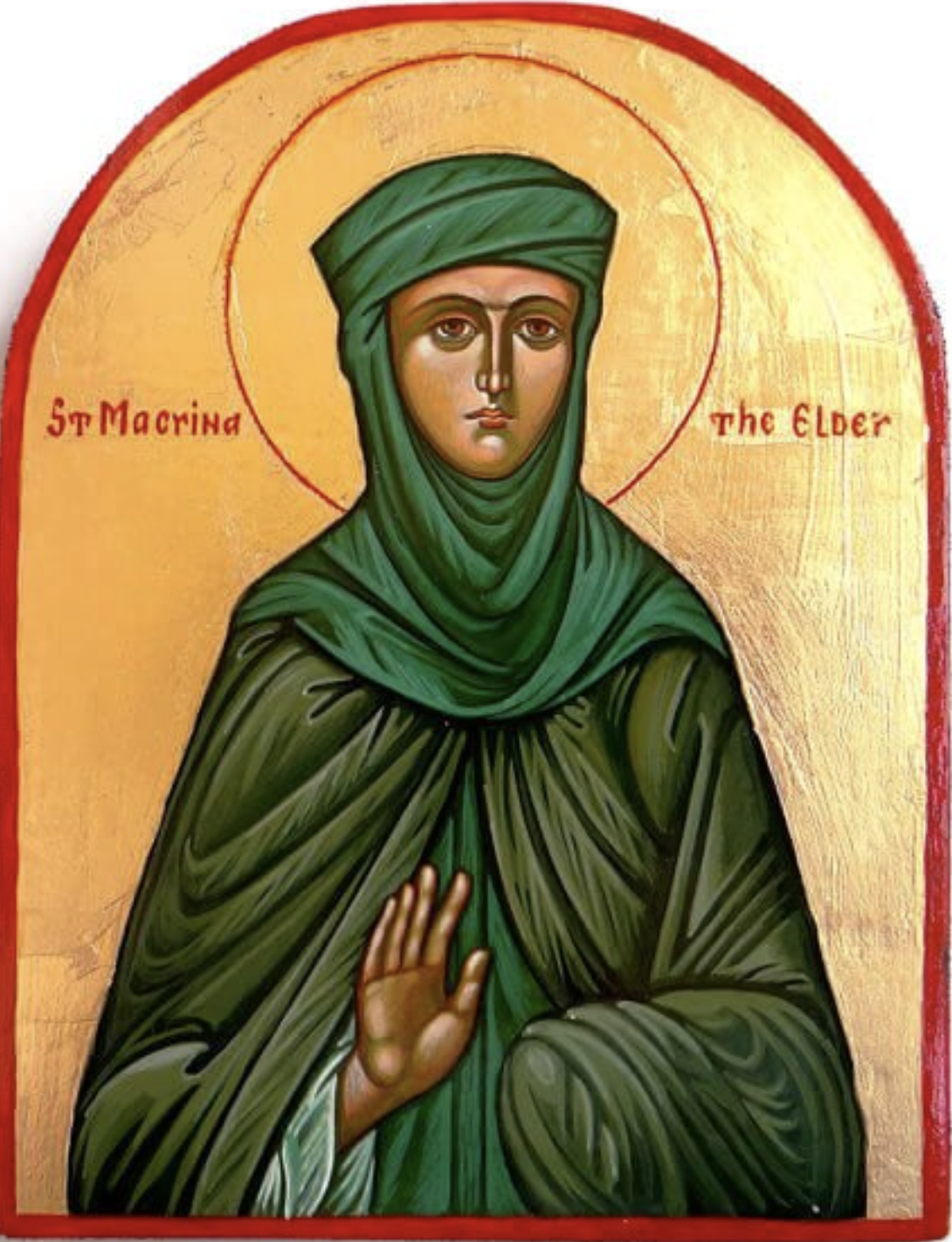 "If my children lose their faith, I have failed as a mother!" -Mary D. McCormick, oft repeated to her children.
Is 49:15
On January 2, we celebrated the feast of St. Basil the Great, who was a grandchild of today's saint, St. Macrina. Basil, who was born around 329, came from a family of saints. Macrina, his father's mother, was one of his favorites. She seems to have raised Basil. As an adult, Basil praised his grandmother for all the good she had done for him. He especially thanked her for having taught him to love the Christian faith from the time he was very small.
Macrina and her husband learned the high price of being true to their Christian beliefs. During one of the Roman persecutions, they were forced into hiding. They found refuge in the forest near their home. Somehow the couple managed to escape their persecutors. They were always hungry and afraid, but they would not give up their faith. Instead, they patiently waited and prayed for the terrible persecution to end. It lasted for seven long years. During that time Macrina and her husband hunted for food. They managed to survive by eating wild vegetation. St. Gregory Nazianzen, who shares St. Basil's feast day on January 2, is the one who wrote down these few details about St. Basil's grandparents.
During another persecution, Macrina and her husband had all their property and belongings taken from them. They were left with nothing but their faith and trust in God's care for them.
St. Macrina lived longer than her husband, but the exact year of each of their deaths is not known. It is believed that Macrina died around 340. Her grandchild, St. Basil, died in 379.
St. Macrina was a loving grandmother. She showed Basil and the rest of her family the beauty of Christianity by really living all that she believed in. We can ask St. Macrina to help us to be strong Christians too.
"Pope Francis recently gave an address on the importance and the value of motherhood. In one of his concluding statements he noted, "It is they, mothers, who often give the first roots of the faith, the ones that permeate deepest; without them not only would the faithful be lost, but also a good part of the deepest fire of our faith." One of the saints celebrated today, St. Macrina the Elder, was a mother and grandmother who epitomized what the Holy Father was talking about.
We do not know much about St. Macrina's life, but she was the mother of at least one and the grandmother of at least four saints. Her son, St. Basil the Elder, fathered a large family and his sons included Sts. Basil the Great and Gregory of Nyssa, two of the Cappadocian Fathers who were prominent in the early Church during the Arian controversy. Another son, Peter of Sebaste, and a daughter, Macrina the Younger, also became saints. St. Macrina the Elder is thought to have studied the faith under St. Gregory Thaumaturgus (or perhaps his close disciples), who converted his native Neocaesarea to Christianity. She persevered in the faith and suffered for it during one of the early persecutions of the Church under Emperor Diocletian.
St. Macrina was well equipped, then, to educate her children and grandchildren in the faith, imparting to them its "deepest fire." St. Basil the Elder died when his children were still young and so Macrina helped raise her grandchildren. She insisted on a solid intellectual formation for them. This of course became a great boon to the Church, as Basil and Gregory used their brilliance and subtlety to help articulate the true doctrine of who Christ is. St. Basil honored his grandmother with these words in defending himself against the slander of certain citizens of Neocaesarea:
"What clearer evidence can there be of my faith, than that I was brought up by my grandmother, blessed woman, who came from you? I mean the celebrated Macrina who taught me the words of the blessed Gregory; which, as far as memory had preserved down to her day, she cherished herself, while she fashioned and formed me, while yet a child, upon the doctrines of piety. And when I gained the capacity of thought, my reason being matured by full age, I travelled over much sea and land, and whomsoever I found walking in the rule of godliness… those I set down as fathers, and made them my soul's guides in my journey to God. And up to this day, by the grace of Him who has called me in His holy calling to the knowledge of Himself, I know of no doctrine opposed to the sound teaching having sunk into my heart; nor was my soul ever polluted by the ill-famed blasphemy of Arius."
As Proverbs 22:6 says, "Train up a child in the way he should go, and when he is old he will not depart from it." May St. Macrina and all holy mothers pray for us!"
I contend the love of a mother for her child is, perhaps, as powerful a force in the universe as God.
Prov 31:10-31
Pope Benedict XVI's Prayer for Grandparents
Lord Jesus, you were born of the Virgin Mary, the daughter of Saints Joachim and Anne. Look with love on grandparents the world over. Protect them! They are a source of enrichment for families, for the Church and for all of society. Support them! As they grow older, may they continue to be for their families strong pillars of Gospel faith, guardian of noble domestic ideals, living treasuries of sound religious traditions. Make them teachers of wisdom and courage, that they may pass on to future generations the fruits of their mature human and spiritual experience.
Lord Jesus, help families and society to value the presence and roles of grandparents. May they never be ignored or excluded, but always encounter respect and love. Help them to live serenely and to feel welcomed in all the years of life which you give them. Mary, Mother of all the living, keep grandparents constantly in your care, accompany them on their earthly pilgrimage, and by your prayers, grant that all families may one day be reunited in our heavenly homeland, where you await all humanity for the great embrace of life without end.
Amen!!
Love & in thanksgiving for women who fear the Lord,
Matthew