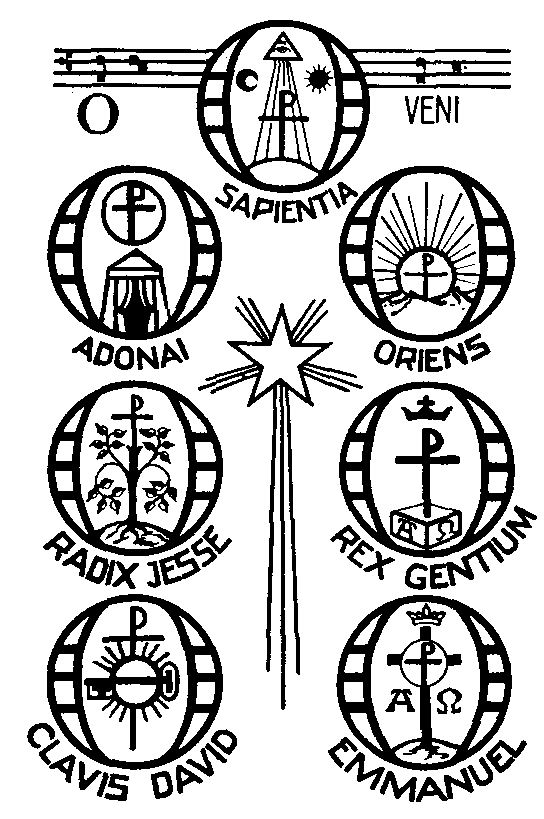 Beginning on Dec. 17, the Church prays with greater urgency for the hastening of Christ's arrival.  A greater sense of insistence and impatience is found in the prayers and liturgy of the Church at this time just immediately before the memorial of the Incarnation and, hence, our salvation.
At Vespers each night, the Church sings the great "O Antiphons" before the Magnificat, beckoning for He Who is Wisdom from on High, Lord of Might, Rod of Jesse's stem, Key of David, Dayspring from on high, King of the Nations, and Emmanuel, He Who made the Heavens and the Earth to come and pitch His tent among us.  These antiphons have likewise made their way into the culture of Christmas music that you hear at stores and on radio stations, not to mention most Catholic churches, in the form of the hymn "O Come O Come Emmanuel", which bases its verses on the O Antiphons.
The authors of these antiphons, they can be traced liturgically and historically back to the fourth century, not only had a great theological insight into the arrival of the Christ as expressed in each of the individual antiphons, but they also ordered them so that when they are read backwards chronologically from the 23rd to the 17th, the titles of Christ in Latin form an acronym which spells "ERO CRAS" – I will come tomorrow.
E=Emmanuel; used on December 23
R=Rex Gentium (King of all nations); used on December 22
O=Oriens (Radiant Dawn); used on December 21
C=Clavis David (Key of David); used onDecember 20
R=Radix Jesse (Root of Jesse); used on December 19
A=Adonai (Lord of Israel); used on December 18
S=Sapientia (Wisdom); used on December 17

Enjoy!
Merry Christmas!
Love,
Matthew