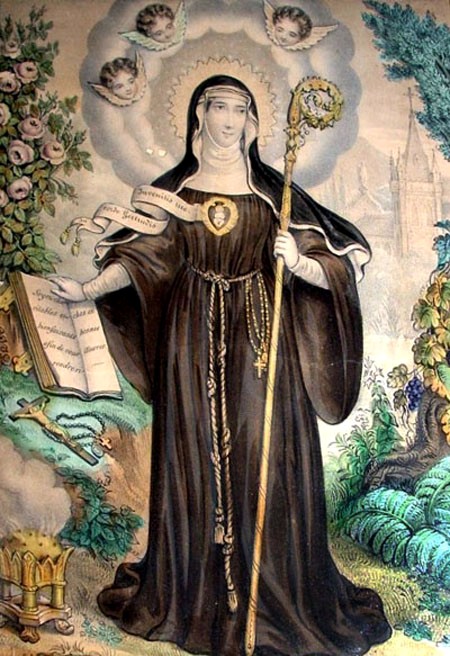 On August 14, 1988, nearly three months after I had graduated from college, in a simple, private ceremony with no family present, I received my white, Dominican habit at St Gertrude's priory where the novitiate of the Eastern Province of the Dominicans in the US is hosted.
Parishioners were always giving the novices small gifts.  One artistic, mature, female parishioner who used to come all the time for vespers, gave each of us a small, oval wooden magnet on which she had created a lovely hand-painted picture of St Gertrude's and our religious name.  Mine says "Br. Matthew".  I still have it on our fridge here at home.  It is a keepsake.
Gertrude, a Benedictine nun in Helfta (Saxony), was one of the great mystics of the 13th century. Together with her friend and teacher St. Mechtild, she practiced a spirituality called "nuptial mysticism," that is, she came to see herself as the bride of Christ. Her spiritual life was a deeply personal union with Jesus and his Sacred Heart, leading her into the very life of the Trinity.
We don't know who her parents were or what became of them, and she may been an orphan. Gertrude was raised in the Benedictine abbey of Saint Mary of Helfta, Eisleben, Saxony from age five. An extremely bright and dedicated student, she excelled in literature and philosophy, and when she was old enough, became a Benedictine nun.
At age 26, when she had become too enamored of philosophy, she received a vision of Christ who reproached her; from then on she studied the Bible and the works of the Church Fathers. Gertrude received other visions and mystical instruction, which formed the basis of her writings. She helped spread devotion to the Sacred Heart of Jesus.  She had various mystical experiences, including a vision of Jesus, who invited her to rest her head on his breast to hear the beating of his heart. Her writings have been greatly praised by Saint Teresa and Saint Francis de Sales, and continue in print today.
But hers was no individualistic piety. Gertrude lived the rhythm of the liturgy, where she found Christ. In the liturgy and Scripture, she found the themes and images to enrich and express her piety. There was no clash between her personal prayer life and the liturgy.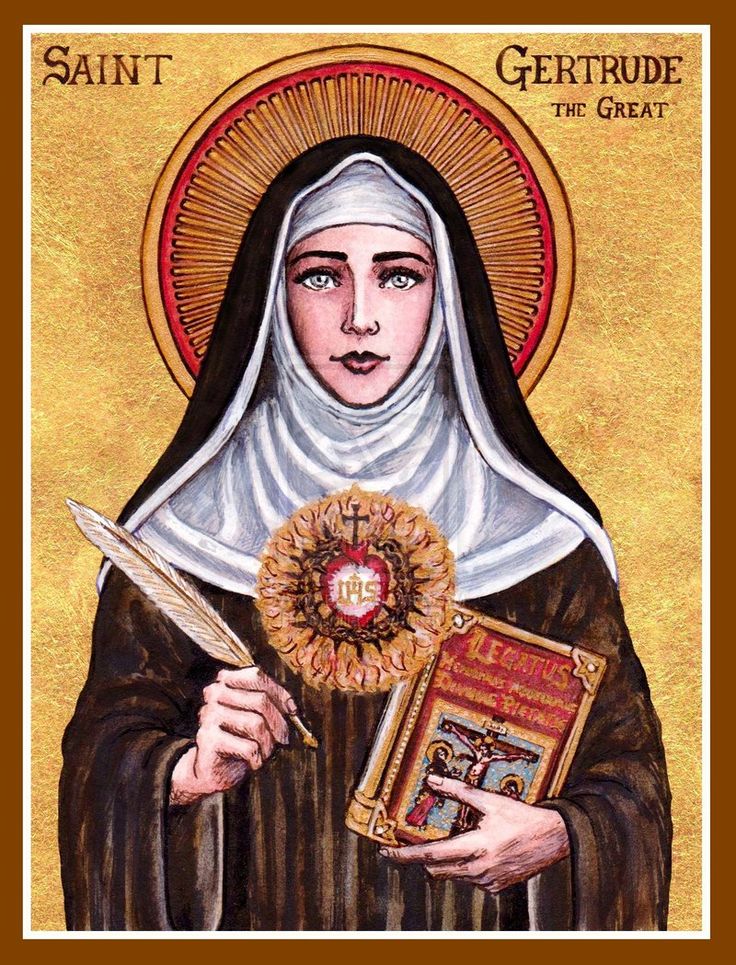 "Lord, you have granted me your secret friendship by opening the sacred ark of your divinity, your deified heart, to me in so many ways as to be the source of all my happiness; sometimes imparting it freely, sometimes as a special mark of our mutual friendship. You have so often melted my soul with your loving caresses that, if I did not know the abyss of your overflowing condescensions ( voluntary assumption by the deity of equality with a creature regarded as inferior out of love), I should be amazed were I told that even your Blessed Mother had been chosen to receive such extraordinary marks of tenderness and affection" (Adapted from The Life and Revelations of Saint Gertrude).
"I praise, adore, bless and thank you to the best of my ability for your wise mercy and your merciful wisdom! For you, my Creator and my Redeemer, have sought to curb my stiff-necked obstinacy under your sweet yoke with the remedy best suited to my infirmity."
-St. Gertrude the Great
"O Sacred Heart of Jesus, fountain of eternal life, Your Heart is a glowing furnace of Love. You are my refuge and my sanctuary."
–St. Gertrude the Great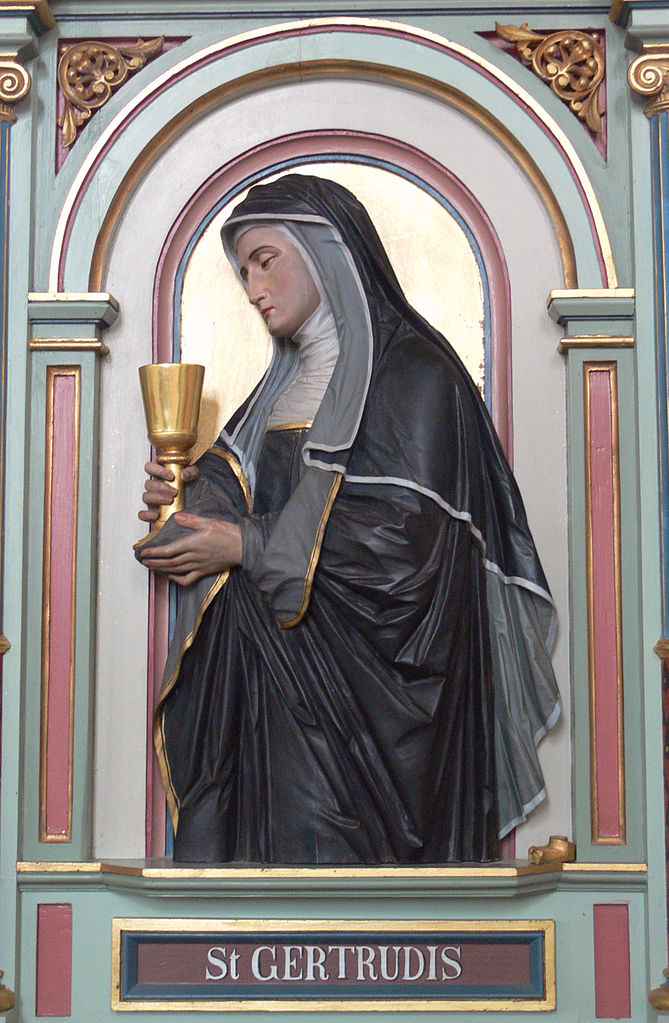 St Gertrude's Prayer to the Sacred Heart of Jesus
"O Sacred Heart of Jesus, fountain of eternal life, Your Heart is a glowing furnace of Love. You are my refuge and my sanctuary. O my adorable and loving Savior, consume my heart with the burning fire with which Yours is aflamed. Pour down on my soul those graces which flow from Your love. Let my heart be united with Yours. Let my will be conformed to Yours in all things. May Your Will be the rule of all my desires and actions. Amen."
St Gertrude showed "tender sympathy towards the souls in purgatory" and urged prayers for them. She is therefore invoked for souls in purgatory.  Perhaps for that reason, to her name has been attached a prayer that, according to a legend of uncertain origin and date (neither are found in the Revelations of Saint Gertrude the Great), Our Lord promised to release a thousand souls from purgatory each time it was said. The prayer was extended to include living sinners as well.
"Eternal Father, I offer Thee the most Precious Blood of Thy Divine Son, Jesus Christ, in union with the Masses said throughout the world today, for all the Holy Souls in Purgatory, for sinners everywhere, for sinners in the Universal Church, for those in my own home and within my family. Amen."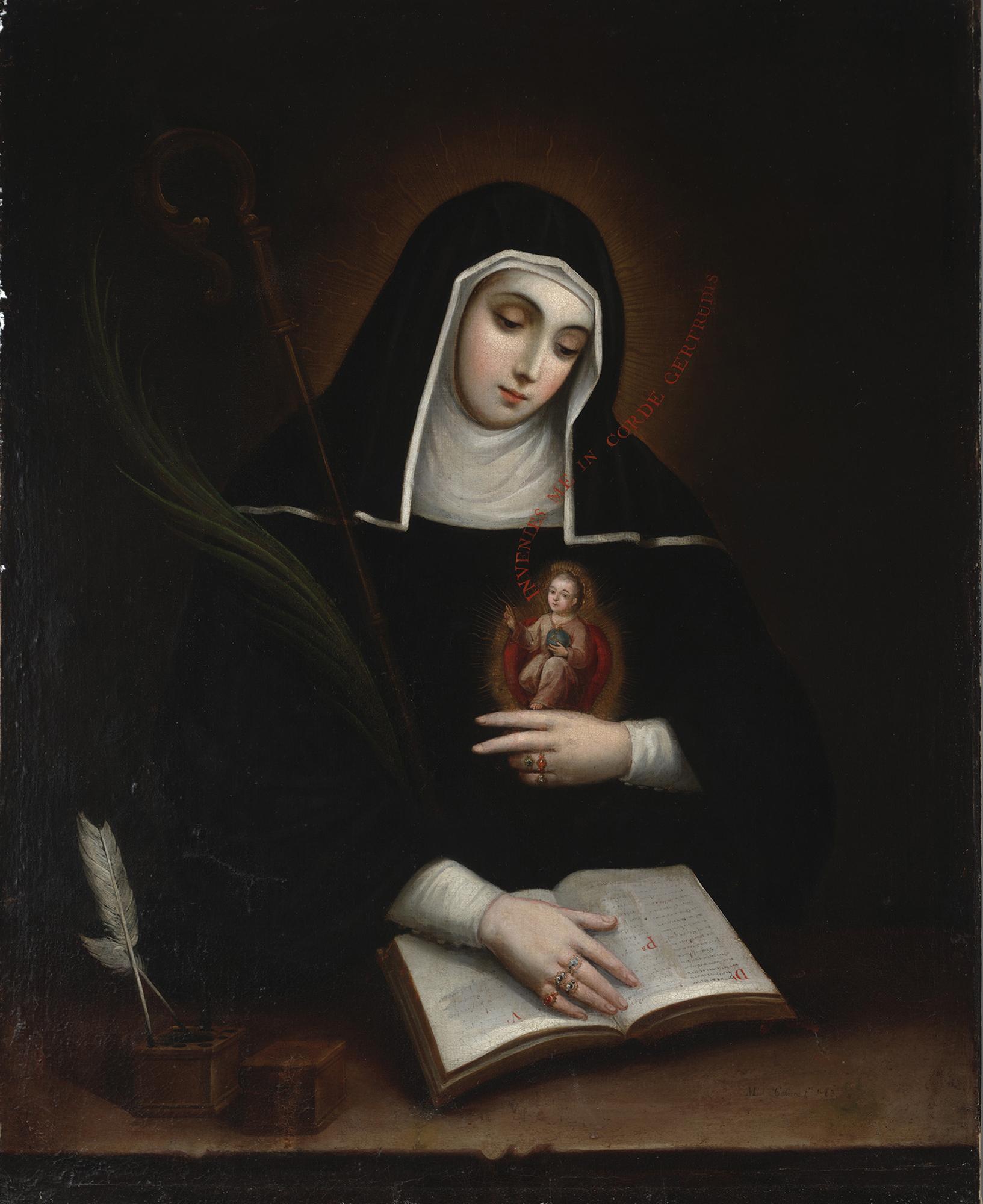 -St Gertrude, by Miguel Cabrera, 1763
In the above iconography of St Gertrude, you can see the Infant Jesus expressing the words "In corde Gertrudis inueunictis me" = "In the heart of Gertrude, you will find Me".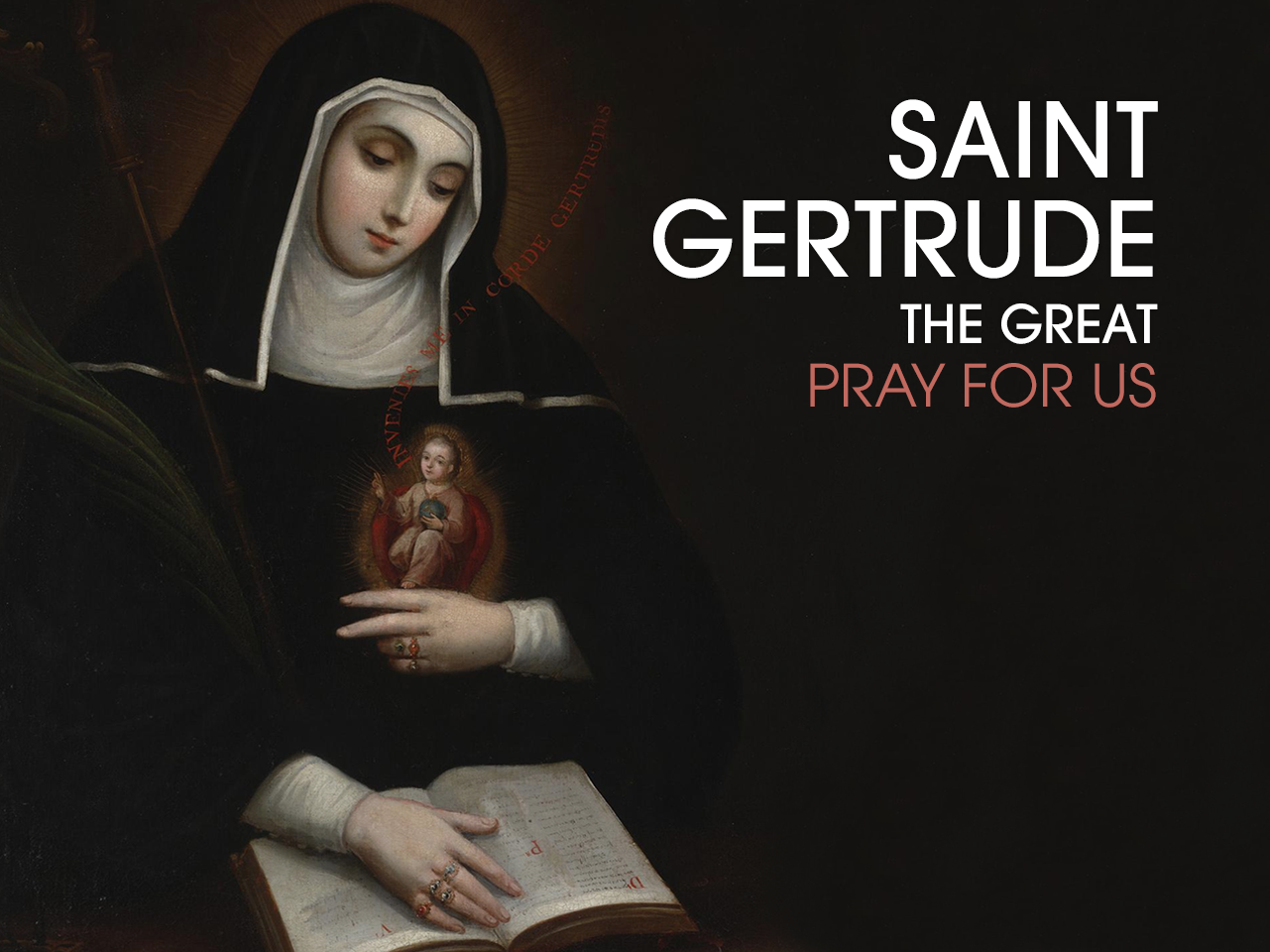 Love,
Matthew