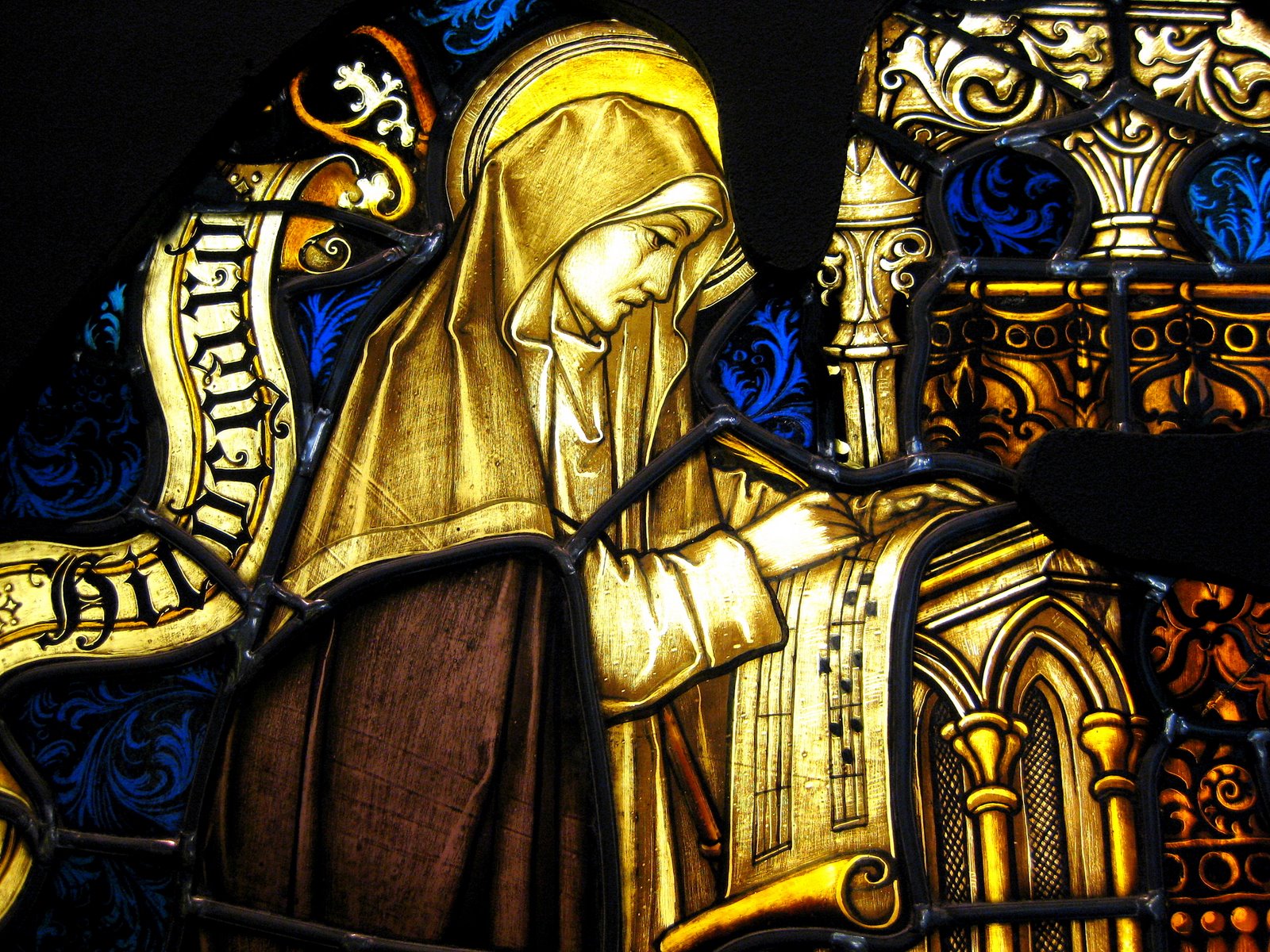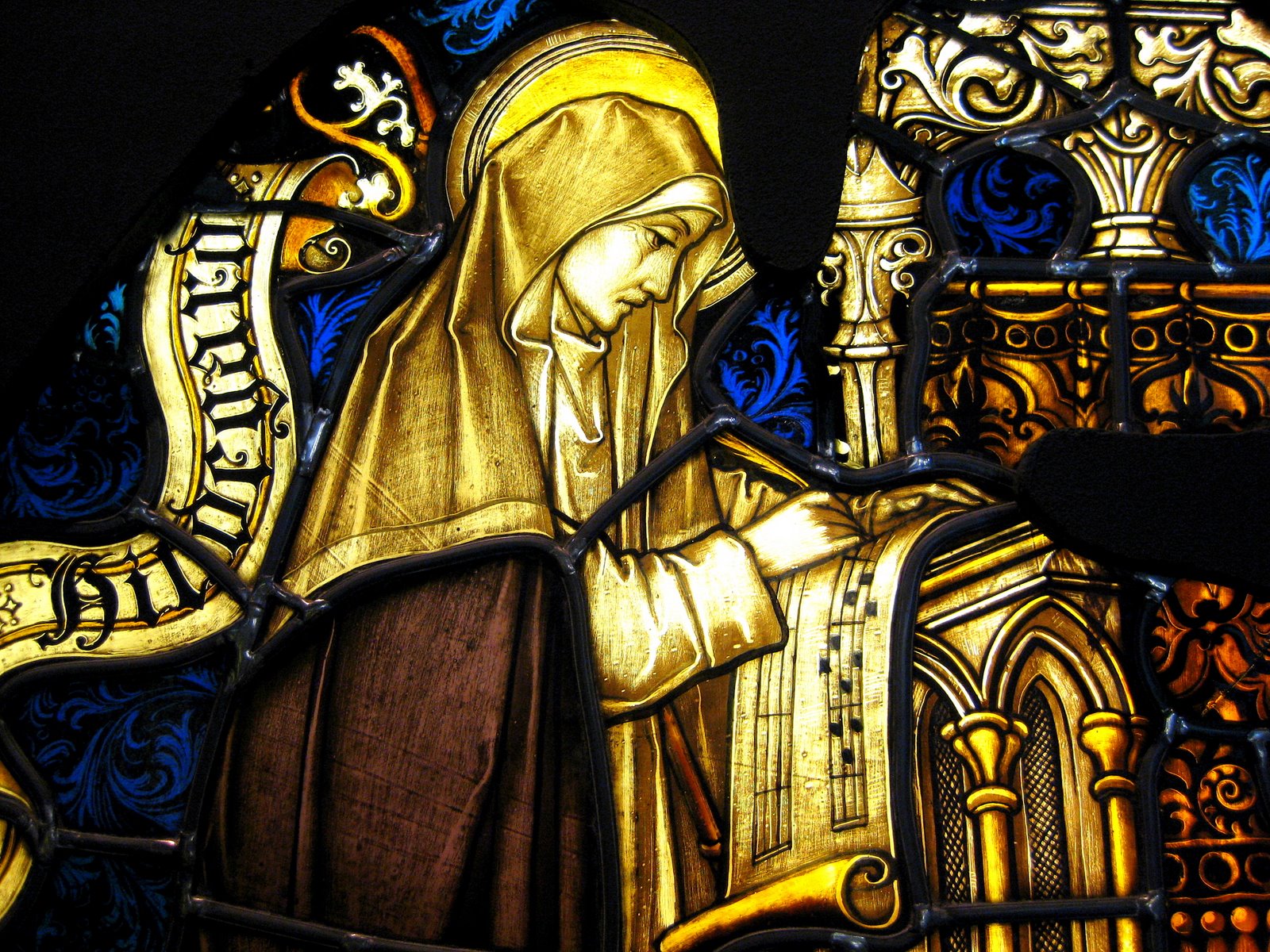 Saint Hildegard of Bingen, O.S.B. (German: Hildegard von Bingen; Latin: Hildegardis Bingensis) (1098 – 17 September 1179), also known as Saint Hildegard, and "Sibyl of the Rhine", was a German writer, composer, philosopher, Christian mystic, Benedictine abbess, visionary, and polymath. Elected a magistra by her fellow nuns in 1136, she founded the monasteries of Rupertsberg in 1150 and Eibingen in 1165. One of her works as a composer, the Ordo Virtutum, is an early example of liturgical drama and arguably the oldest surviving morality play.  She wrote theological, botanical and medicinal texts, as well as letters, liturgical songs, and poems, while supervising brilliant miniature Illuminations.
On 10 May 2012, Pope Benedict XVI extended the liturgical cult of St. Hildegard to the universal Church, in a process known as "equivalent canonization".  On 27 May 2012, the Pope announced that, on 7 October 2012, he will declare St. Hildegard to be the 35th Doctor of the Church.
Hildegard's date of birth is uncertain. It has been concluded that she may have been born in the year 1098. Hildegard was raised in a family of free nobles. She was her parents' tenth child, sickly from birth. In her "Vita", or brief biography often written for saints, Hildegard explains that from a very young age she had experienced visions.
Perhaps due to Hildegard's visions, or as a method of political positioning, Hildegard's parents, Hildebert and Mechthilde, offered her as an oblate to the church; their "tithe" to the Church. The date of Hildegard's enclosure in the church is contentious. Her Vita tells us she was enclosed with an older nun, Jutta, at the age of eight. However, Jutta's enclosure date is known to be in 1112, at which time Hildegard would have been fourteen. Some scholars speculate that Hildegard was placed in the care of Jutta, the daughter of Count Stephan II of Sponheim, at the age of eight, before the two women were enclosed together six years later.  There is no written record of the twenty-four years of Hildegard's life that she was in the convent together with Jutta. It is possible that Hildegard could have been a chantress and a worker in the herbarium and infirmary.
In any case, Hildegard and Jutta were enclosed at Disibodenberg in the Palatinate Forest in what is now Germany. Jutta was also a visionary and thus attracted many followers who came to visit her at the enclosure. Hildegard also tells us that Jutta taught her to read and write, but that she was unlearned and therefore incapable of teaching Hildegard Biblical interpretation.  Hildegard and Jutta most likely prayed, meditated, read scriptures such as the psalter, and did some sort of handwork during the hours of the Divine Office. This also might have been a time when Hildegard learned how to play the ten-stringed psaltery. Volmar, a frequent visitor, may have taught Hildegard simple psalm notation. The time she studied music could also have been the beginning of the compositions she would later create.  Upon Jutta's death in 1136, Hildegard was unanimously elected as "magistra" of the community by her fellow nuns.
With regard to her visions, Hildegard says that she first saw "The Shade of the Living Light" at the age of three, and by the age of five she began to understand that she was experiencing visions. She used the term 'visio' to this feature of her experience, and recognized that it was a gift that she could not explain to others. Hildegard explained that she saw all things in the light of God through the five senses: sight, hearing, taste, smell, and touch.  Hildegard was hesitant to share her visions, confiding only to Jutta, who in turn told Volmar, Hildegard's tutor and, later, secretary.
Throughout her life, she continued to have many visions, and in 1141, at the age of 42, Hildegard received a vision she believed to be an instruction from God, to "write down that which you see and hear." Still hesitant to record her visions, Hildegard became physically ill. The illustrations recorded in the book of "Scivias" were visions that Hildegard experienced, causing her great suffering and tribulations. In her first theological text, "Scivias" ("Know the Ways"), Hildegard describes her struggle within:
"But I, though I saw and heard these things, refused to write for a long time through doubt and bad opinion and the diversity of human words, not with stubbornness but in the exercise of humility, until, laid low by the scourge of God, I fell upon a bed of sickness; then, compelled at last by many illnesses, and by the witness of a certain noble maiden of good conduct [the nun Richardis von Stade] and of that man whom I had secretly sought and found, as mentioned above, I set my hand to the writing. While I was doing it, I sensed, as I mentioned before, the deep profundity of scriptural exposition; and, raising myself from illness by the strength I received, I brought this work to a close – though just barely – in ten years…And I spoke and wrote these things not by the invention of my heart or that of any other person, but as by the secret mysteries of God I heard and received them in the heavenly places. And again I heard a voice from Heaven saying to me, 'Cry out therefore, and write thus'
Hildegard's Vita was begun by Godfrey of Disibodenberg under Hildegard's supervision. It was between November 1147 and February 1148 at the synod in Trier that Pope Eugenus heard about Hildegard's writings. It was from this that she received Papal approval to document her visions as revelations from the Holy Spirit giving her instant credence.
Before Hildegard's death, a problem arose with the clergy of Mainz. A man buried at the convent in Rupertsburg had died after excommunication from the Church.  Hildegard saw to it the man had received the last rites. But, the clergy wanted to remove his body from the sacred ground. Hildegard did not accept this idea, replying that it was a sin and that the man had been reconciled to the Church at the time of his death.  She claimed she'd received word from God allowing the burial. But her ecclesiastical superiors intervened, and ordered the body exhumed. Hildegard defied the authorities by hiding the grave, and the authorities excommunicated the entire convent community. Most insultingly to Hildegard, the interdict prohibited the community from singing. She complied with the interdict, avoiding singing and communion, but did not comply with the command to exhume the corpse. Hildegard appealed the decision to yet higher Church authorities, and finally had the interdict lifted.
On 17 September 1179, when Hildegard died, her sisters claimed they saw two streams of light appear in the skies and cross over the room where she was dying.
Hildegard's musical, literary, and scientific writings are housed primarily in two manuscripts: the Dendermonde manuscript and the Riesenkodex. The Dendermonde manuscript was copied under Hildegard's supervision at Rupertsberg, while the Riesencodex was copied in the century after Hildegard's death.
Attention in recent decades to women of the medieval Church has led to a great deal of popular interest in Hildegard, particularly her music. In addition to the Ordo Virtutum, sixty-nine musical compositions, each with its own original poetic text, survive, and at least four other texts are known, though their musical notation has been lost.  This is one of the largest repertoires among medieval composers. Hildegard also wrote nearly 400 letters to correspondents ranging from Popes to Emperors to abbots and abbesses; two volumes of material on natural medicine and cures; an invented language called the Lingua ignota; various minor works, including a gospel commentary and two works of hagiography; and three great volumes of visionary theology: Scivias, Liber vitae meritorum ("Book of Life's Merits" or "Book of the Rewards of Life"), and Liber divinorum operum ("Book of Divine Works").
In December 2010, BXVI quoted a long passage from one of Hildegard's visions to assess the damage done to the church by the sex abuse scandal, and to invite the Vatican hierarchy to accept this "humiliation" as an "an exhortation to truth and a call to renewal".
"In the vision of St. Hildegard, the face of the church is stained with dust. … Her garment is torn — by the sins of priests. The way she saw and expressed it is the way we have experienced it this year," the Pope said.
A few months earlier, he had referred to Hildegard to address calls for reform inside the Church, sparked by the "abuses of the clergy." Benedict recalled how the saint had "harshly reprimanded" those who in her lifetime wanted "radical reform," reminding them that "true renewal" comes from "repentance" and "conversion, rather than with a change of structures."
In Hildegard's lifetime, Pope Eugenius III, who needed help fending off the Cathar heresy that rejected the Church's worldly power, recognized the authenticity of her visions and authorized her to preach in public — something that Church doctrine had officially forbidden until that time and that nonetheless remains controversial in Catholicism.  Hildegard used her unprecedented role to publicly rebuke the emperor and to call on the Pope and bishops to reform the Church's ills.
In 2006, Benedict XVI himself drew on Hildegard to expound his thinking on women's role in the Church: not as priests but as bearers of a "spiritual power" that enables them to, yes, even "criticize the bishops."
In space, she is commemorated by the asteroid 898 Hildegard.
"Listen: there was once a king sitting on his throne. Around him stood great and wonderfully beautiful columns ornamented with ivory, bearing the banners of the king with great honor. Then it pleased the king to raise a small feather from the ground, and he commanded it to fly. The feather flew, not because of anything in itself but because the air bore it along. Thus am I, a feather on the breath of God." – St Hildegard of Bingen
O leafy branch,
standing in your nobility
as the dawn breaks forth:
now rejoice and be glad
and deign to set us frail ones
free from evil habits
and stretch forth your hand
and lift us up.
-St Hildegard von Bingen
O ruby blood
which flowed from on high
where divinity touched.
You are a flower
that the winter
of the serpent's breath
can never injure.
-St Hildegard von Bingen
O Shepherd of souls
and o first voice
through whom all creation was summoned,
now to you,
to you may it give pleasure and dignity
to liberate us
from our miseries and languishing.
-St Hildegard von Bingen
O eternal Lord,
it is pleasing to you
to burn in that same fire of love,
like that from which our bodies are born,
and from which you begot your Son
in the first dawn before all of Creation.
So consider this need which falls upon us,
and relieve us of it for the sake of your Son
and lead us in joyous prosperity
-St Hildegard von Bingen
O Great Father we are in great need;
Now therefore we implore, we implore you
Through your Word, by which you have
Filled us with [those things] we need;
Now it may please you Father for it befits you
To consider us with your help,
So that we might not fail and lest your name
Might be blackened in us
And through your name, deign to help us.
-St Hildegard von Bingen
"You are encircled by the arms of the mystery of God." -St. Hildegard of Bingen
"May the Holy Spirit enkindle you with the fire of His Love so that you may persevere, unfailingly, in the love of His service. Thus you may merit to become, at last, a living stone in the celestial Jerusalem."
–St. Hildegard von Bingen
Prayer for the intercession of St Hildegard von Bingen:
O God, by Whose grace Thy servant Hildegard, enkindled with the fire of Thy love, became a burning and shining light in Thy Church: Grant that we also may be aflame with the spirit of love and discipline, and may ever walk before Thee as children of light; through Jesus Christ our Lord, Who with Thee, in the unity of the Holy Spirit, liveth and reigneth, one God, now and for ever.  Amen.
In 2009, Zeigeist Films released "Vision", a film on the life of St Hildegard von Bingen:  http://www.imdb.com/title/tt0995850/
Love,
Matthew