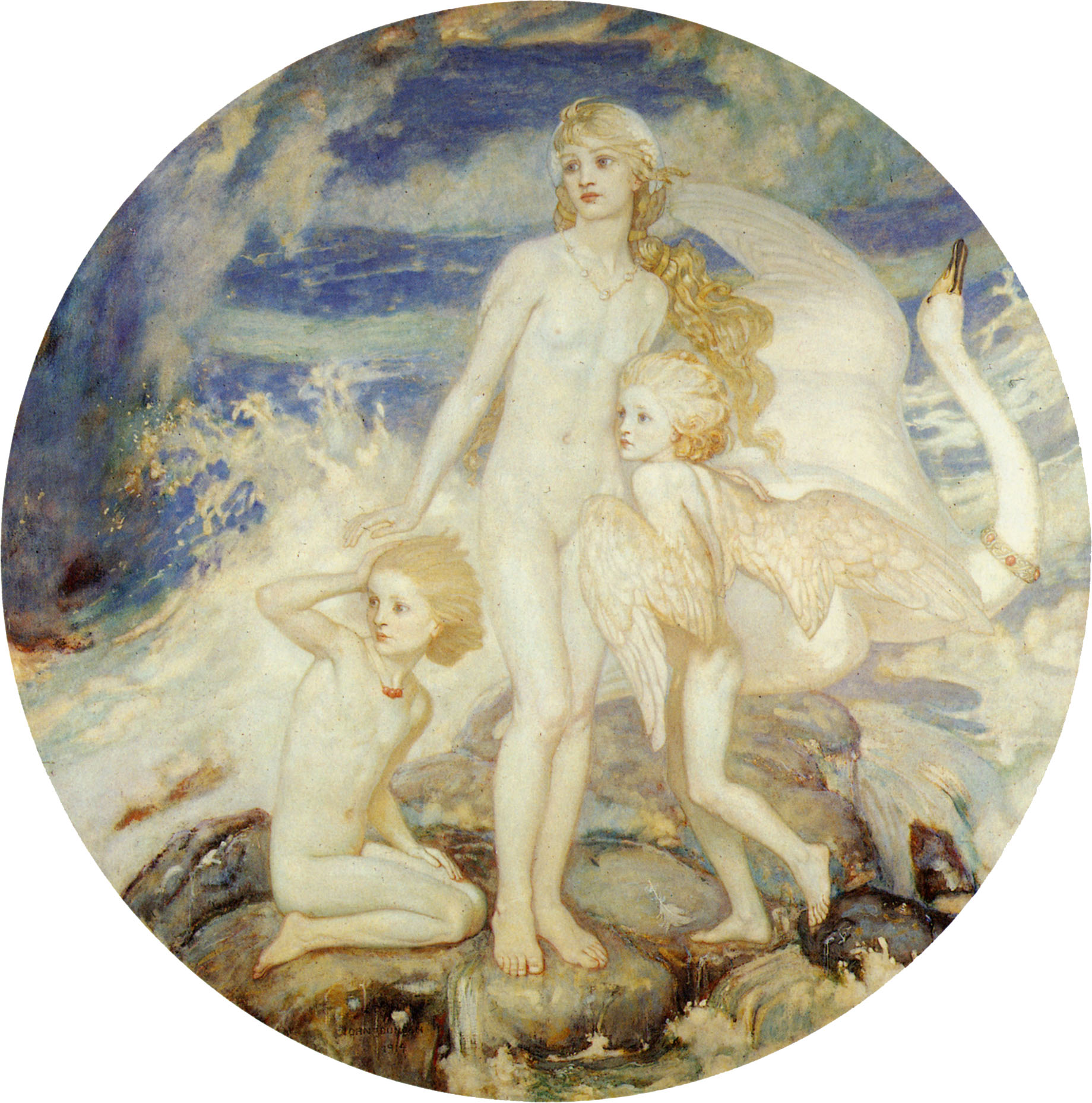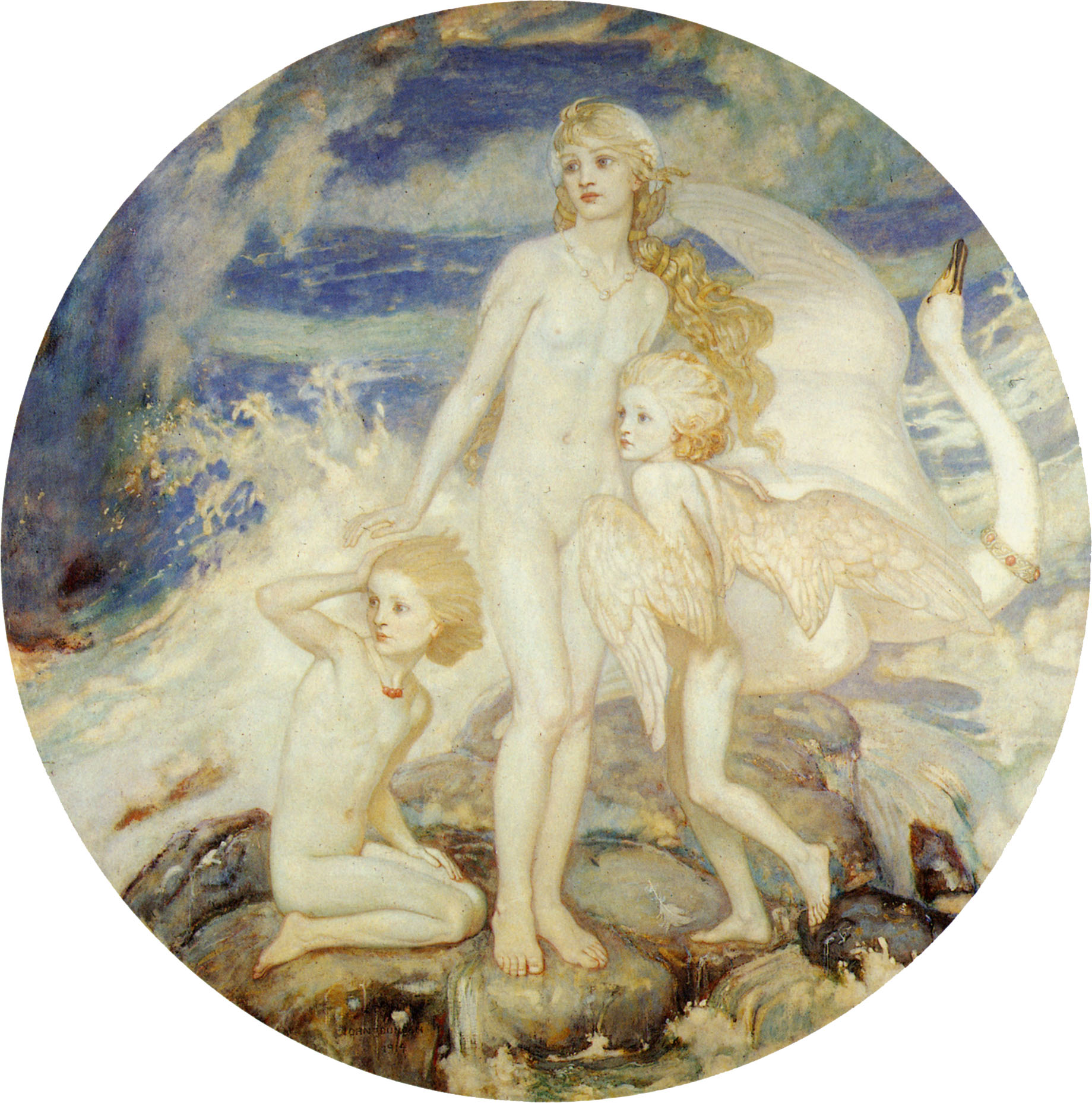 –The Children of Lir (1914) by John Duncan, Wadsworth Atheneum Museum of Art, Hartford, Connecticut. Please click on the image for greater detail.
If you ever come to visit Kelly and I, and you look closely…no, not at the dust and general disarray, but look closely and you may see a swan motif.  These are the Children of Lir.  Mara will soon be able to understand stories. We will tell her of the Children of Lir.
Long ago, in Ireland, there lived a king called Lir. He lived with his wife and four children: Fionnuala, Aodh, Fiachra and Conn. They lived in a castle in the middle of a forest. When Lir's wife died they were all very sad. After a few years Lir got married again. He married a jealous wife called Aoife.  Aoife thought that Lir loved his children more than he loved her.  Aoife hated the children.  Soon she thought of a plan to get rid of the children.
One summer's day Aoife took the children to swim in a lake near the castle. The children were really happy to be playing in the water.  Suddenly Aoife took out a magic wand.  There was a flash of light and the children were nowhere to be seen.  All there was to be seen was four beautiful swans, with their feathers as white as snow.
Aoife said, "I have put you under a spell. You will be swans for nine hundred years," she cackled. "You will spend three hundred years in Lough Derravaragh, three hundred years in the Sea of Moyle, and three hundred years in the waters of Inish Glora," Aoife said. She also said, "You will remain swans for nine hundred years until you hear the ring of a Christian bell."
She went back to the castle and told Lir that his children had drowned. Lir was so sad he started crying. He rushed down to the lake and saw no children. He saw only four beautiful swans.
One of them spoke to him. It was Fionnuala who spoke to him. She told him what Aoife had done to them. Lir got very angry and turned Aoife into an ugly moth. When Lir died the children were very sad, but the curse of Aoife would not be lifted.  When the time came they moved to the Sea of Moyle.
Soon the time came for their final journey. When they reached Inish Glora they were very tired.  They were nine hundred years old. Early one morning they heard the sound of a Christian bell. They were so happy that they were human again. The monk (some even say it was St. Patrick himself) sprinkled holy water on them and then Fionnuala put her arms around her brothers and then the four of them fell on the ground. The monk buried them in one grave. That night he dreamed he saw four swans flying up through the clouds. He knew the children of Lir were with their mother and father.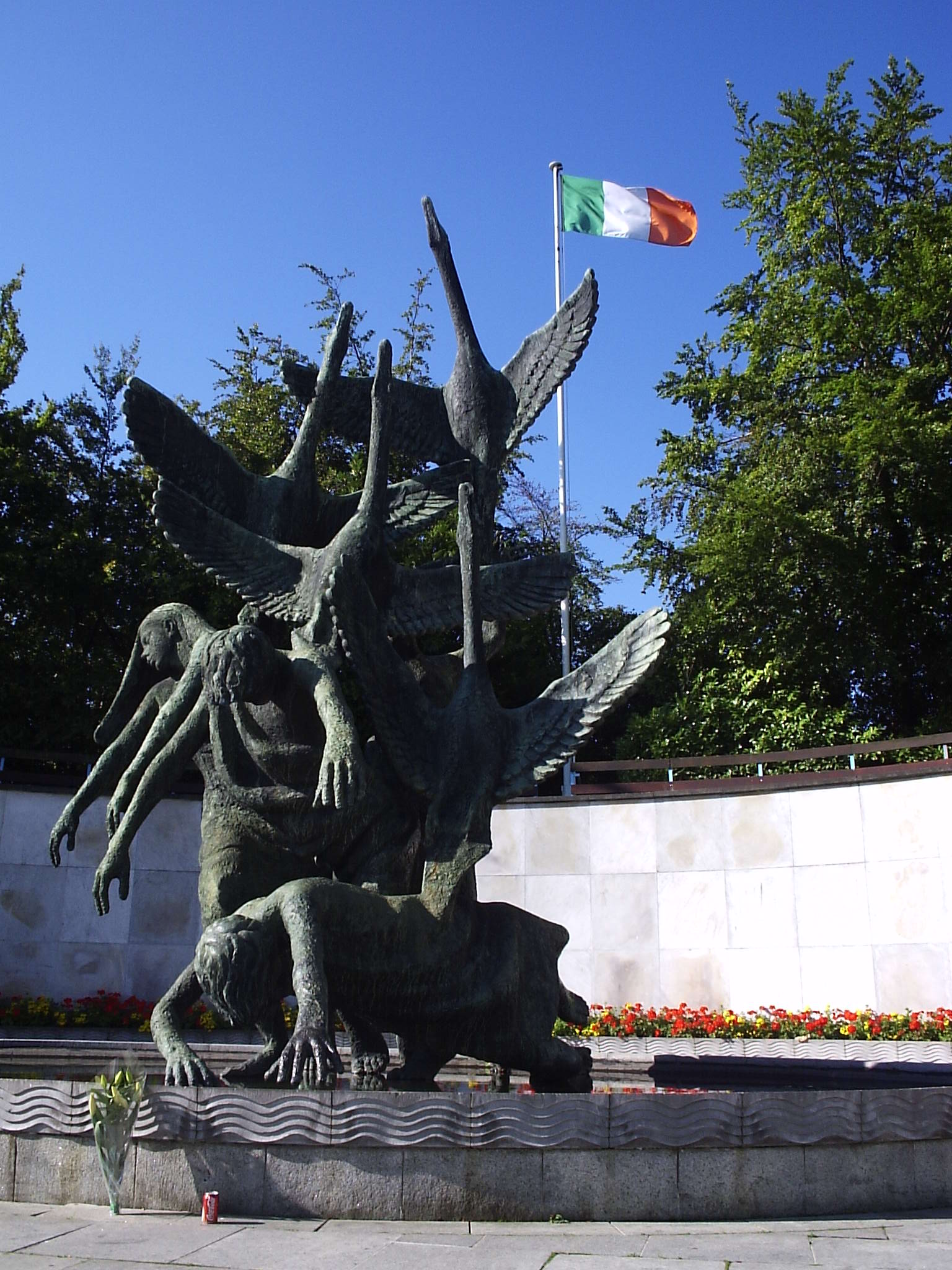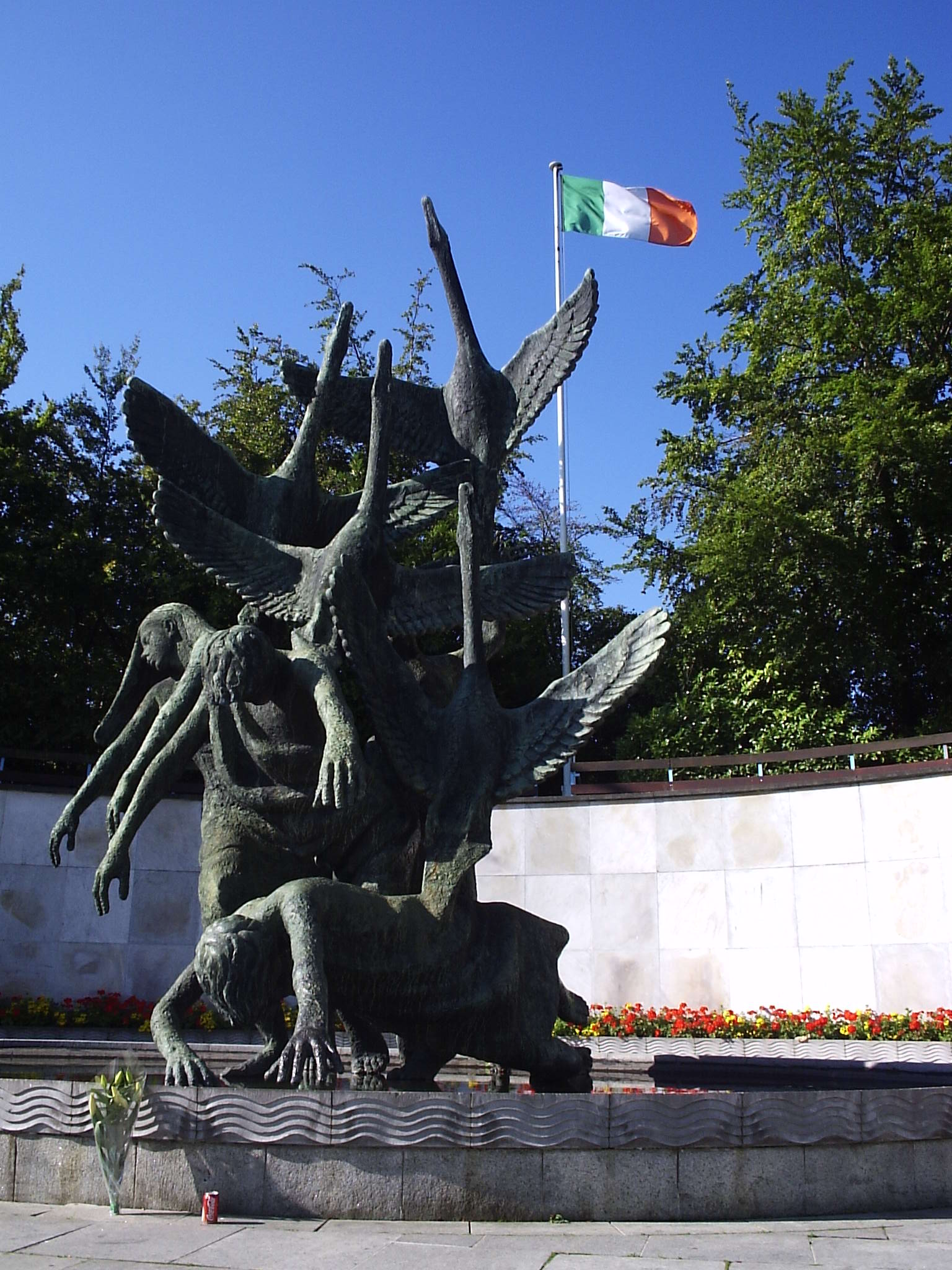 (please click on the image for greater detail)
A statue of the Children of Lir resides in the Garden of Remembrance, Parnell Square in Dublin, Ireland. It symbolizes the rebirth of the Irish nation following 900 years of struggle for independence from Britain, much as the swans were "reborn" following 900 years of being cursed.
The Garden of Remembrance (An Gairdín Cuimhneacháin) is a memorial garden in Dublin dedicated to the memory of "all those who gave their lives in the cause of Irish Freedom".
In 1976, a contest was held to find a poem which could express the appreciation and inspiration of this struggle for freedom.  The winner, "We Saw a Vision" by Liam Mac Uistin, is inscribed in the stone wall surrounding the Garden of Remembrance in Irish, English, and French.
In the darkness of despair we saw a vision,
We lit the light of hope,
And it was not extinguished,
In the desert of discouragement we saw a vision,
We planted the tree of valour,
And it blossomed
In the winter of bondage we saw a vision,
We melted the snow of lethargy,
And the river of resurrection flowed from it.
We sent our vision aswim like a swan on the river,
The vision became a reality,
Winter became summer,
Bondage became freedom,
And this we left to you as your inheritance.
O generation of freedom remember us,
The generation of the vision.
"Saoirse" is the Irish word for freedom.
Love,
Matthew
Beannachtaí na Féile Padraig oraibh!!!
Tha mo bhàta-foluaimein loma-làn easgannan = my hovercraft is full of eels (from a Monty Python's Flying Circus skit).