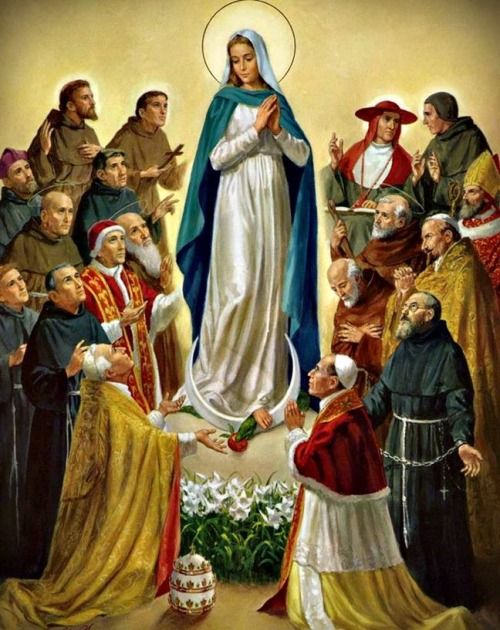 Why say prayers for priests? Because, as St. John Vianney, the patron saint of priests, once said "After God, the priest is everything." He also once referred to the priest "the steward of the good God, the distributor of His wealth", and the priesthood as "the love of the heart of Jesus."
As Father John Hardon, S.J., once said, "praying and offering God sacrifices for the priesthood are indispensably important," because "there is no Catholic Church without the priesthood."
"Mary is in a special manner Queen and Mother of priests.
Because of their resemblance to her divine Son,
Our Lady sees Jesus in each one of them.
She loves them not only as members of the mystical body,
but on account of the priestly character imprinted on their souls,
and for the sacred mysteries which they celebrate in persona Christi."
-Bl Columba Marmion, OSB
"Inasmuch as priests can be called, by a very special title, sons of the Virgin Mary, they will never cease to love her with an ardent piety, invoke her with perfect confidence, and frequently implore her strong protection."
-Pope Pius XII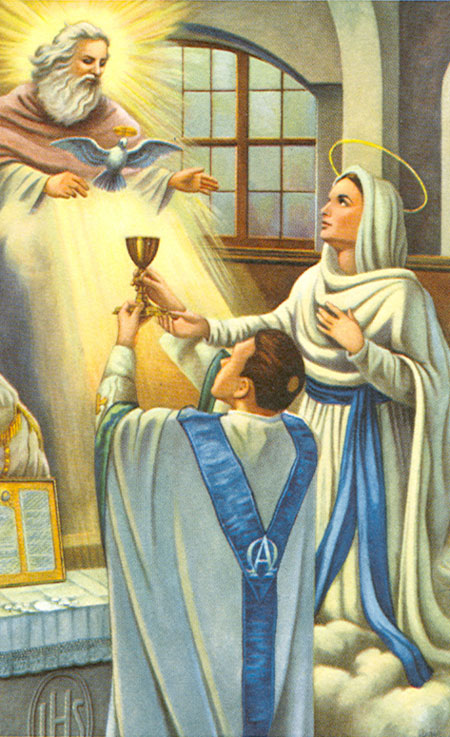 O Mary,
Mother of Jesus Christ and Mother of Priests, [Mater Iesu Christi et Mater sacerdotum]
accept this title which we bestow
on you
to celebrate your motherhood
and to contemplate with you the priesthood
of your Son and of your sons,
O holy Mother of God.
O Mother of Christ,
to the Messiah-Priest you gave a body of flesh
through the anointing of the Holy Spirit
for the salvation of the poor and
the contrite of heart;
guard priests in your heart and in the Church,
O Mother of the Saviour.
O Mother of Faith,
you accompanied to the Temple the Son of Man,
the fulfilment of the promises given to the fathers;
give to the Father for His glory
the priests of Your Son,
O Ark of the Covenant.
O Mother of the Church,
in the midst of the disciples in the upper room
you prayed to the Spirit
for the new people and their shepherds;
obtain for the Order of Presbyters
a full measure of gifts,
O Queen of the Apostles.
O Mother of Jesus Christ,
you were with Him at the beginning
of His life and mission,
you sought the Master among the crowd,
you stood beside Him when He was lifted up from the earth
consumed as the one eternal sacrifice,
and you had John, your son, near at hand;
accept from the beginning those who have been called,
protect their growth,
in their life ministry accompany your sons,
O Mother of Priests.
Amen.
-Pope St John Paul II
Marian Prayer of Priests
O Mary, Mother of Jesus Christ, crucified and risen,
Mother of the Church, a priestly people (1 Pet 2,9),
Mother of priests, ministers of your Son:
accept the humble offering of myself,
so that in my pastoral mission
the infinite mercy of Eternal High Priest may be proclaimed:
O "Mother of Mercy".
You who shared the "priestly obedience" (Heb 10, 5-7; Lk 1, 38), of your Son,
and who prepared for him a worthy receptacle
by the anointing of the Holy Spirit,
keep my priestly life in the ineffable mystery
of your divine maternity,
"Holy Mother of God".
Grant me strength in the dark hours of this life,
support me in the exertions of my ministry,
entrust me to Jesus,
so that, in communion with you,
I may fulfil the ministry with fidelity and love,
O Mother of the Eternal Priest
"Queen of Apostles and Help of Priests".
Make me faithful to the flock
entrusted to me by the Good Shepherd,
You silently accompanied Jesus
on his mission to proclaim
the Gospel to the poor.
May I always guide it
with patience, sweetness
firmness and love,
caring for the sick,
the weak, the poor and sinners,
O "Mother, Help of the Christian People".
I consecrate and entrust myself to you, Mary,
who shared in the work of redemption
at the Cross of your Son,
you who "are inseparably linked to the work of salvation".
Grant that in the exercise of my ministry
I may always be aware of the "stupendous and penetrating dimension of your maternal presence"
in every moment of my life,
in prayer, and action,
in joy and sorrow, in weariness and in rest,
O "Mother of Trust".
Grant, Holy Mother, than in the celebration of the Mass,
source and center of the priestly ministry,
that I may live my closeness to Jesus
in your maternal closeness to Him,
so that as "we celebrate the Holy Mass you will be present with us"
and introduce us to the redemptive mystery of your divine Son's offering
"O Mediatrix of all grace flowing from this sacrifice to the Church and to all the faithful"
O "Mother of Our Savior".
O Mary: I earnestly desire to place my person
and my desire for holiness
under your maternal protection and inspiration
so that you may bring me to that "conformation with Christ, Head and Shepherd"
which is necessary for the ministry of every parish priest.
Make me aware
that "you are always close to priests"
in your mission of servant
of the One Mediator, Jesus Christ:
O "Mother of Priests"
"Benefactress and Mediatrix"
of all graces.
Amen.
Loving Father,
I praise you, I love you, I adore you.
Send your Holy Spirit to enlighten my mind
to the truth of your Son, Jesus, Priest and
Victim.
Through the same Spirit guide my heart to his
Sacred Heart,
to renew in me a priestly passion
that I, too, might lay down my life upon the
altar.
May your Spirit wash away my impurities
and free me from all my transgressions in the
Cup of Salvation,
Let only your will be done in me.
May the Blessed Mother of your dearly beloved
Son,
wrap her mantle around me and protect me
from all evil.
May she guide me to do whatever He tells me.
May she teach me to have the heart of St.
Joseph, her spouse,
to protect and care for my bride.
And may her pierced heart inspire me to
embrace as my own your children
who suffer at the foot of the cross.
I humbly cry to her: please be my consoling
mother,
and help me to be a better son.
Lord, make me a holy priest,
inflamed with the fire of your love, seeking
nothing
but your greater glory and the salvation of
souls.
I humbly bless and thank you, my Father,
through the Spirit, in Christ Jesus, your Son and
my brother.
Amen.
O Mary, Queen of priests, pray for us.
Saint John Vianney, pray for us.
Dear Lord,
We pray that the Blessed Mother wrap
her mantle around your priests
and through her intercession
strengthen them for their ministry.
We pray that Mary will guide your
priests to follow her own words,
"Do whatever He tells you" (Jn 2:5).
May your priests have the heart of St.
Joseph,
Mary's most chaste spouse.
May the Blessed Mother's own pierced
heart inspire them to embrace
all who suffer at the foot of the cross.
May your priests be holy, filled with
the fire of your love
seeking nothing but your greater
glory and the salvation of souls.
Amen.
Saint John Vianney, pray for us.
Love for our ordained, even the cranky, less than perfect ones, 🙂
Matthew