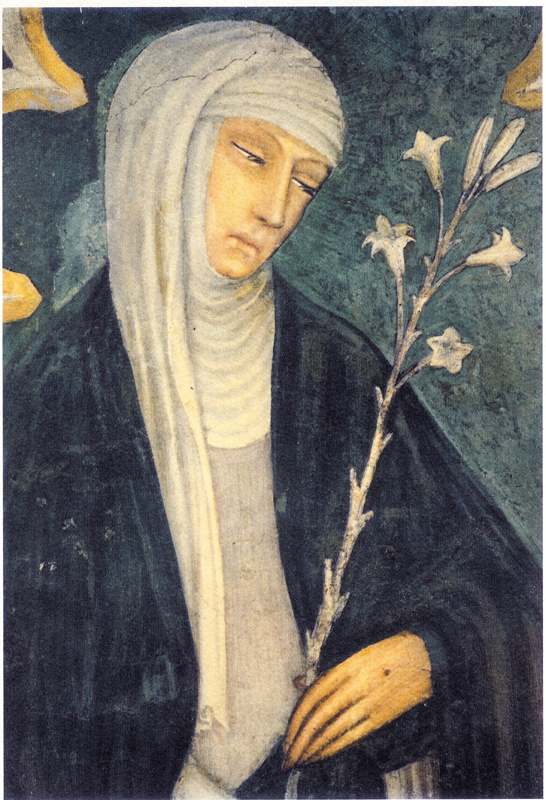 -fresco of St. Catherine of Siena – done by a family member who knew her, showing her true likeness
St Catherine of Siena, OP, one of the Great Reformers of the Catholic Church, publicly excoriated priests, bishops, cardinals, and popes.  She called them "wretches", "idiots", "blind hirelings", and "devils incarnate".  Catherine sought to shame the clergy into reform; her methods and her inspiration for reform were direct and challenging.
Catherine claimed that her reform rhetoric was revealed to her in a series of visions.  The legitimacy of these visions was reinforced by Catherine's miracles.  From early in her career, she was known for her miraculous ability to subsist solely on the Eucharist, and was given the grace of the stigmata, the wounds of Christ, during her life, among other supernatural phenomena.
Born Catherine Benin in Siena, Italy, to Giacomo di Benincasa, a clothdyer, and Lapa Piagenti, possibly daughter of a local poet, in 1347, she was the last of 25 children.  A year after she was born, the Black Death, or bubonic plague, came to Siena for the first time.  Sometime around 1353, at the age of seven or eight, Catherine experienced a vision of Christ that led her to make a vow of virginity.
In about 1366, Catherine experienced what she described in her letters as a "Mystical Marriage" with Jesus. Her biographer also records that she was told by Christ to leave her withdrawn life and enter the public life of the world. Catherine dedicated much of her life to helping the ill and the poor, where she took care of them in hospitals or homes.
Her early pious activities in Siena attracted a group of followers, both women and men, while they also brought her to the attention of the Dominican Order, who had primary responsibility for the Inquisition in many regions.  Catherine was summoned by the Inquisition to Florence in 1374 to interrogate her for possible heresy.  After this visit, in which she was deemed sufficiently orthodox, she began travelling with her followers throughout northern and central Italy advocating reform of the clergy and the launch of a new crusade and advising people that repentance and renewal could be done through "the total love for God."
Just as Catherine was not repulsed by the filth of her neighbors' diseased bodies, she was also not repulsed by the corruption manifested in the body of Christ.  For most of her career, she tended to the sick, the hungry, and the dying, much like Blessed Teresa of Calcutta has done in our own day.  She wrote many letters to religious leaders and secular officials of her day encouraging and demanding, under penalty of perdition, reform, peace, order, atonement, repentance, reconciliation, and adherence to the Gospel.
Her other work, "The Dialogue of Divine Providence", is one of the most well known works in Catholic mystical writing, referred to simply as St Catherine's "Dialogue", or "The Dialogue".  Its premise is a dialogue between a soul who "rises up" to God and God, and was recorded by her followers between 1377 and 1378.  She opens with a description of sin and the need for penance.  She synthesizes both the apologetics of love and of humility under the rubric of the atonement for sin.
St Catherine died of an apparent stroke in Rome, in the spring of 1380, at the age of thirty-three.  She was proclaimed a Doctor of the Church in 1970, one of only three women and thirty men to hold this title in the history of Christianity.
"Charity is the sweet and holy bond which links the soul with its Creator: it binds God with man and man with God." – Saint Catherine of Siena
"Lord, take me from myself and give me to Yourself." -St. Catherine of Siena
"O Deity eternal, O high, eternal Deity, O sovereign, eternal Father, O ever-burning fire!… What do Your bounty and Your grandeur show? The gift You have given to man. And what gift have You given? Your whole self, O eternal Trinity. And where did You give Yourself? In the stable of our humanity which had become a shelter for animals, that is, mortal sins" -St. Catherine of Siena.
"Oh, inestimable Charity, sweet above all sweetness!… It seems, oh, Abyss of Charity, as if thou wert mad with love of Thy creature, as if Thou couldest not live without him, and yet Thou art our God who has no need of us." – St Catherine of Siena
"Eternal Trinity, Godhead, mystery deep as the sea, You could give me no greater gift than the gift of Yourself. For You are a fire ever burning and never consumed, which itself consumes all the selfish love that fills my being. Yes, you are a fire that takes away the coldness, illuminates the mind with its light, and causes me to know Your truth. And I know that You are beauty and wisdom itself. The food of angels, You gave yourself to man in the fire of your love."  -from "The Dialogue"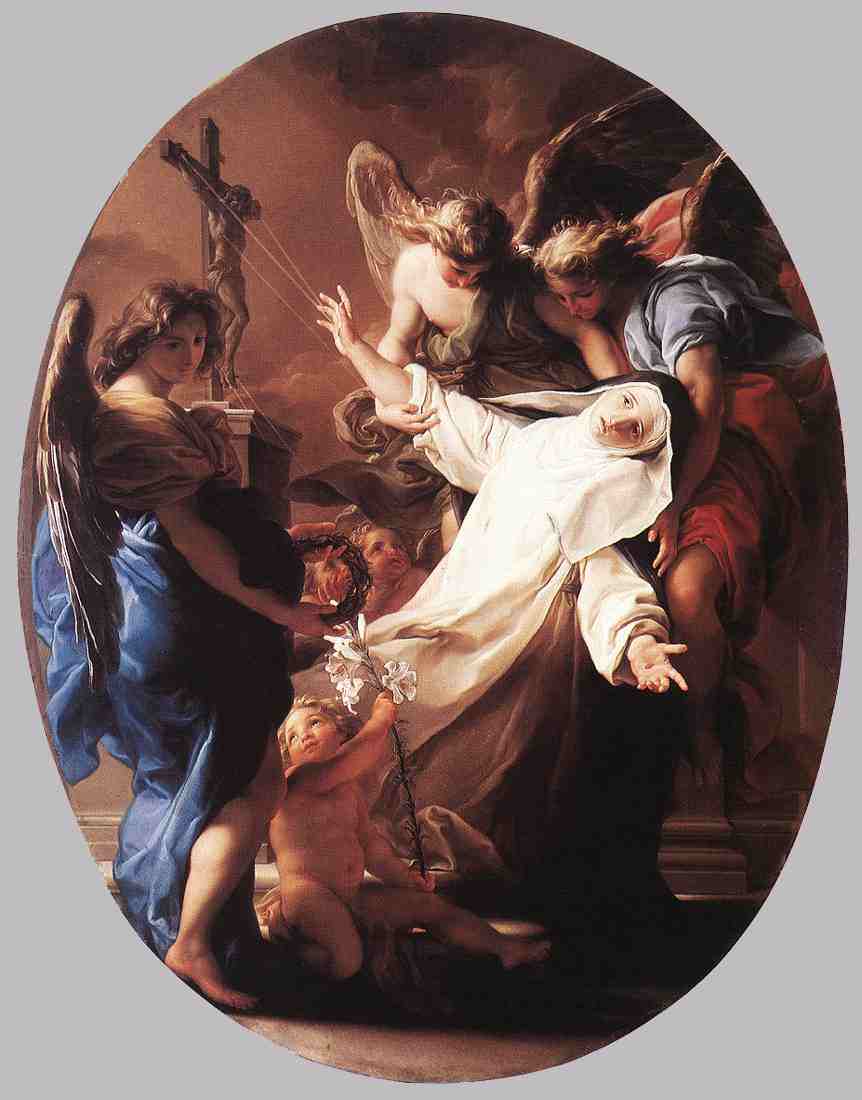 -"The Ecstasy of St Catherine of Siena", Pompeo Batoni, 1743, Museo di Villa Guinigi, Lucca, Italy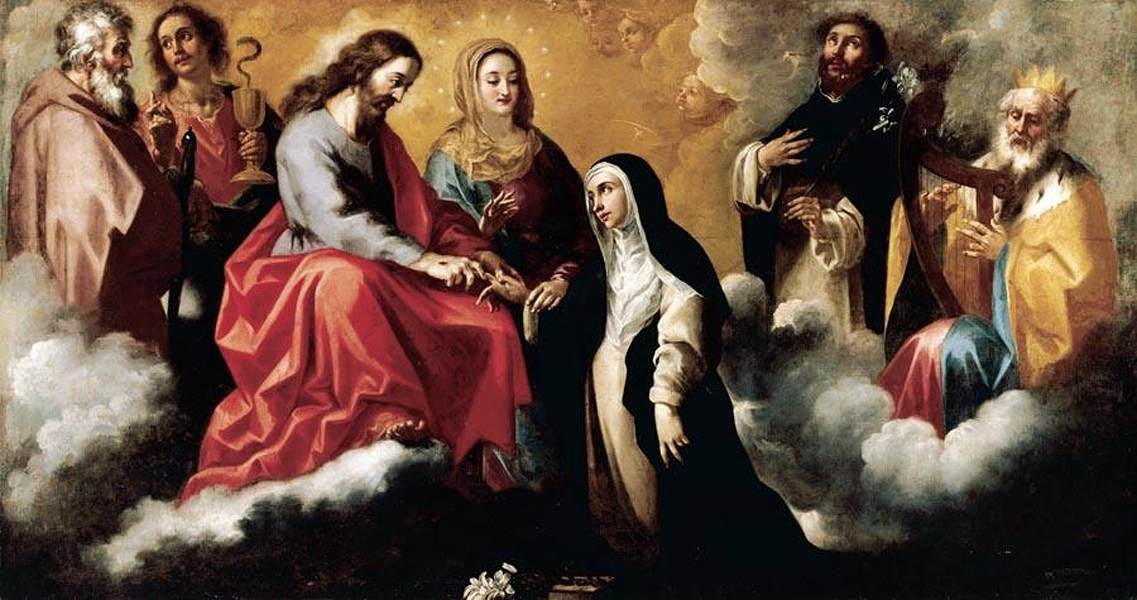 -the mystical marriage of St Catherine of Siena, O.P., Clemente de Torres, ~1715, oil on canvas, H: 175 cm (68.9 in). W: 332 cm (130.7 in), private collection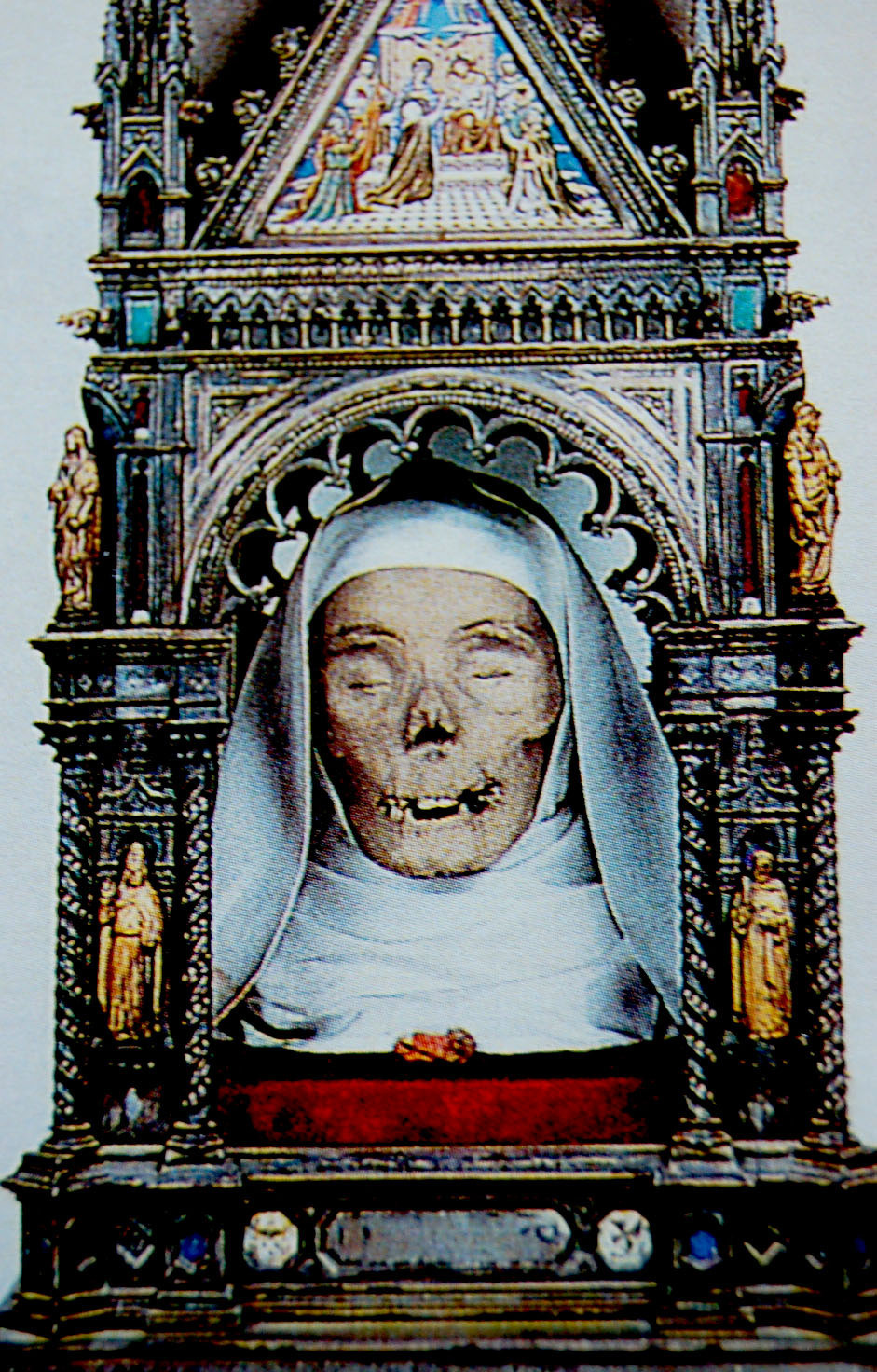 -mummified head of St Catherine of Siena, O.P., Church of San Dominico, Siena
Love,
Matthew